Identifikasi Sebaran Lapisan Akuifer Dangkal di Kecamatan Pakis Kabupaten Malang
Keywords:
air tanah, akuifer dangkal, litologi batuan, metode geolistrik, vertical electrical sounding
Abstract
Potensi air tanah sangat dipengaruhi kondisi geologi dan hidrogeologi, sehingga sebaran lapisan akuifer sangat beragam dalam satu wilayah. Hal ini terjadi di wilayah Kecamatan Pakis Kabupaten Malang. Beberapa wilayah masih mengalami kesulitan memanfaatkan air tanah sebagai sumber air bersih. Penelitian ini bertujuan untuk mengidentifikasi dan memetakan sebaran lapisan akuifer dangkal di Kecamatan Pakis. Untuk menyelesaikan penelitian, dilakukan pengukuran dengan metode geolistrik di 43 titik dan pengamatan terhadap kedalaman sumur dangkal. Menggunakan model Vertical Electrical Sounding (VES) dengan konfigurasi Schlumberger didapatkan litologi batuan ditiap titik hingga kedalaman 50 meter. Hasil interpretasi data bahwa litologi batuan didominasi oleh lapisan batuan tufa halus (lempung), tufa, pasiran, breksi dan lava. Tufa hingga pasiran teridentifikasi sebagai lapisan akuifer dangkal. Hasil pemetaan sebaran menunjukkan bahwa potensi air tanah di wilayah Kecamatan Pakis terbagi menjadi 2 zonasi yaitu  zona tidak berpotensi air tanah dangkal meliputi Desa Pakis Jajar, Bunut Wetan, Asrikaton, Saptorenggo, Tirtomoyo dan Kedungrejo. Zona berpotensi air tanah dangkal meliputi Desa Sukoanyar, Sumber Pasir, Pakis Kembar, Pucangsongo, Sumberejo, Sumberkradenan, Ampeldento, Mangliawan, dan Sekarpuro.
References
Ahmad N. Faris, Daeng A. Suaidi, Sutrisno, Muhammad F.R. Hasan, Agung B. Broto. 2019. "Identifikasi Sebaran Akuifer dengan Metode Geolistrik Resistivitas Schlumberger di Desa Gedangan, Kecamatan Gedangan, Kabupaten Malang". Jurnal Natural B, Vol. 5, No. 1, 28-34.
Badan Pusat Statistik Kabupaten Malang. 2018. Kecamatan Pakis Dalam Angka 2018. Malang.
Bisri, M. 2012. Air tanah; Studi Tentang Pendugaan Air Tanah , Sumur Air Tanah,Dan Upaya Dalam Konservasi Air Tanah. Malang: UB Press.
Candra Samekto dan Ewin Sofian Winata. 2016. "Potensi Sumber Daya Air di Indonesia"; seminar nasional: Aplikasi Teknologi Penyediaan Air Bersih untuk Kabupaten/Kota di Indonesia. Pusat Teknologi Lingkungan – BPPT, Jakarta.
J.P.R Sorensen, D.J. Lapworth, D.C.W. Nkhuwa, M.E. Stuart, D.C. Goody, R.A. Bell, M.. Chirwa, J. Kabika, M. Liemisa, M. Chibesa, S. Pedly. 2015. "Emerging Contanminants in Urban Groundwater Sources in Africa". Water Research 72: 51-63.
Loke, M.H. 1999. Electrical imaging surveys for environmental and engineering studies, A practical guide to 2-D and 3-D surveys.
Missi A, Gumindoga W, Hoko Z. 2018. "An assessment of Groundwater Potential and Vulnerability in the Upper Manyame Sub-Catchment of Zimbabwe". In Physics and Chemistry of the Earth. 105: 72-83.
Morris. B.L, Lawrence. A.R.L, Chilton. P.J.C., Adams. B, Calow. R.C, Klinck. B.A. 2003. Groundwater and its Susceptibility to Degradation: a Global Assessment of the Problem and Options for Management. United Nations Environment Programme, Nairobi, Kenya.
R. Soekardi Poespowardoyo. 1984. Peta hidrogeologi indonesia, lembar x kediri skala 1: 250.000. Bandung: Direktorat Geologi Tata Lingkungan.
S. Santoso dan T. Suwarti. 1992. Peta Geologi Lembar Malang, Jawa. Bandung: Pusat Penelitian dan Pengembangan Geologi.
Sugito, Hartono, Z. Irayani, dan R.F. Abdullatif. 2019. "Eksplorasi Potensi Akuifer Menggunakan Metode Geolistrik Resistivitas di Desa Plana Kec. Somagede Kab. Banyumas". Dalam seminar nasional: Pengembangan Sumber Daya Perdesaan dan Kearifan Lokal Berkelanjutan IX, Prosiding; 12 – 22.
Sunaryo, Marsudi. S dan Anggoro. S. 2018. "Identification of Sea Water Intrusion at The Coast of Amal, Binalatung, Tarakan by Means of Geoelectrical Resistivity Data". Disaster Advance. 11 (6), 23 – 29.
Vania Rossa dan Firsta Nodia. 2018. "Ada 33,4 juta penduduk indoensia kekurangan air bersih", https://www.suara.com/health/2018/11/23/162639/ada-334-juta-penduduk-indonesia-kekurangan-air-bersih (diakses 3 maret 2021).
Vebrianto, S. 2016. Eksplorasi Metode Geolistrik: Resistivitas, Polarisasi Terinduksi, dan Potensial Diri. Malang: UB Press.
Walhi Jawa Timur. 2012. "Dampak Kekeringan: 13 Kecamatan di Malang Krisis Air". https://walhijatim.or.id/2012/09/dampak-kekeringan-13-kecamatan-di-malang-krisis-air/. (diakses 3 maret 2021).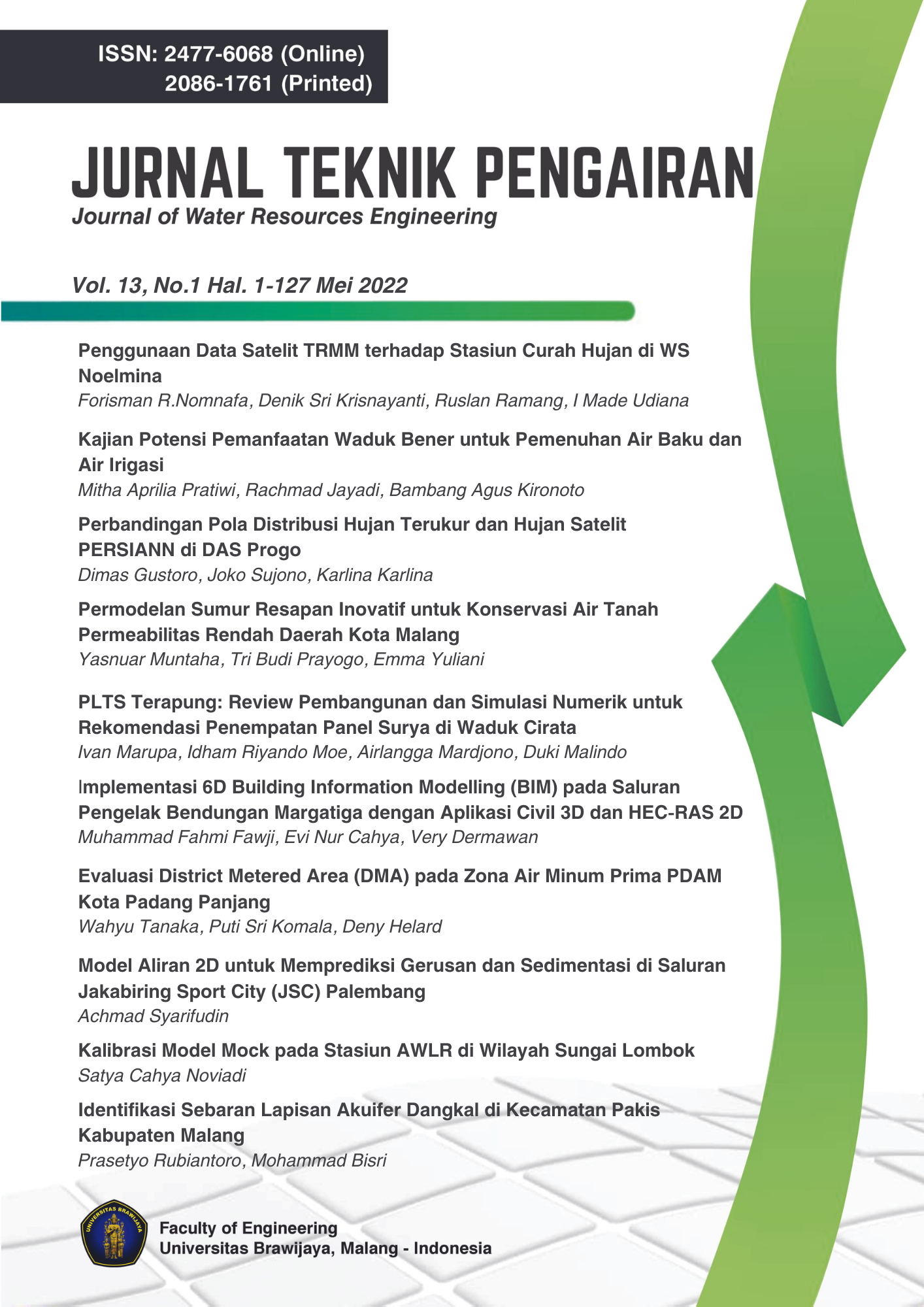 Downloads
How to Cite
Rubiantoro, P., & Bisri, M. (2022). Identifikasi Sebaran Lapisan Akuifer Dangkal di Kecamatan Pakis Kabupaten Malang . Jurnal Teknik Pengairan: Journal of Water Resources Engineering, 13(1), 116–127. https://doi.org/10.21776/ub.pengairan.2022.013.01.10
License
Copyright (c) 2022 Prasetyo Rubiantoro, Mohammad Bisri
This work is licensed under a Creative Commons Attribution-NonCommercial 4.0 International License.
Authors who publish with this journal agree to the following terms:

Authors retain copyright and grant the journal right of first publication with the work simultaneously licensed under a  Creative Commons Attribution-NonCommercial 4.0 International License that allows others to share the work with an acknowledgement of the work's authorship and initial publication in this journal.

Authors are able to enter into separate, additional contractual arrangements for the non-exclusive distribution of the journal's published version of the work (e.g., post it to an institutional repository or publish it in a book), with an acknowledgement of its initial publication in this journal.

Authors are permitted and encouraged to post their work online (e.g., in institutional repositories or on their website) prior to and during the submission process, as it can lead to productive exchanges, as well as earlier and greater citation of published work (See The Effect of Open Access).