ANALISIS PROFIL MUKA AIR DAN LUASAN GENANGAN DI LAHAN AKIBAT VARIASI POSISI SUDETAN SUNGAI CILIWUNG
Abstract
Abstrak: DKI Jakarta dalam beberapa tahun terakhir sering mengalami banjir akibat luapan Sungai Ciliwung. Dengan adanya banjir yang terjadi maka pemerintah dalam hal ini Balai Besar Wilayah Sungai (BBWS) Ciliwung Cisadane-Kementerian Pekerjaan Umum mencoba memberikan solusi yang disebut Total Solution for Ciliwung. Salah satu kegiatannya adalah melakukan sudetan di Kalibata dan di Kebon Baru. Penelitian ini bertujuan untuk menganalisis sudetan Sungai Ciliwung. Lokasi Sudetan  ada 3 (tiga) lokasi, yaitu di Kalibata, di Kebon Baru, dan di Kampung Melayu. Perhitungan dilakukan dengan melakukan variasi posisi di tiga lokasi. Ada 7 variasi posisi yang dilakukan. Model simulasi menggunakan program bantu HEC-RAS 4.1.0. Hasil perhitungan menunjukkan variasi posisi 7 yaitu sudetan di Kalibata, di Kebon Baru dan di Kampung Melayu  menjadi variasi yang paling optimal dalam mengurangi banjir. Hasil sudetan dengan variasi posisi 7 adalah profil muka air di Patok 260 berupa aliran sub kritis/tenang dengan elevasi muka air +18,54 m atau berkurang 0,48 m dari kondisi eksisting +19,02 m. Luas genangan yang terjadi akibat sudetan dengan variasi posisi 7 sebesar 2,4143 km2 berkurang 0,6042 km2 (20,02%) dari kondisi eksisting 3,0185 km2.Kata kunci : DKI Jakarta, Sungai Ciliwung, variasi posisi, profil muka air, luas genangan . Abstract: In recent years, DKI Jakarta have been frequently flooded by The Ciliwung River. In this case, The government of Balai Besar Wilayah Sungai (BBWS) Ciliwung Cisadane-General Public Ministry of Pekerjaan Umum has been  trying to provide a solution which called Total Solution for Ciliwung. One of the Total Solution activities is doing diversion channel in Kalibata and Kebon Baru. This study aimed to diversion of Ciliwung River. There are 3 (three) locations of diversion. The location are in Kalibata, Kebon Baru, and Kampung Melayu. Calculation was done by variation of the position at three locations with 7 variations of position.  The model  of simulation  was using HEC-RAS 4.1.0 program.  The result of diversion in 7th variation position  is the water profile in the point 260 that form of sub critical flow/tranquil with water level +18,54 m or less 0,48 m from existing condition +19.02 m. Inundation area that caused by 7th variation position  of diversion is  2,4143 km2 reduced 0,6042 km2 (20,02%) from  existing condition  3,0185 km2.Keywords: DKI Jakarta, Ciliwung River, variation position, water profile, extensive inundation .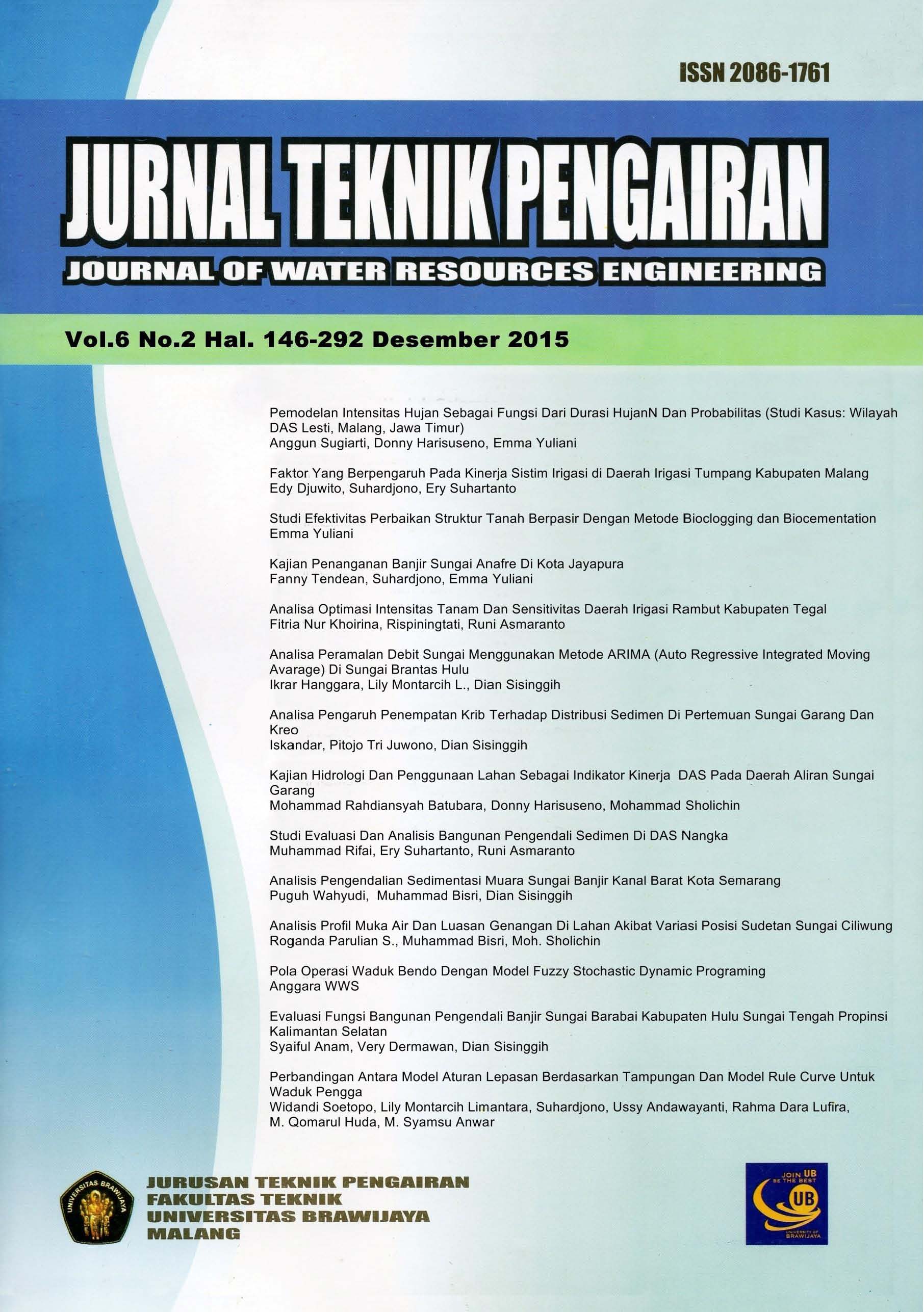 Downloads
How to Cite
Parulian, R., Bisri, M., & Solichin, M. (2016). ANALISIS PROFIL MUKA AIR DAN LUASAN GENANGAN DI LAHAN AKIBAT VARIASI POSISI SUDETAN SUNGAI CILIWUNG. Jurnal Teknik Pengairan: Journal of Water Resources Engineering, 6(2), pp. 251 – 262. Retrieved from https://jurnalpengairan.ub.ac.id/index.php/jtp/article/view/274
License
Authors who publish with this journal agree to the following terms:

Authors retain copyright and grant the journal right of first publication with the work simultaneously licensed under a  Creative Commons Attribution-NonCommercial 4.0 International License that allows others to share the work with an acknowledgement of the work's authorship and initial publication in this journal.

Authors are able to enter into separate, additional contractual arrangements for the non-exclusive distribution of the journal's published version of the work (e.g., post it to an institutional repository or publish it in a book), with an acknowledgement of its initial publication in this journal.

Authors are permitted and encouraged to post their work online (e.g., in institutional repositories or on their website) prior to and during the submission process, as it can lead to productive exchanges, as well as earlier and greater citation of published work (See The Effect of Open Access).