MITIGASI BENCANA BANJIR AKIBAT KERUNTUHAN BENDUNGAN BERDASARKAN DAMBREAK ANALYSIS PADA BENDUNGAN BENEL DI KABUPATEN JEMBRANA
Abstract
Abstrak : Mitigasi bencana banjir akibat keruntuhan Bendungan Benel dimaksudkan untuk mengurangi dampak resiko bencana yang terjadi dari aspek teknis maupun non teknis. Analisa keruntuhan Bendungan Benel dilakukan dengan menggunakan program BOSS DAMBRK. Program BOSS DAMBRK yang digunakan dapat membuat hidrograf banjir, kedalaman banjir, kecepatan banjir serta peta daerah genangan banjir yang nantinya akan dijadikan acuan dalam merencanakan daerah evakuasi. Dari studi ini diperoleh hasil Bendungan Benel termasuk kategori bendungan dengan Tingkat Klasifikasi Bahaya 3 atau Klasifikasi Bahaya Agak Tinggi. Luas daerah genangan akibat banjir kedalaman 0 m~0,60 m adalah 664.507 ha, kedalaman 0,60~1,50 m adalah 1305.056 ha dan kedalaman >1,50 m adalah 2233.773 ha. Sistem mitigasi banjir yang dilaksanakan mencakup tiga tahap yaitu sebelum terjadi banjir, saat terjadi banjir dan setelah terjadi banjir.
 
Kata Kunci :Â Â Â Â Â Â Â  Analisa Keruntuhan Bendungan, Bendungan Benel, mitigasi banjir, Program BOSS DAMBRK
 
Abstract : Mitigation of floods due to the collapse of the Benel dam is intended to reduce the impact of disasters the risk of technical and non-technical aspects. Benel Dam collapse analysis were performed using the BOSS DAMBRK. BOSS DAMBRK program can create flood hydrograph, flood depth, speed of floods and flood inundation maps that will be used as a reference in planning the evacuation area. From this research, its known that the category Benel Dam is Level 3 of Hazard Classification Danger High Bit. The area of inundation depth of 0 m~0,60 m is 664 507 ha, depth 0,60 m~1,50 m is 1305,056 ha and a depth of >1.50 m is 2233,773 ha. System of flood mitigation undertaken includes three stages, before the flood, during and after the floods.
 
Kata Kunci : Â Â Â Â Â Â  The collapse of the Benel dam, Benel dam, Mitigation of floods, BOSS DAMBRK program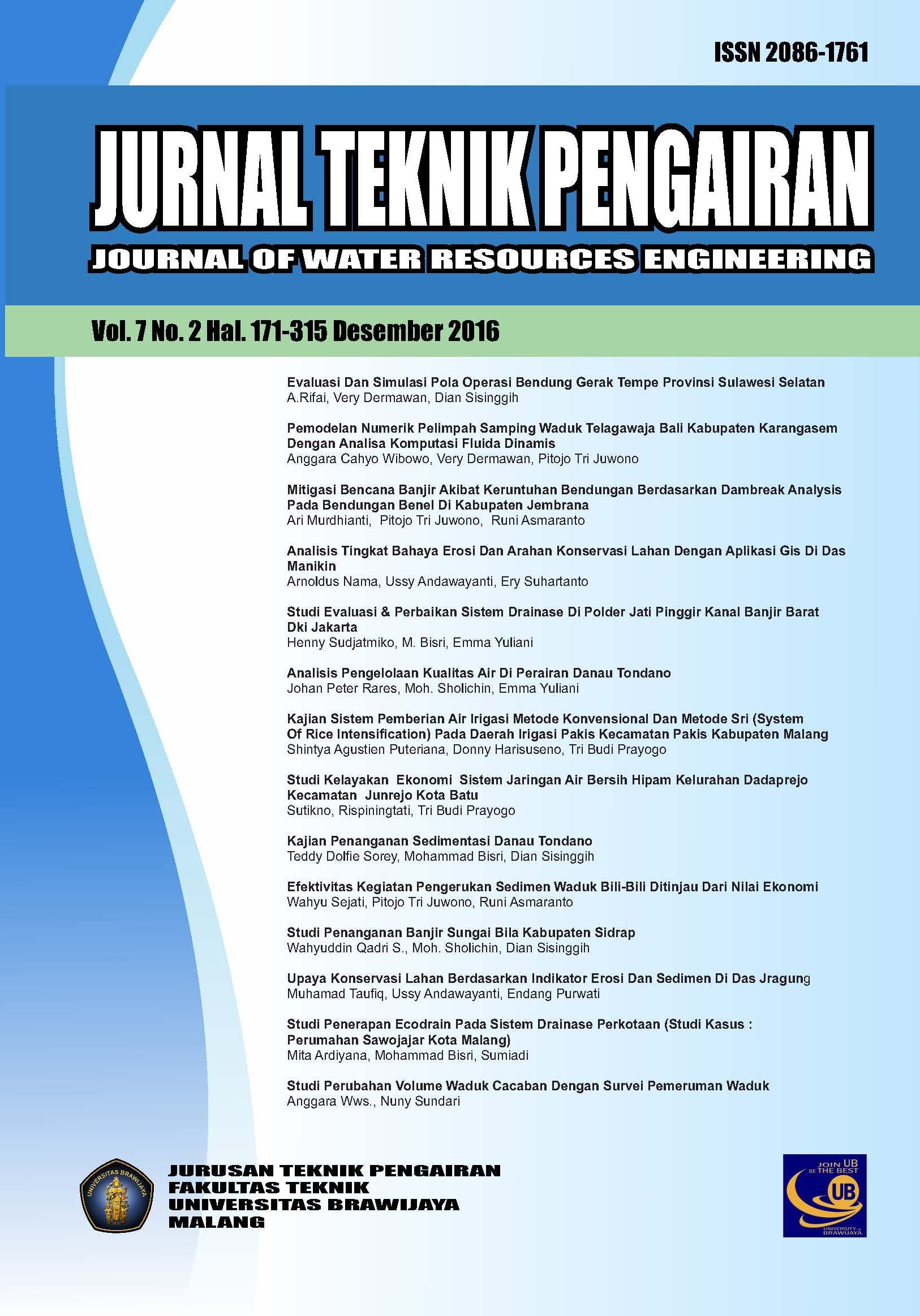 Downloads
How to Cite
Murdhianti, A., Juwono, P. T., & Asmaranto, R. (2017). MITIGASI BENCANA BANJIR AKIBAT KERUNTUHAN BENDUNGAN BERDASARKAN DAMBREAK ANALYSIS PADA BENDUNGAN BENEL DI KABUPATEN JEMBRANA. Jurnal Teknik Pengairan: Journal of Water Resources Engineering, 7(2), 193–204. Retrieved from https://jurnalpengairan.ub.ac.id/index.php/jtp/article/view/295
License
Copyright (c) 2017 Ari Murdhianti, Pitojo Tri Juwono, Runi Asmaranto
This work is licensed under a Creative Commons Attribution-NonCommercial 4.0 International License.
Authors who publish with this journal agree to the following terms:

Authors retain copyright and grant the journal right of first publication with the work simultaneously licensed under a  Creative Commons Attribution-NonCommercial 4.0 International License that allows others to share the work with an acknowledgement of the work's authorship and initial publication in this journal.

Authors are able to enter into separate, additional contractual arrangements for the non-exclusive distribution of the journal's published version of the work (e.g., post it to an institutional repository or publish it in a book), with an acknowledgement of its initial publication in this journal.

Authors are permitted and encouraged to post their work online (e.g., in institutional repositories or on their website) prior to and during the submission process, as it can lead to productive exchanges, as well as earlier and greater citation of published work (See The Effect of Open Access).