KAJIAN PENANGANAN GENANGAN PADA SUB-SISTEM DRAINANSE JANGKOK KOTA MATARAM
Abstract
Abstrak: Pertumbuhan penduduk dan alih fungsi lahan untuk daerah perkotaan yang semula persawahan menjadi permukiman tidak diiringi dengan evaluasi drainase, seringkali menyebabkan terjadinya genangan pada beberapa daerah di Kota Mataram. Adapun daerah yang sering tergenang yaitu pada Kecamatan Ampenan dan Kecamatan Selaparang. Hal tersebut dikarenakan penumpukan sampah/sedimentasi pada saluran drainase yang disebabkan oleh masyarakat yang suka membuang sampah sembarangan terutama pada saluran-saluran drainase dan pengaruh pasang surut air laut. Efek backwater di Sungai Jangkok pada jarak ± 1287 m dari hilir (STA 0+230 – STA 0+469) adalah setinggi 2.08 m .Permasalahan tersebut ditangani dengan metode eco-drainage dimana dibutuhkan 1-22 buah sumur resapan per hektar dengan ∆Q (sisa Q5th) yang tidak tertampung, normalisasi saluran, dan memasang pintu klep otomatis tipe Pusair Pa-Fg1.
Kata kunci: eco-drainage, sumur resapan, backwater, pasang surut
 
Abstract: Population growth and land conversion for urban area which originally is a paddy field before became a housing area and not followed by drainage evaluation are often cause ponding in some areas of Mataram City. The aforementioned area are including Ampenan and and Selaparang subdistrict. This is caused by littering habit, especially in the drainage channel and ocean backwater effect. The backwater effect height in Jangkok River at ± 1287 m away from downstream (STA 0+230 – STA 0+469) is 2,08 m. This problem is solved by using eco-drainage method which needs 1 - 22 infiltration wells per hectar with ∆Q, channel normalization, and also by installing Pusair Pa-Fg1 type automatic valve door.
Keyword: eco-drainage, infiltration well, backwater, tidal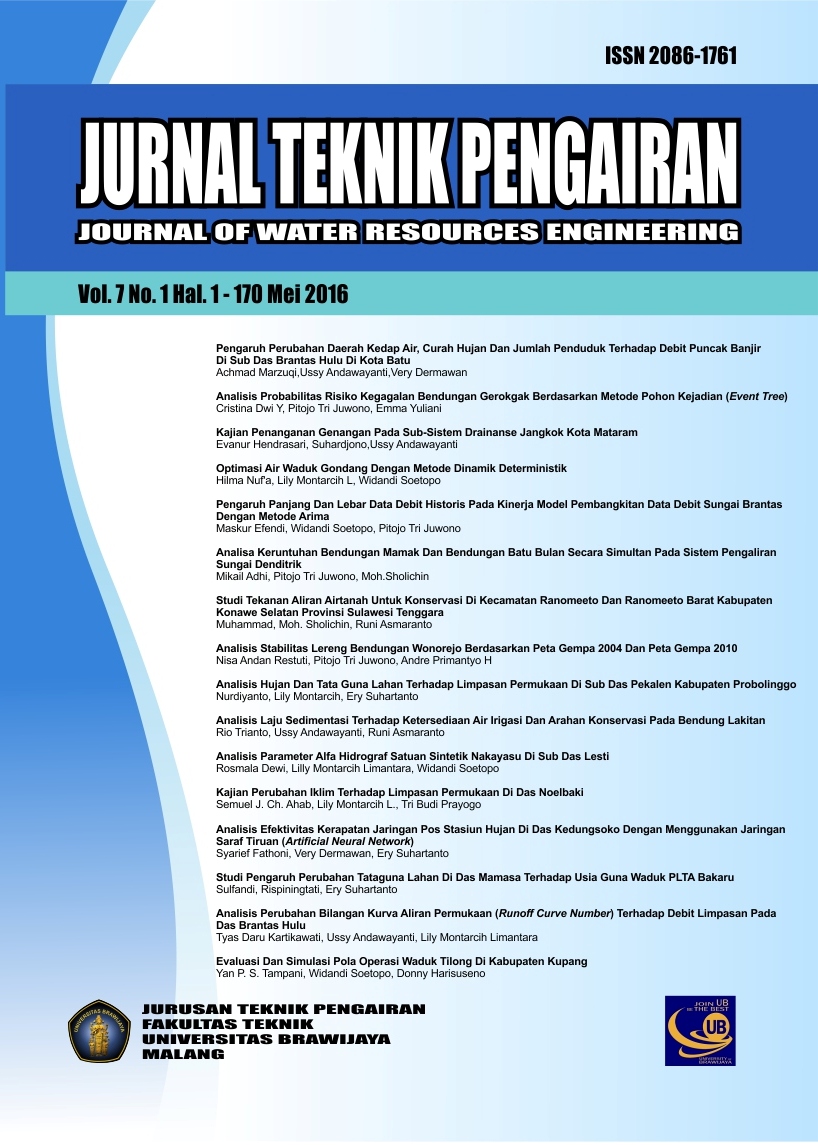 Downloads
How to Cite
Hendrasari, evanur, Suhardjono, S., & Andawayanti, U. (2016). KAJIAN PENANGANAN GENANGAN PADA SUB-SISTEM DRAINANSE JANGKOK KOTA MATARAM. Jurnal Teknik Pengairan: Journal of Water Resources Engineering, 7(1), pp. 17 – 24. Retrieved from https://jurnalpengairan.ub.ac.id/index.php/jtp/article/view/247
License
Authors who publish with this journal agree to the following terms:

Authors retain copyright and grant the journal right of first publication with the work simultaneously licensed under a  Creative Commons Attribution-NonCommercial 4.0 International License that allows others to share the work with an acknowledgement of the work's authorship and initial publication in this journal.

Authors are able to enter into separate, additional contractual arrangements for the non-exclusive distribution of the journal's published version of the work (e.g., post it to an institutional repository or publish it in a book), with an acknowledgement of its initial publication in this journal.

Authors are permitted and encouraged to post their work online (e.g., in institutional repositories or on their website) prior to and during the submission process, as it can lead to productive exchanges, as well as earlier and greater citation of published work (See The Effect of Open Access).