ANALISIS TINGKAT BAHAYA EROSI DAN ARAHAN KONSERVASI LAHAN DENGAN APLIKASI GIS DI DAS MANIKIN
Abstract
Abstrak: Daerah Aliran Sungai (DAS) Manikin terletak di Kabupaten Kupang Propinsi Nusa Tenggara Timur. DAS ini mempunyai permasalahan umum berupa erosi lahan. Tujuan dari studi adalah mengidentifikasi Tingkat Bahaya Erosi (TBE), sebaran kekritisan lahan, dan menentukan teknik konservasi yang sesuai dengan kondisi DAS Manikin. Laju erosi lahan hasil Pemodelan AVSWAT 2000 dipakai untuk Analisis Tingkat Bahaya Erosi. Hasil Analisis menunjukkan luas lahan dengan Tingkat Bahaya Erosi sedang sebesar 984,59 ha, berat 5.069,52 ha dan sangat berat 3.589,26 ha. Sedangkan kekritisan lahan pada daerah kajian, pada fungsi kawasan lindung mempunyai empat kelas kekritisan yaitu potensial kritis dengan luas 2.662,21 ha, agak kritis 2.768,83 ha, kritis 585,68 ha, dan sangat kritis 37,41 ha. Kawasan penyangga mempunyai tiga kelas kekritisan yaitu agak kritis dengan luas 532,52 ha, kritis 186,91 ha, dan sangat kritis 53,62 ha. Adapun untuk fungsi kawasan budidaya mempunyai dua kelas kekritisan yaitu kritis dengan luas 2.495,90 ha, dan sangat kritis dengan luas 320,22 ha. Konservasi secara vegetatif dilakukan pada lokasi yang kritis dan sangat kritis dan disesuaikan dengan fungsi kawasan. Konservasi mekanik berupa perencanaan bangunan pengendali sedimen (check dam) pada delapan lokasi dengan Tingkat Bahaya Erosi berat dan sangat berat.
 
Kata Kunci: Manikin, Pemodelan AVSWAT, Tingkat Bahaya Erosi, Kekritisan Lahan, konservasi
 
Abstract: Manikin Watershed is located in Kupang district, East Nusa Tenggara province. Manikin watershed has general problem on erosion. The purpose of the study is to identify Erosion Hazard Level, distribution of land criticality, and determine appropriate conservation techniques that corresponding to Manikin watershed conditions. The rate of soil erosion obtained from AVSWAT 2000 simulation results used for Erosion Hazard Level Analysis. The analysis results showed that the land area with moderate Erosion Hazard Level is 984.59 ha, heavy 5069.52 ha, and very heavy 3589.26 ha. The land criticality of  the study area, for the protected zone has four classes of criticality, potential critical has 2662.21 ha land area, rather critical 2768.83 ha, critical 585.68 ha, and very critical 37.41 ha. Buffer zone has three classes of criticality; 532.52 ha land area is rather critical, 186.91 ha is critical, and 53,62 ha (6,94%) is very critical. Cultivation zone has two classes of criticality; 2495.90 ha land area is critical, and 320.22 ha is very critical. Vegetative conservation done on sites that are critical and very critical and adapted to the function of the area. Main While for mechanics conservation is planing to design sediment control construction (check dams) in eight locations with heavy and very heavy Erosion Hazard Level.
 
Keyword: Manikin, AVSWAT simulation, Erosion Hazard Level, land criticality, conservation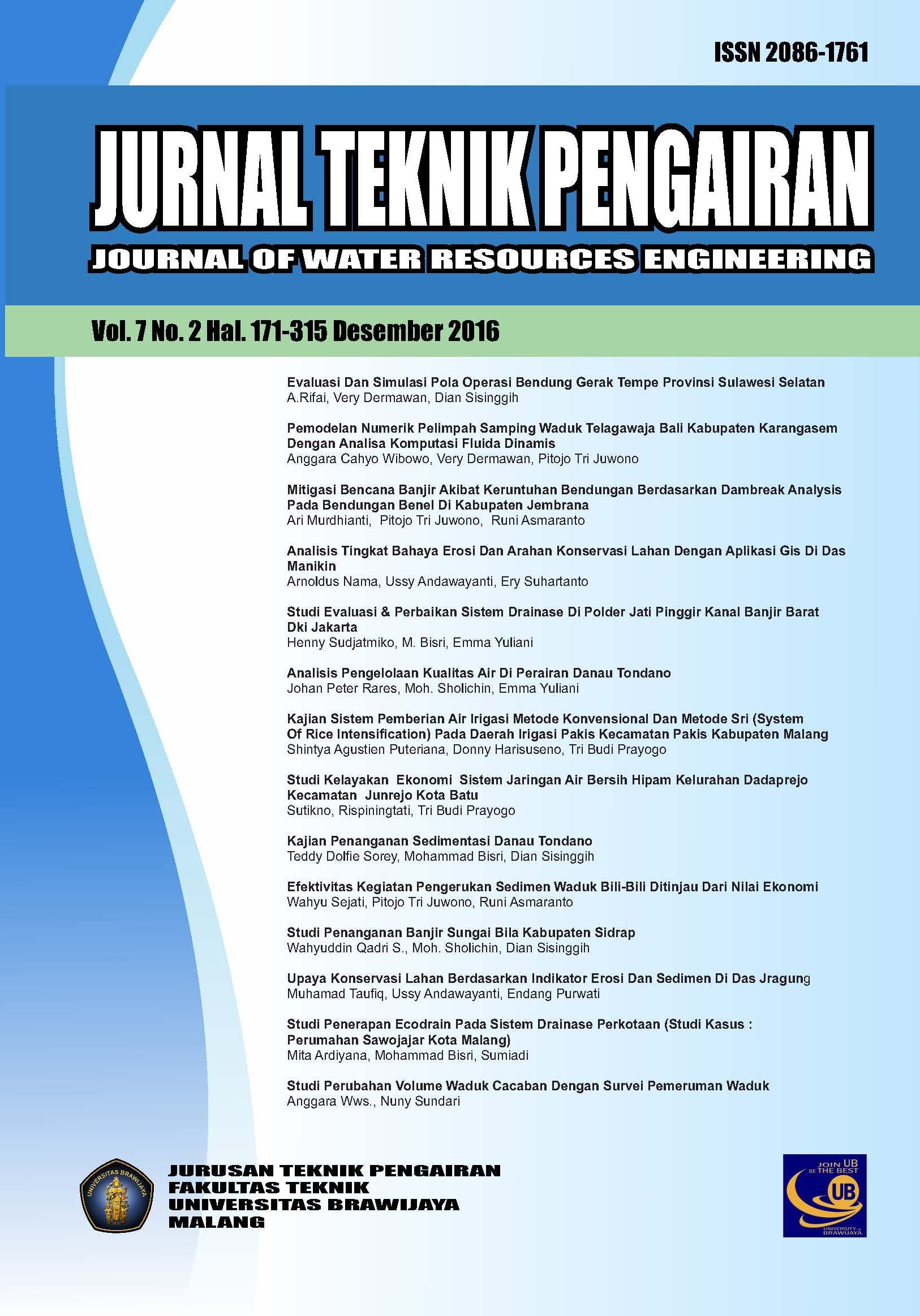 Downloads
How to Cite
nama, arnoldus, Andawayanti, U., & Suhartanto, E. (2017). ANALISIS TINGKAT BAHAYA EROSI DAN ARAHAN KONSERVASI LAHAN DENGAN APLIKASI GIS DI DAS MANIKIN. Jurnal Teknik Pengairan: Journal of Water Resources Engineering, 7(2), 216–224. Retrieved from https://jurnalpengairan.ub.ac.id/index.php/jtp/article/view/315
License
Copyright (c) 2017 arnoldus nama, Ussy Andawayanti, Ery Suhartanto
This work is licensed under a Creative Commons Attribution-NonCommercial 4.0 International License.
Authors who publish with this journal agree to the following terms:

Authors retain copyright and grant the journal right of first publication with the work simultaneously licensed under a  Creative Commons Attribution-NonCommercial 4.0 International License that allows others to share the work with an acknowledgement of the work's authorship and initial publication in this journal.

Authors are able to enter into separate, additional contractual arrangements for the non-exclusive distribution of the journal's published version of the work (e.g., post it to an institutional repository or publish it in a book), with an acknowledgement of its initial publication in this journal.

Authors are permitted and encouraged to post their work online (e.g., in institutional repositories or on their website) prior to and during the submission process, as it can lead to productive exchanges, as well as earlier and greater citation of published work (See The Effect of Open Access).