PEMANFAATAN SISTEM PEMANENAN AIR HUJAN (RAINWATER HARVESTING SYSTEM) DI PERUMAHAN BONE BIRU INDAH PERMAI KOTA WATAMPONE DALAM RANGKA PENERAPAN SISTEM DRAINASE BERKELANJUTAN
Keywords:
sistem pemanenan air hujan, sistem drainase berkelanjutan
Abstract
Perumahan Bone Biru Indah Permai Kota Watampone terletak di Kabupaten Bone Propinsi Sulawesi Selatan. Permasalahan sumber daya airyang terjadi di perumahan ini, adalah; di musim hujan, luapanaliran drainase seringkali mengakibatkan terjadinya genangan pada jalan-jalan perumahan dan rumah-rumah penduduk, sementara di musim kemarau,terjadi kelangkaan air bersih. Penelitian ini mengkaji penerapan sistem drainase berkelanjutandengan teknik pemanenan air hujan (PAH), dengan tujuan untuk mengetahui besaran potensi curah hujan yang dapat dipanen dan sisa limpasan yang harus di-manage oleh sistem drainase eksisting, serta untukmenentukan besaran kapasitas sarana PAH yang dibutuhkan dalam memenuhi keperluan suplai air bersih penduduk. Potensi air hujan dihitung dengan menggunakan tinggi hujan harian rata-rata bulanan yang diperoleh dari Metode Rata-rata Aritmetik. Kapasitas sarana PAH ditentukan dengan Metode Simulasi Tampungan Bulanan. Limpasan permukaan rencana dihitung dengan Metode Rasional.Dari hasil penelitian diperoleh;potensi curah hujan yang dapat dipanendari permukaan atap sebesar 147.009,86m3 per tahun, sisa limpasan hujan yang bersumber dari atap sebesar 25.829,86 m3per tahun dantotal kapasitas tampungan sarana PAH yang dibutuhkan sebesar 4.743,20 m3. Dengan penerapan sistem PAH, mampu mereduksi jumlah limpasan drainase yang terjadi sebesar 85,38% yakni 7835,814 m3 dari 9178,032 m3 total limpasan yang terjadi, sekaligus juga dapat mengefektifkan fungsi saluran-saluran dan gorong-gorong drainase eksisting yang ada di perumahan ini.
References
Andawayanti, U dan Prasetyorini, L. 2007. Analisis Volume Genangan Terhadap Perubahan Penggunaan Lahan dan Penanggulangannya berbasis Konservasi Lingkungan (Studi Kasus di Kecamatan Kepanjen). Jurnal. Malang.
Anonim. 2012. Rainwater Harvesting Best Practice Guidebook: Residential Rainwater Harvesting Design and Installation. Kanada: Regional District of Nanaimo, Nanaimo, B.C.
Asdak, C. 2002. Hidrologi dan Pengelolaan Daerah Aliran Sungai. Yogyakarta: Gajah Mada University Press.
Badan Pusat Statistik (BPS) Kabupaten Bone. 2015. Kabupaten Bone Dalam Angka 2015. Watampone: CV21.COM.
Brown, S.A, Schall, J.D, Morris, J.L, Doherty, C.L, Stein, S.M, dan Warner, J.C. 2009. Urban Drainage Design Manual. Hydraulic Engineering Circular 22. 3rd Edition Washington: Federal Highway Administration & National Highway Institute. US.
Department of Transportation. Department of Environment, Food, and Rural Affairs (DEFRA). 2011. National Standards for Sustainables Drainage Systems. Designing, Constructing, Operating and Maintaining Drainage for Surface Runoff. London. United Kingdom.
Direktorat Jenderal (Ditjen) Cipta Karya. 1996. Kriteria Perencanaan Analisis Kebutuhan Air. Jakarta: Direktorat Jenderal Cipta Karya.
Kementerian Pekerjaan Umum. 2014. Peraturan Menteri Pekerjaan Umum Republik Indonesia Nomor 11/PRT/M/2014 Tentang Pengelolaan Air Hujan Pada Bangunan Gedung dan Persilnya. Jakarta: Kementerian Pekerjaan Umum.
Suhardjono. 2015. Drainase Perkotaan. Buku Ajar. Tidak diterbitkan. Malang: Universitas Brawijaya.
Suripin. 2004. Sistem Drainase Perkotaan Yang Berkelanjutan. Yogyakarta: ANDI.
United Nations Environment Programme (UNEP) dan Caribbean Environmental Health Institute (CEHI). 2009. Rainwater. Catch it While You Can: A Handbook on Rainwater Harvesting in the Caribbean. Tidak diterbitkan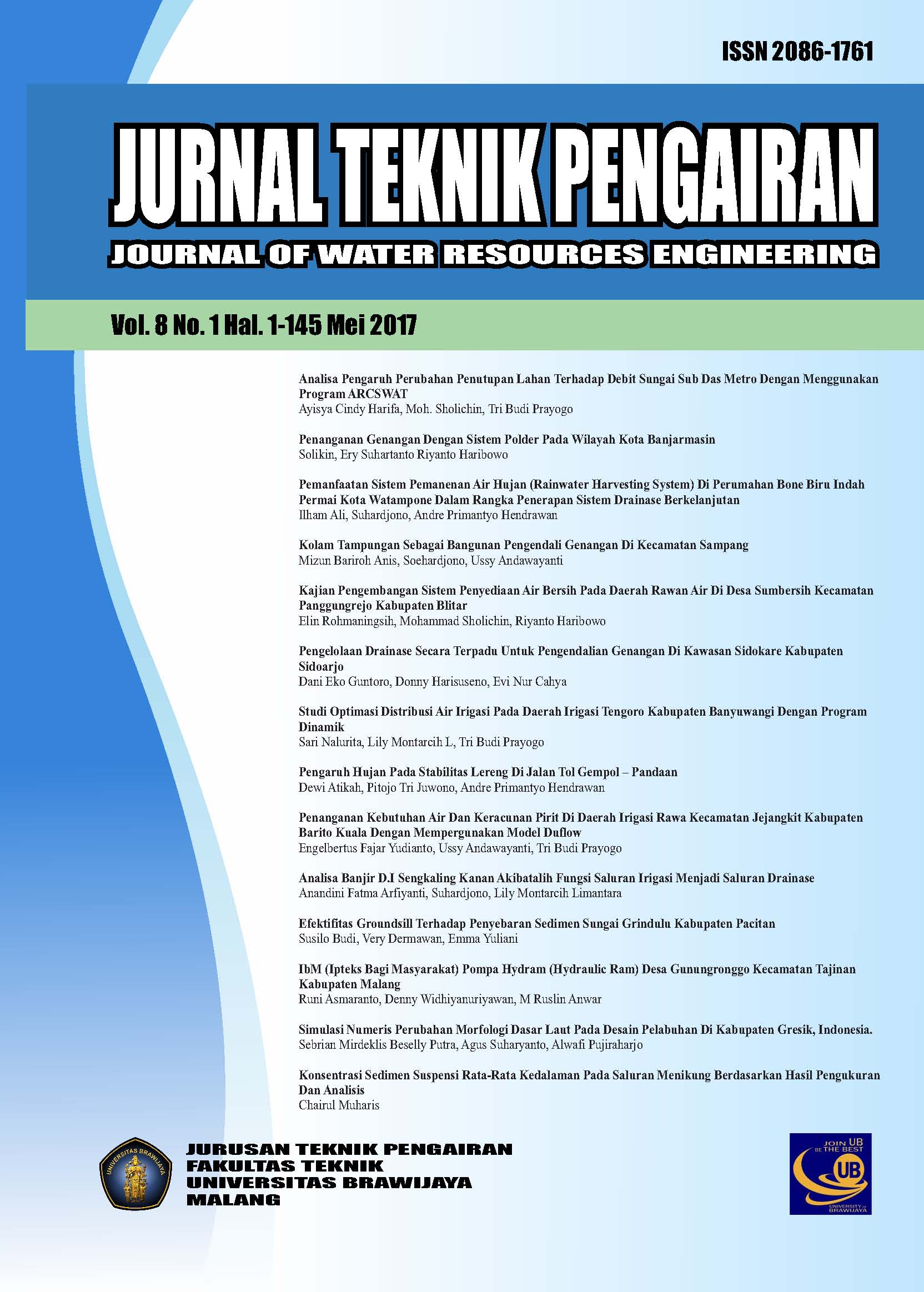 Downloads
How to Cite
Ali, I., Suhardjono, S., & Hendrawan, A. P. (2017). PEMANFAATAN SISTEM PEMANENAN AIR HUJAN (RAINWATER HARVESTING SYSTEM) DI PERUMAHAN BONE BIRU INDAH PERMAI KOTA WATAMPONE DALAM RANGKA PENERAPAN SISTEM DRAINASE BERKELANJUTAN. Jurnal Teknik Pengairan: Journal of Water Resources Engineering, 8(1), 26–38. Retrieved from https://jurnalpengairan.ub.ac.id/index.php/jtp/article/view/303
License
Copyright (c) 2017 Ilham Ali, Suhardjono Suhardjono, Andre Primantyo Hendrawan
This work is licensed under a Creative Commons Attribution-NonCommercial 4.0 International License.
Authors who publish with this journal agree to the following terms:

Authors retain copyright and grant the journal right of first publication with the work simultaneously licensed under a  Creative Commons Attribution-NonCommercial 4.0 International License that allows others to share the work with an acknowledgement of the work's authorship and initial publication in this journal.

Authors are able to enter into separate, additional contractual arrangements for the non-exclusive distribution of the journal's published version of the work (e.g., post it to an institutional repository or publish it in a book), with an acknowledgement of its initial publication in this journal.

Authors are permitted and encouraged to post their work online (e.g., in institutional repositories or on their website) prior to and during the submission process, as it can lead to productive exchanges, as well as earlier and greater citation of published work (See The Effect of Open Access).