KAJIAN PERUBAHAN IKLIM TERHADAP LIMPASAN PERMUKAAN DI DAS NOELBAKI
Abstract
Abstrak : Provinsi Nusa Tenggara Timur merupakan salah satu daerah Indonesia bagian timur yang mengalami kenaikan curah hujan (RAN Adaptasi Perubahan Iklim Kementerian Perencanaan Pembangunan Nasional /Badan Perencanaan Pembangunan Nasional). Pengujian statistik dengan uji t terhadap data hujan dapat disimpulkan terjadinya perubahan hujan pada periode tahun 1998 s/d 2014 dimana  nilai t tabel < dari t hitung.  Hasil pemodelan AVSWAT 2000 diperoleh rata-rata perubahan tata guna lahan untuk setiap jenis tanah dari tahun 1993 sampai tahun 2012 pada DAS Noelbaki sebesar 42,71 %. Perubahan tata guna lahan mengakibatkan terjadinya peningkatan debit puncak 5,12 % sebesar 0,02 m3/dt, sisanya 94,88 % sebesar 0,29 m3/dt diakibatkan adanya perubahan pola hujan pada DAS Noelbaki. Debit puncak limpasan pada Bendungan Tilong  berdasarkan hasil kajian diperoleh Skenario perubahan pola hujan > Skenario perubahan tata guna lahan. Dengan demikian dapat disimpulkan bahwa perubahan pola hujan pada DAS Noelbaki mengakibatkan terjadinya peningkatan debit puncak limpasan pada Bendungan Tilong saat musim penghujan.
Kata kunci: Pola Hujan, Tata Guna Lahan, Limpasan, Debit, AVSWAT 2000
 
Abstract : East Nusa Tenggara Province is one of the eastern Indonesia region that experienced an increase in rainfall (RAN Adaptation to Climate Change of the Ministry of National Development Planning / National Development Planning Agency). Statistical testing by t test against rain data can be summed rainfall changes in the period of 1998 until 2014 where the value of t tables < t count. AVSWAT modeling results obtained in 2000 the average change in land use for each type of land from 1993 until 2012 at the Noelbaki watershed amounted to 42,71%. Changes in land use resulted 5,12% increase in peak discharge of 0,02 m3/s, the remaining 94,88% of 0,29 m3/s due to changes in rainfall patterns in the Noelbaki watershed. Peak discharge runoff at Tilong Dam based on the results of the study obtained Scenario changing rainfall patterns > Scenarios of land use change. It can be concluded that changes in rainfall patterns in the Noelbaki watershed lead to an increase in peak runoff discharge at the dam Tilong during the rainy season.
Keywords :Â  Rain patterns, Land Use, runoff, discharge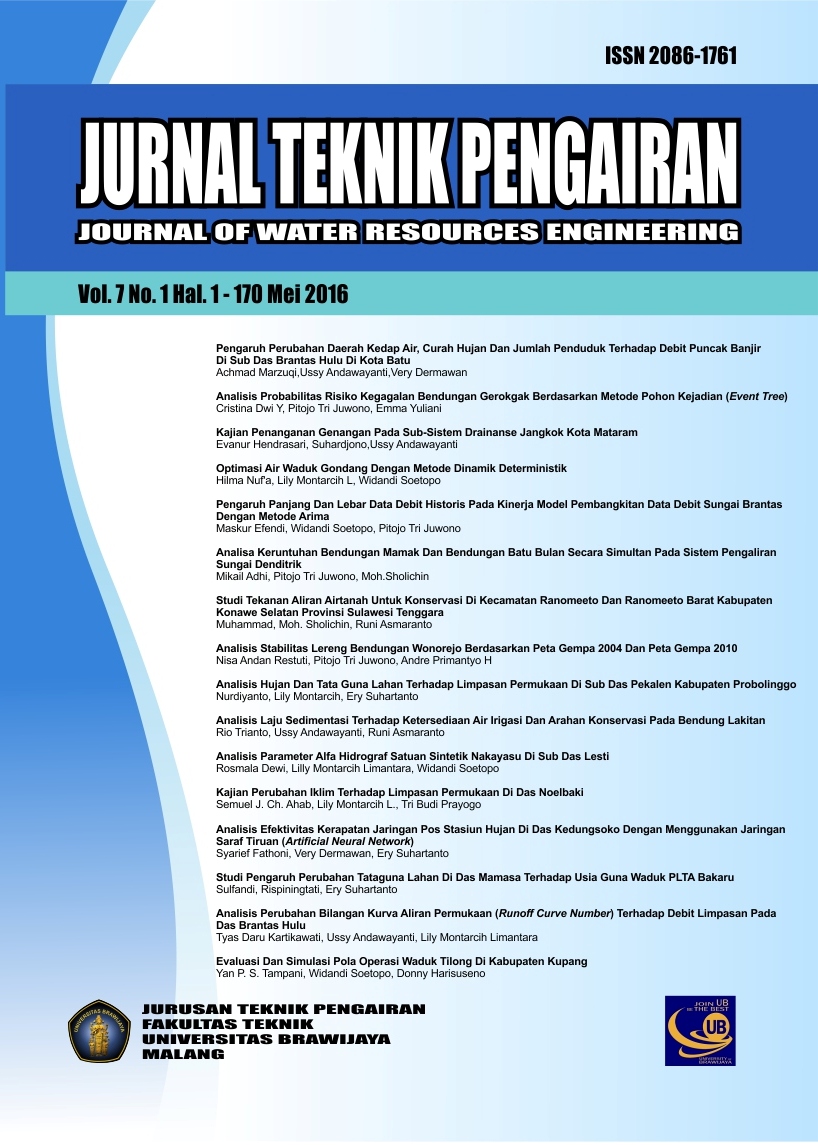 Downloads
How to Cite
Ahab, S. J. C., Limantara, L. M., & Prayogo, T. B. (2016). KAJIAN PERUBAHAN IKLIM TERHADAP LIMPASAN PERMUKAAN DI DAS NOELBAKI. Jurnal Teknik Pengairan: Journal of Water Resources Engineering, 7(1), pp. 117 – 128. Retrieved from https://jurnalpengairan.ub.ac.id/index.php/jtp/article/view/286
License
Authors who publish with this journal agree to the following terms:

Authors retain copyright and grant the journal right of first publication with the work simultaneously licensed under a  Creative Commons Attribution-NonCommercial 4.0 International License that allows others to share the work with an acknowledgement of the work's authorship and initial publication in this journal.

Authors are able to enter into separate, additional contractual arrangements for the non-exclusive distribution of the journal's published version of the work (e.g., post it to an institutional repository or publish it in a book), with an acknowledgement of its initial publication in this journal.

Authors are permitted and encouraged to post their work online (e.g., in institutional repositories or on their website) prior to and during the submission process, as it can lead to productive exchanges, as well as earlier and greater citation of published work (See The Effect of Open Access).