Permodelan Sumur Resapan Inovatif untuk Konservasi Air Tanah Permeabilitas Rendah Daerah Kota Malang
Keywords:
inovasi, konservasi air, permeabilitas rendah, sumur resapan
Abstract
Air merupakan kebutuhan pokok manusia yang sebagian besar berasal dari dalam tanah. Konservasi air tanah menggunakan sumur resapan merupakan alternatif dalam menambah cadangan air tanah pada tanah berjenis lanau-lempung seperti Kota Malang yang memiliki permeabilitas tanah rendah. Dalam mencapai tujuan tersebut dilakukan penelitian dengan metode eksperimen pembuatan sumur resapan inovatif yang dapat memaksimalkan masuknya air ke dalam tanah pada lokasi yang mempunyai permeabilitas rendah. Penelitian ini mengkaji, menganalisa dan membandingkan hasil pengujian sumur resapan konvensional dan inovatif. Analisis debit yang dirancang menggunakan Metode Rasional. Perencanaan dimensi dihitung dengan rumus Sunjoto dan desain serta model sumur resapan yang dibuat menggunakan material paving, pasir, semen, kerikil, pipa diameter 10 cm, penutup biopori, sampah organik, air, dan geotekstile. Model sumur resapan inovatif direncanakan dengan ketinggian 0,42 m dengan diameter 0,6 m. Dari hasil analisa pengujian model sumur resapan yang sudah di terapkan dalam skala lapangan, sumur resapan inovatif lebih efektif dari pada sumur resapan konvensional.
References
Agustin, Hapsari, dan Charits. 2021. Rancangan Sumur Resapan Sebagai Usaha Konservasi Air di Kampus Politeknik Negeri Malang. JOS - MRK Volume 2, Nomor 2.
Aminudin, M., 2021. BPBD Kota Malang Sebut Ada 20 Titik Longsor dan 14 Lokasi Banjir. [online] detiknews. Diambil dari: https://news.detik.com/berita-jawa-timur/d-5340348/bpbd-kota-malang-sebut-ada-20-titik-longsor-dan-14-lokasi-banjir [Diakses pada tanggal 18 September 2021].
Badan Standarisasi Nasional. (2002). SNI: 03-2453-2002.Tata Cara Perencanaan Sumur Resapan Air Hujan untuk Lahan Pekarangan. Jakarta: Badan Standarisasi Nasional.
Dwi T, Sabariah M, M Baharudin R. 2008. A study on artificial recharge well as a part of drainge system and water supply in UHTM. National Seminar on Environment, Development & Sustainability. Selangor (MY).1 : 106111.
Pandu Equator | Jual Geotextile Terbaik di Indonesia. 2021. Apa itu Geotextile dan Fungsinya Secara Umum. [online] Diambil dari: (https://jualgeotextile.com/apa-itu-geotextile-dan-fungsinya-secara-umum/) [Diakses 18 November 2021].
Soemarto. 1995. Hidrologi Teknik. Erlangga, Jakarta.
Sosrodarsono, Suyono, 1980. Hidrologi untuk Pengairan. Jakarta: PT. Pradnya Paramita.
Sunjoto. 2011. Teknik Drainase Pro-Air.Yogyakarta: Universitas Gajah Mada
Suripin. 2004. Pelestarian Sumber Daya tanah dan Air. Andi, Yogyakarta.
Suripin. 2004. Sistem Drainase Perkotaan yang Berkelanjutan. Andi, Yogyakarta.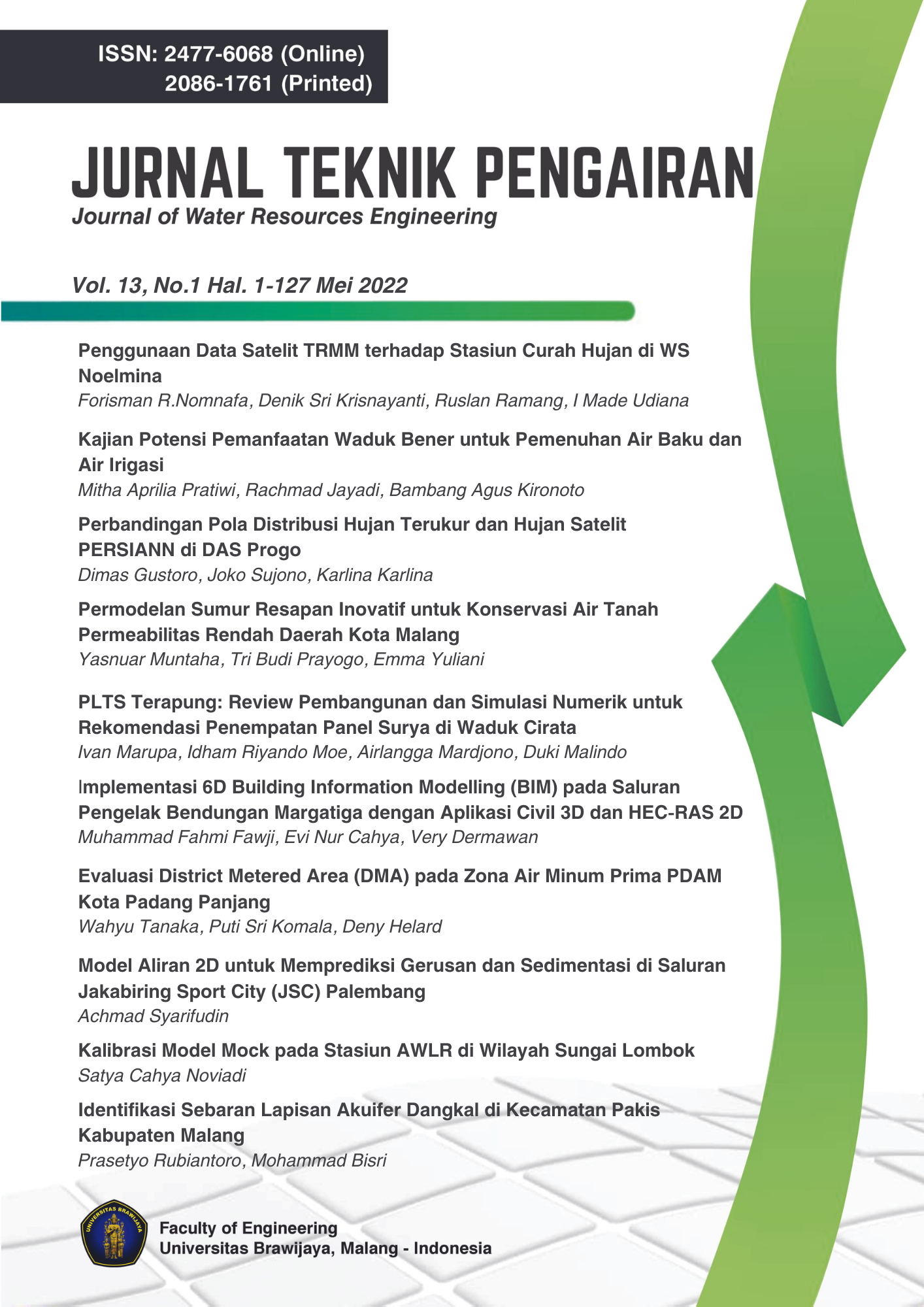 Downloads
How to Cite
Muntaha, Y., Prayogo, T. B., & Yuliani, E. (2022). Permodelan Sumur Resapan Inovatif untuk Konservasi Air Tanah Permeabilitas Rendah Daerah Kota Malang. Jurnal Teknik Pengairan: Journal of Water Resources Engineering, 13(1), 36–47. https://doi.org/10.21776/ub.pengairan.2022.013.01.04
License
Copyright (c) 2022 Yasnuar Muntaha, Tri Budi Prayogo, Emma Yuliani
This work is licensed under a Creative Commons Attribution-NonCommercial 4.0 International License.
Authors who publish with this journal agree to the following terms:

Authors retain copyright and grant the journal right of first publication with the work simultaneously licensed under a  Creative Commons Attribution-NonCommercial 4.0 International License that allows others to share the work with an acknowledgement of the work's authorship and initial publication in this journal.

Authors are able to enter into separate, additional contractual arrangements for the non-exclusive distribution of the journal's published version of the work (e.g., post it to an institutional repository or publish it in a book), with an acknowledgement of its initial publication in this journal.

Authors are permitted and encouraged to post their work online (e.g., in institutional repositories or on their website) prior to and during the submission process, as it can lead to productive exchanges, as well as earlier and greater citation of published work (See The Effect of Open Access).