Rasionalisasi Kerapatan Stasiun Hujan di Sub DAS Ngasinan Hulu Menggunakan Data Hujan Pengukuran dan Satelit
Keywords:
CHIRPS, kagan-rodda, rasionalisasi, stasiun hujan, WMO
Abstract
Kesalahan dalam pemantauan data hidrologi pada sebuah DAS dapat menyebabkan data yang dihasilkan tidak akurat serta dapat menyebabkan hasil perencanaan dan pengelolaan sumber daya air yang tidak efisien. Permasalahan lain pada Sub DAS Ngasinan Hulu adalah ketersediaan data curah hujan yang minim, time series data hujan pendek dan tidak lengkap, kurangnya petugas pengamat, kesalahan pembacaan data, dan kesulitan dalam mendapatkan data curah hujan dengan cepat. Penelitian ini bertujuan untuk mendapatkan rekomendasi jaringan serta jumlah stasiun hujan yang efektif dan efisien pada Sub DAS Ngasinan Hulu menggunakan data pengukuran dan satelit CHIRPS. Metode yang digunakan dalam penelitian ini, yang pertama adalah melakukan uji kesesuaian antara data hujan pengukuran dengan satelit CHIRPS. Lalu mengevaluasi jaringan stasiun hujan eksisting berdasarkan standar WMO. Selanjutnya, melakukan rasionalisasi stasiun hujan menggunakan metode Kagan-Rodda dengan data pengukuran dan satelit CHIRPS. Hasil dari penelitian ini menunjukkan bahwa data hujan satelit CHIRPS sudah sesuai dengan data hujan pengukuran. Lalu, menurut standar WMO Sub DAS Ngasinan Hulu cukup diwakilkan oleh 6 stasiun hujan. Selanjutnya setelah dilakukan rasionalisasi menggunakan metode Kagan-Rodda dengan kesalahan perataan < 10% didapatkan luas pengaruh dan sebaran stasiun
hujan yang sudah cukup merata dengan menggunakan 6 stasiun hujan.
References
Alfirman, Zulfikar R., Lily M. Limantara, and Sri Wahyuni. 2019. "Rasionalisasi Kerapatan Pos Hujan Menggunakan Metode Kagan-Rodda Di Sub Das Lesti." Jurnal Teknik Sipil 8(2): 153–64.
Ayu, Faradilla, Rizki Shiami, and Umboro Lasminto. 2019. "Rationalization of Hydrology Station Network Using Rainfall Ground and Satellite Data." International Research Journal of Advanced Engineering and Science 4(3): 225–29. https://www.researchgate.net/publication/351119137.
Dzisofi Amelia, Ennisa, Sri Wahyuni, and Donny Harisuseno. 2021. "Evaluasi Kesesuaian Data Satelit Sebagai Alternatif Ketersediaan Data Evaporasi Di Waduk Wonorejo Compatibility Evaluation Satellite Data as an Alternative of Evaporation Data Availability in Wonorejo Reservoir." Jurnal Teknik Pengairan 2021(2): 127–38. https://doi.org/10.21776/ub.pengairan.2021.012.02.05.
Fathoni, Syarif, Very Dermawan, and Ery Suhartanto. 2016. "Analisis Efektivitas Kerapatan Jaringan Pos Stasiun Hujan Di DAS Kedungsoko Dengan Menggunakan Jaringan Saraf Tiruan ( Artificial Neural Network )." 7(1): 129–38.
Funk, Chris et al. 2015. "The Climate Hazards Infrared Precipitation with Stations - A New Environmental Record for Monitoring Extremes." Scientific Data 2(June 2016).
Harisuseno, Donny. 2020. "Comparative Study of Meteorological and Hydrological Drought Characteristics in the Pekalen River Basin, East Java, Indonesia." Journal of Water and Land Development 45: 19–41.
Harisuseno, Donny, Ery Suhartanto, and Dara Marreta Cipta. 2020. "Rainfall-Streamflow Relationship Using Stepwise Method as a Basis for Rationalization of Rain Gauge Network Density." International Journal of Recent Technology and Engineering (IJRTE) 8(5): 3814–21.
Junaidi, Rahmad. 2015. "Kajian Rasionalisasi Jaringan Stasiun Hujan Pada Ws Parigi-Poso Sulawesi Tengah Dengan Metode Kagan Rodda Dan Kriging." Jurnal Ilmu-Ilmu Teknik - Sistem 11(1): 22–31.
Le, Manh Hung, Venkataraman Lakshmi, John Bolten, and Duong Du Bui. 2020. "Adequacy of Satellite-Derived Precipitation Estimate for Hydrological Modeling in Vietnam Basins." Journal of Hydrology 586(November 2019): 124820. https://doi.org/10.1016/j.jhydrol.2020.124820.
Mengistu, Abiy Getachew, Tekalegn Ayele Woldesenbet, and Yihun Dile Taddele. 2022. "Evaluation of Observed and Satellite-Based Climate Products for Hydrological Simulation in Data-Scarce Baro -Akob River Basin, Ethiopia." Ecohydrology and Hydrobiology 22(2): 234–45. https://doi.org/10.1016/j.ecohyd.2021.11.006.
Qadri, Wahyuddin, Moh Sholichin, and Dian Sisinggih. 2016. "Studi Penanganan Banjir Sungai Bila Kabupaten Sidrap." : 277–88.
Sangati, M., and M. Borga. 2009. "Influence of Rainfall Spatial Resolution on Flash Flood Modelling." Natural Hazards and Earth System Science 9(2): 575–84.
Wahyuni, S., D. Sisinggih, and I. A.G. Dewi. 2021. "Validation of Climate Hazard Group InfraRed Precipitation with Station (CHIRPS) Data in Wonorejo Reservoir, Indonesia." IOP Conference Series: Earth and Environmental Science 930(1).
Wang, Qiang et al. 2021. "Assessment of Four Latest Long-Term Satellite-Based Precipitation Products in Capturing the Extreme Precipitation and Streamflow across a Humid Region of Southern China." Atmospheric Research 257(8): 105554. https://doi.org/10.1016/j.atmosres.2021.105554.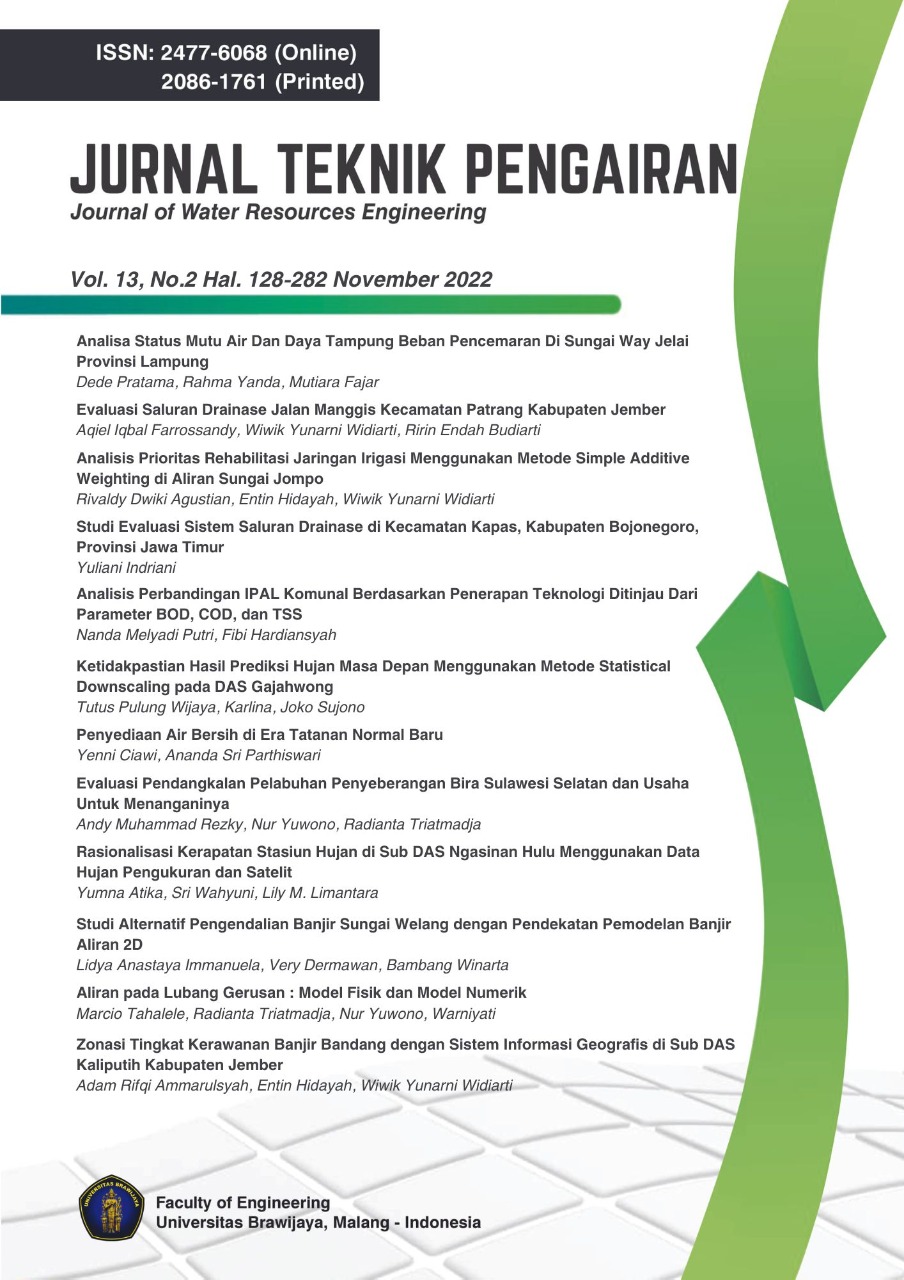 Downloads
How to Cite
Atika, Y., Wahyuni, S., & Limantara, L. M. (2022). Rasionalisasi Kerapatan Stasiun Hujan di Sub DAS Ngasinan Hulu Menggunakan Data Hujan Pengukuran dan Satelit. Jurnal Teknik Pengairan: Journal of Water Resources Engineering, 13(2), 232–244. https://doi.org/10.21776/ub.pengairan.2022.013.02.09
License
Copyright (c) 2022 Yumna Atika, Yuni, Limantara
This work is licensed under a Creative Commons Attribution-NonCommercial 4.0 International License.
Authors who publish with this journal agree to the following terms:

Authors retain copyright and grant the journal right of first publication with the work simultaneously licensed under a  Creative Commons Attribution-NonCommercial 4.0 International License that allows others to share the work with an acknowledgement of the work's authorship and initial publication in this journal.

Authors are able to enter into separate, additional contractual arrangements for the non-exclusive distribution of the journal's published version of the work (e.g., post it to an institutional repository or publish it in a book), with an acknowledgement of its initial publication in this journal.

Authors are permitted and encouraged to post their work online (e.g., in institutional repositories or on their website) prior to and during the submission process, as it can lead to productive exchanges, as well as earlier and greater citation of published work (See The Effect of Open Access).