Studi Evaluasi Sistem Saluran Drainase di Kecamatan Kapas, Kabupaten Bojonegoro, Provinsi Jawa Timur
Keywords:
Drainage, design discharge, drainage capacity
Abstract
Kecamatan Kapas merupakan salah satu kecamatan di Kabupaten Bojonegoro yang mengalami laju pertumbuhan penduduk cukup tinggi. Bertambahnya areal pemukiman, maka area resapan akan berkurang dan mengakibatkan nilai koefisien pengaliran menjadi semakin besar. Sehingga debit limpasan permukaan bertambah besar. Maka diperlukan penataan sistem drainase yang mampu menampung limpasan hujan hingga beberapa tahun mendatang. Analisis frekuensi terhadap data curah hujan dengan kala ulang 5 tahun menggunakan metode Log-Person III. Metode Rasional digunakan untuk mendapatkan debit rencana (Qranc). Dilakukan analisis hidraulika untuk menghitung debit kapasitas (Qkaps) dari saluran eksisting dan saluran rencana. Dari kedua hasil itu dibandingkan (Qkaps>Qranc) untuk mengetahui kemampuan dari setiap ruas saluran dalam menampung debit rencana. Sistem drainase dievaluasi hingga 20 tahun mendatang, dengan memproyeksikan pertumbuhan luas permukiman. Pertumbuhan luas permukiman dihitung menggunakan metode proyeksi aritmatik, dengan mengasumsikan pertumbuhan permukiman sama dengan pertumbuhan penduduk. Jika setelah 20 tahun mendatang terrjadi limpasan, maka dilakukan perbaikan slope dengan menggunakan batas kriteria kecepatan maksimum yang diijinkan sebesar 3,00 m/dt. Namun jika dengan perbaikan slope masih terjadi limpasan, maka diperlukan redimensi saluran. Redimensi saluran diperlukan pada ruas SP.5.Ki.2, SP.5.Ka.2, SP.8.Ki.1 dan SP.9.Ka.1. ataupun penanganan genangan lainnya.
References
Akajiaku C. Chukwuocha, Ngozi B. AC-C Chukwuocha, Nigeria. 2015. "Geographic Information Systems Based Urban Drainage Efficiency Factors." Department of Surveying and Geoinformatics, Federal University of Technology, Owerri, Owerri, Sofia, Bulgaria, 17-21
Lothar Fuchs, Thomas Beeneken, Martin Lindenberg. 2012. "Use of Geographic Information Systems for Flooding Analysis in Urban Drainage." Proceedings of the Federated Conference on Computer Science and Information Systems, pp. 627–631.
Marcelo Games Miguez, Aline Pires Verol and Paulo Roberto Ferreira Carneiro .2012. Suistainable Drainage systems: An Integrated Approach, Combining Hydraulic Engineering Design, Urban Land Control and River Revitalisation Aspect, Drainage Systems. Prof Muhammad Salik Javaid (Ed), ISBN: 978-953-51-0243-4, InTech
M. Kh. Askar. 2014. "Rainfall-Runoff Model Using The SCS-CN Method and Geographic Information Systems A Case Study of Gomal River Watershed." WIT Transactions on Ecology and The Environment, Vol 178.
Muhammad Amrulloh, Wiwik Yunarni Widiarti, Gusfan Halik. 2021. "Evaluasi Kinerja Sistem Drainase Jalan Kaliurang Kecamatan Sumbersari Kabupaten Jember" https://jurnalpengairan.ub.ac.id/index.php/jtp/article/download/540/378
Pambudi, B. A. 2015. Sistem Drainase Ramah Lingkungan (Eco-Dranase) dengan Cara Memanen Air Hujan. 7–8.
Pandulu et all. 2015. Pemanenan Air Hujan Pada Perumahan (Real Estate) Melalui Pembangunan Danau Dalam Rangka Mengurangi Eksploitasi Air Tanah Dan. 15(2), 165 – 172.
Rurung, M. A et all. 2019. "Perencanaan Sistem Drainase Berwawasan Lingkungan Dengan Sumur Resapan Di Lahan Perumahan Wenwin – Sea Tumpengan Kabupaten Minahasa." Jurnal Sipil Statik, 7(2), 189–200.
Salim, M. A. 2015. Pembangunan Sistem Drainase Berwawasan Lingkungan Di Kawasan Perumahan. Semarang : Universitas 17 Agustus 1945
Wicaksono, Dewa Hari, Ruslin Anwar, and Suroso. 2014. "Evaluasi Dan Perencanaan Ulang Saluran Drainase Pada Kawasan Perumahan Sawojajar Kecamatan Kedungkandang Kota Malang." Jurnal Rekayasa Sipil 8(3): 207 - 213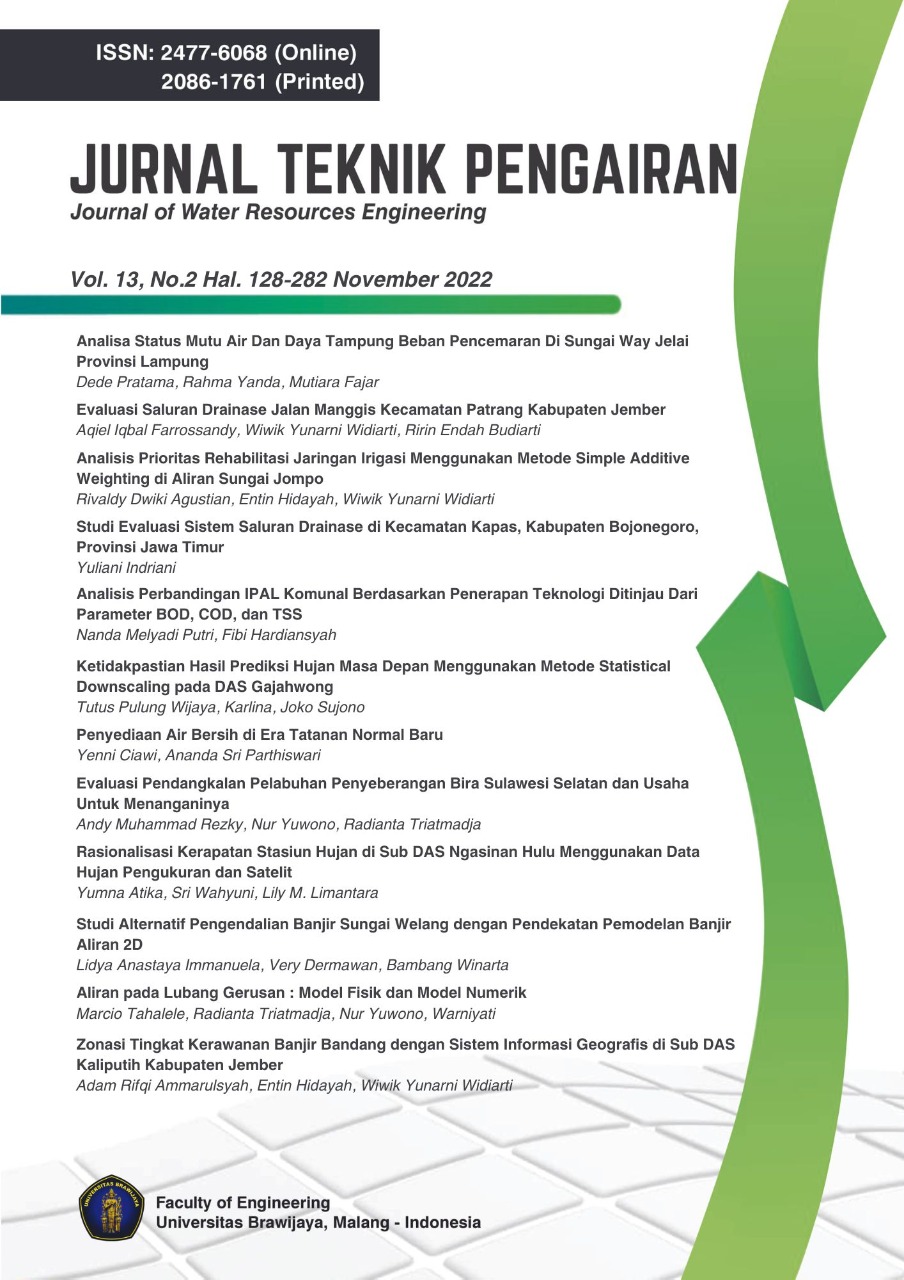 Downloads
How to Cite
INDRIANI, Y. (2022). Studi Evaluasi Sistem Saluran Drainase di Kecamatan Kapas, Kabupaten Bojonegoro, Provinsi Jawa Timur . Jurnal Teknik Pengairan: Journal of Water Resources Engineering, 13(2), 172–182. https://doi.org/10.21776/ub.pengairan.2022.013.02.04
License
Copyright (c) 2022 YULIA INDRIANI
This work is licensed under a Creative Commons Attribution-NonCommercial 4.0 International License.
Authors who publish with this journal agree to the following terms:

Authors retain copyright and grant the journal right of first publication with the work simultaneously licensed under a  Creative Commons Attribution-NonCommercial 4.0 International License that allows others to share the work with an acknowledgement of the work's authorship and initial publication in this journal.

Authors are able to enter into separate, additional contractual arrangements for the non-exclusive distribution of the journal's published version of the work (e.g., post it to an institutional repository or publish it in a book), with an acknowledgement of its initial publication in this journal.

Authors are permitted and encouraged to post their work online (e.g., in institutional repositories or on their website) prior to and during the submission process, as it can lead to productive exchanges, as well as earlier and greater citation of published work (See The Effect of Open Access).