Perbandingan Pola Distribusi Hujan Terukur dan Hujan Satelit PERSIANN di DAS Progo
Keywords:
distribusi hujan, korelasi, PERSIANN, terukur
Abstract
Pola distribusi hujan sangat diperlukan dalam analisis transformasi hujan aliran khususnya untuk penentuan hidrograf banjir rancangan bangunan hidrolik. Distribusi hujan ini sangat tergantung dengan data hujan durasi pendek yang umumnya sangat terbatas, sehingga sebagai solusi dapat digunakan data hujan berbasis satelit. Distribusi hujan satelit dapat digunakan apabila distribusi yang dihasilkan memiliki pola distribusi yang mendekati hujan terukur. Dalam analisis ini data hujan yang digunakan adalah data hujan jam–jaman dari beberapa stasiun hujan yang terletak di DAS Progo dan data hujan satelit PERSIANN yang lokasinya disesuaikan dengan koordinat stasiun hujan DAS Progo. Data hujan yang dianalisis merupakan kejadian hujan berurutan yang memiliki kedalaman ≥ 50 mm untuk data tahun 2013 – 2015. Hasil penelitian menunjukkan bahwa distribusi hujan satelit PERSIANN memiliki pola yang mendekati pola hujan terukur dengan nilai koefisien r rerata sebesar 0,98. Hasil tersebut menunjukkan bahwa hujan berbasis satelit dapat digunakan sebagai alternatif penentuan pola distribusi hujan apabila data hujan terukur tidak tersedia. Namun demikian, analisis serupa perlu dilakukan untuk karakteristik hujan di DAS yang berbeda.
References
BAPPEDA-DIY. 2018. Data peta DAS Progo. http://bappeda.jogjaprov.go.id/
BBWS-SO.2021. Data hujan jam – jaman DAS Progo. https://sda.pu.go.id/balai/bbwsserayuopak/ form-permohonan-informasi/
Chow, V. Te, Maidment, D. R., & Mays, L. W. 1988. Applied Hydrology. New York: McgrawHill Book Company.
Djordjević, B., Mane, A. S., & Krmac, E. 2021."Analysis of dependency and importance of key indicators for railway sustainability monitoring: A new integrated approach with DEA and Pearson correlation." Research in Transportation Business and Management, 41(xxxx), 100650. https://doi.org/10.1016/j.rtbm.2021.100650
Ega Hermawan, O., Montarcih Limantara, L., & Suhartanto, E. 2020."Analisis Sebaran Jaringan Penakar Hujan Dengan Metode Stepwise, Kriging & WMO Di DAS Serang Jawa Tengah." Jurnal Teknik Pengairan, 11(2), 137–146. https://doi.org/10.21776/ub.pengairan.2020.011.02.07
Enyew, B., & Steeneveld, G. 2014."Analysing the Impact of Topography on Precipitation and Flooding on the Ethiopian Highlands." Journal of Geology & Geosciences, 03(06). https://doi.org/10.4172/2329-6755.1000173
Ginting, J. M. 2019. Analisis hujan satelit PERSIANN dan GPM untuk perkiraan debit banjir DAS Progo. Universitas Gadjah Mada.
Hambali, R., Legono, D., & Jayadi, R. 2019."Analisis Keandalan Data Penakar Hujan Otomatis Sebagai Acuan Koreksi Perkiraan Hujan Radar." Jurnal Teknik Pengairan, 10(2), 151–159. https://doi.org/10.21776/ub.pengairan.2019.010.02.09
Harto, S. 2009. Hidrologi: Teori, Masalah, Penyelesaian. Nafiri Offset.
Hidayah, E., Widiarti, W. Y., Putra, P. P., Dewantie, A. A., Alhamda, M. Z., & Prastika, H. 2021. "Evaluation Of Hydrologic Modelling Using Satellite Product, And Mmr Rainfall In East Java, Indonesia." Journal of Ecological Engineering, 22(11), 246–260. https://doi.org/10.12911/22998993/142843
Hsu, K.-L., Sorooshian, S., Gao, X., Gupta, H. V., Imam, B., & Braithwaite, D. 1997."Evaluation of PERSIANN System Satellite-Based Estimates of Tropical Rainfall." Bulletin of the American Meteorological Society.
Huang, W.-R., Liu, P.-Y., & Hsu, J. 2021."Multiple timescale assessment of wet season precipitation estimation over Taiwan using the PERSIANN family products." International Journal of Applied Earth Observation and Geoinformation, 103(88), 102521. https://doi.org/10.1016/j.jag.2021.102521
Lydia, E. N., & Mutia, E. 2015."Penentuan Pola Agihan Hujan Tanpa Pemisahan." Jurnal Ilmiah Jurutera, 2(1), 48–56.
Mu, Y., Biggs, T., & Shen, S. S. P. 2021."Satellite-based precipitation estimates using a dense rain gauge network over the Southwestern Brazilian Amazon: Implication for identifying trends in dry season rainfall." Atmospheric Research, 261. https://doi.org/10.1016/j.atmosres.2021.105741
Omondi, C. K., Rientjes, T. H. M., Booij, M. J., & Nelson, A. D. 2021."Satellite rainfall bias assessment for crop growth simulation – A case study of maize growth in Kenya." Agricultural Water Management, 258(May). https://doi.org/10.1016/j.agwat.2021.107204
Prion, S., & Haerling, K. A. 2014."Making sense of methods and measurement: Pearson product-moment correlation coefficient." Clinical Simulation in Nursing, 10(11), 587–588. https://doi.org/10.1016/j.ecns.2014.07.010
Sok, R. 2019."Typical Rainfall Distribution Pattern of Flood Event Caused by Tropical Cyclone at Bima City, West Nusa Tenggara, Indonesia." Journal of the Civil Engineering Forum, 5(1), 1. https://doi.org/10.22146/jcef.34604
Sosrodarsono, S., & Takeda, K. 1983. Hidrologi untuk pengairan: cetakan kesembilan (9th ed.). PT. Pradnya Pramita.
Sugiyono. 2013. Metode Penelitian Pendidikan Pendekatan Kuantitatif, Kualitatif, dan R&D. Alfabeta.
Triatmodjo, B. 2019. Hidrologi Terapan: Cetakan Ketujuh. Beta Offset.
Vernimmen, R. R. E., Hooijer, A., Mamenun, Aldrian, E., & Van Dijk, A. I. J. M. 2012."Evaluation and bias correction of satellite rainfall data for drought monitoring in Indonesia." Hydrology and Earth System Sciences, 16(1), 133–146. https://doi.org/10.5194/hess-16-133-2012
Vusvitasari, R., Nugroho, S., & Akbar, S. 2016."Kajian Hubungan Koefisien Korelasi Pearson ( ρ ), Spearman-." Journal Statistika, 41–54.
Zhang, J., Chen, Y., & Li, C. 2021."Typhoon Hato's precipitation characteristics based on PERSIANN." Tropical Cyclone Research and Review, 10(2), 75–86. https://doi.org/10.1016/j.tcrr.2021.05.001
Ziarh, G. F., Shahid, S., Ismail, T. Bin, Asaduzzaman, M., & Dewan, A. 2021."Correcting bias of satellite rainfall data using physical empirical model." Atmospheric Research, 251(August 2020), 105430. https://doi.org/10.1016/j.atmosres.2020.105430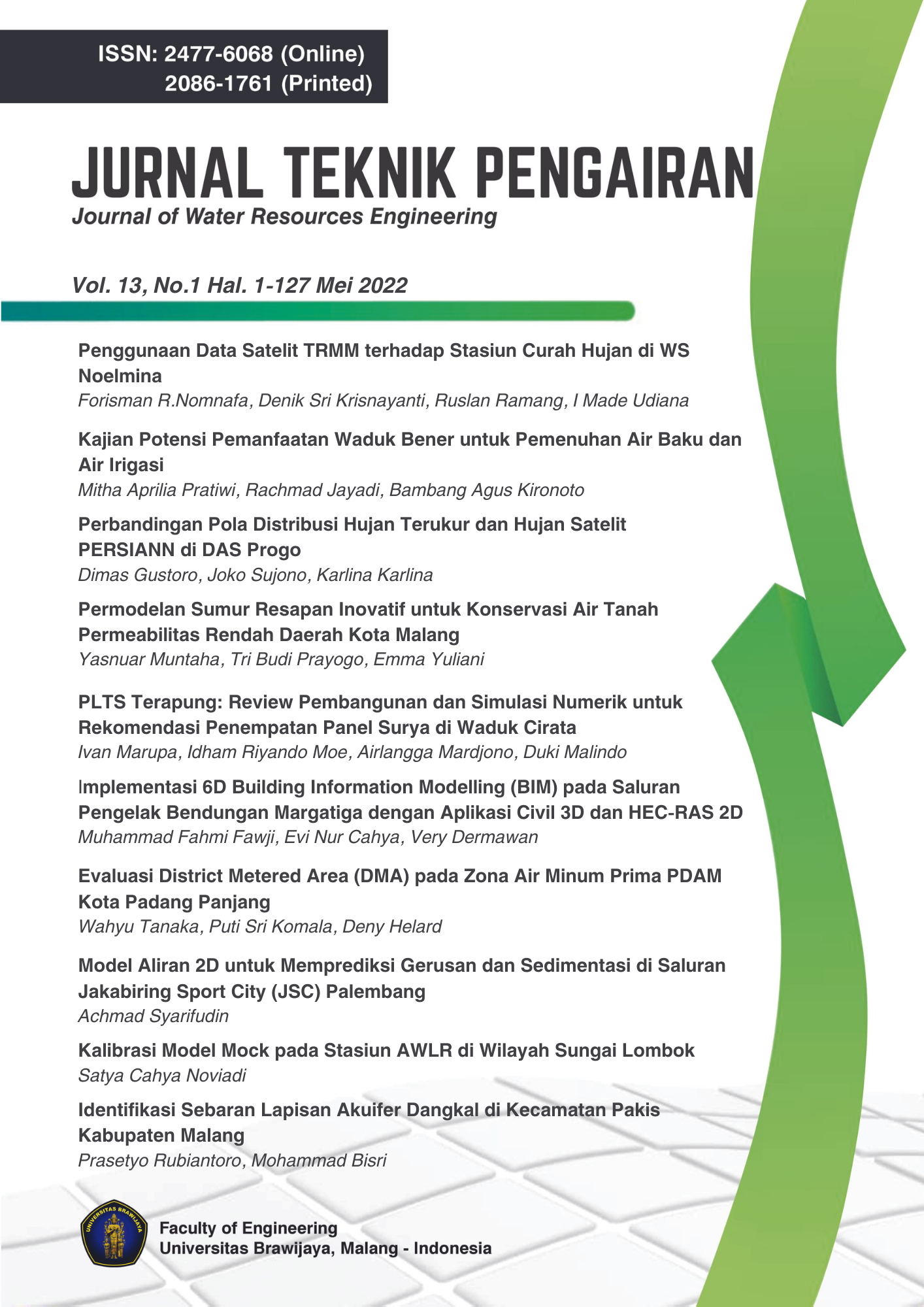 Downloads
How to Cite
Gustoro, D., Sujono, J., & Karlina, K. (2022). Perbandingan Pola Distribusi Hujan Terukur dan Hujan Satelit PERSIANN di DAS Progo. Jurnal Teknik Pengairan: Journal of Water Resources Engineering, 13(1), 23–35. https://doi.org/10.21776/ub.pengairan.2022.013.01.03
License
Copyright (c) 2022 Dimas Gustoro, Joko Sujono, Karlina Karlina
This work is licensed under a Creative Commons Attribution-NonCommercial 4.0 International License.
Authors who publish with this journal agree to the following terms:

Authors retain copyright and grant the journal right of first publication with the work simultaneously licensed under a  Creative Commons Attribution-NonCommercial 4.0 International License that allows others to share the work with an acknowledgement of the work's authorship and initial publication in this journal.

Authors are able to enter into separate, additional contractual arrangements for the non-exclusive distribution of the journal's published version of the work (e.g., post it to an institutional repository or publish it in a book), with an acknowledgement of its initial publication in this journal.

Authors are permitted and encouraged to post their work online (e.g., in institutional repositories or on their website) prior to and during the submission process, as it can lead to productive exchanges, as well as earlier and greater citation of published work (See The Effect of Open Access).