Kajian Potensi Pemanfaatan Waduk Bener Untuk Pemenuhan Air Baku dan Air Irigasi
Keywords:
Intensitas Tanam, Optimasi, program linier, Reliabilitas
Abstract
Waduk Bener merupakan waduk serbaguna yang memanfaatkan air DAS Bogowonto sebagai bagian dari Wilayah Sungai Serayu-Bogowonto untuk pemenuhan layanan air baku, air irigasi dan pembangkit listrik tenaga mikrohidro. Penelitian ini bertujuan untuk mengoptimasi air untuk memenuhi kebutuhan air irigasi dan air baku. Ketersediaan air dihitung menggunakan alihragam hujan-aliran metode Mock. Optimasi pengaturan release air waduk menggunakan metode Program Linier berbasis prinsip neraca air waduk dengan inflow debit tengah bulanan untuk aliran tahun basah, normal dan kering. Optimasi dilakukan dengan tiga skenario kondisi kebutuhan air baku yaitu kondisi eksisting, kondisi 25 dan 50 tahun. Simulasi pemanfaatan air waduk menggunakan metode Standard Operating Rule (SOR) menunjukkan nilai intensitas tanam tahunan berkisar 247,62%-292,81%. Hasil optimasi menunjukkan peningkatan intensitas tanam tahunan mencapai 287,24%-300% dengan reliabilitas layanan kebutuhan air sebesar 100% serta rerata faktor k untuk air irigasi dan air baku yang memenuhi persyaratan yang ditetapkan.
References
Adiningrum, Cita. 2015. 13 Analisis Perhitungan Evapotranspirasi Aktual Terhadap Perkiraan Debit Kontinyu Dengan Metode Mock.
Azis A. 2012. Optimasi Pemanfaatan Sumber Daya Air Waduk Pandanduri Di Lombok Timur Nusa Tenggara Barat.
Chou, Frederick N.F., Nguyen Thi Thuy Linh, and Chia Wen Wu. 2020. "Optimizing the Management Strategies of a Multi-Purpose Multi-Reservoir System in Vietnam." Water (Switzerland) 12(4).
Ginting, Bobby Minola, Dhemi Harlan, Ahmad Taufik, and Herli Ginting. 2017. "Optimization of Reservoir Operation Using Linear Program, Case Study of Riam Jerawi Reservoir, Indonesia." International Journal of River Basin Management 15(2): 187–98.
Goodarzi, Ehsan, Mina Ziaei, and Edward Zia Hosseinipour. 2014. Topics in Safety, Risk, Reliability and Quality Introduction to Optimization Analysis in Hydrosystem Engineering. http://www.springer.com/series/6653.
Hadthya, Reinhart, Rachmad Jayadi, and Endita Prima Ari Pratiwi. 2020. "Optimasi Pemanfaatan Air Waduk Tukul Menggunakan Model Simulasi Operasi Waduk Multiguna."
Hilmi, Moh, Aniek Masrevaniah, and Widandi Soetopo. 2012. 3 Jurnal Teknik Pengairan Optimasi Pola Operasi Waduk Pelaparado Di Kabupaten Bima, Propinsi NTB.
Jayadi, Rachmad. 2020. Model Optimasi Sumber Daya Air.
Kumalasari D. 2015. Optimasi Waduk Jatibarang Untuk Kebutuhan Air Kota Semarang.
Leela Krishna, K., N. V. UmaMahesh, and A. Srinivasa Prasad. 2018. "Optimal Multipurpose Reservoir Operation Planning Using Genetic Algorithm and Non Linear Programming (GA-NLP) Hybrid Approach." ISH Journal of Hydraulic Engineering 24(2): 258–65.
Mock, F. J. 1973. Land Capability-Appraisal Indonesia Water-Availability
Appraisal. UNDP/FAO.
Nuramini, Tika Morena. 2017. Studi Optimasi Pola Pengoperasian Waduk Bajulmati.
Oktaviani, Whindy Ndaru, Ariyanti Sarwono, and I Wayan Koko Suryawan. 2021. "Identification of Surface Water Treatment Plant ( WTP ) Effluent and Distribution Water Quality in Wonogiri Regency , Central Java." Civense 5(1): 3–8.
PT. Indra Karya. 2015. Laporan Akhir Desain Lanjutan Dan Sertifikasi Bendungan Bener.
Pusat Litbang Sumber Daya Air. 2011. Pengelolaan Alokasi Air Di Wilayah Sungai.
Pusdiklat Sumber Daya air dan Konstruksi. 2017. Modul Operasi Waduk: Pelatihan Alokasi Air.
Sulistiono, Andi et al. 2014. 9 Jurnal Irigasi Simulasi Operasi Waduk Lamong Untuk Kepentingan Air Baku Dan Irigasi.
Yekti, Mawiti Infantri, I Putu, Dwikarna Putra, and Nyoman Norken. 2020. 22 Alternative Model of Sidan Reservoir Operation for Ayung River Basin Using RIBASIM. http://www.cigrjournal.org.
Ziaei, Mina, Lee Teang Shui, and Ehsan Goodarzi. 2012. "Optimization and Simulation Modelling for Operation of the Zayandeh Rud Reservoir." Water International 37(3): 305–18.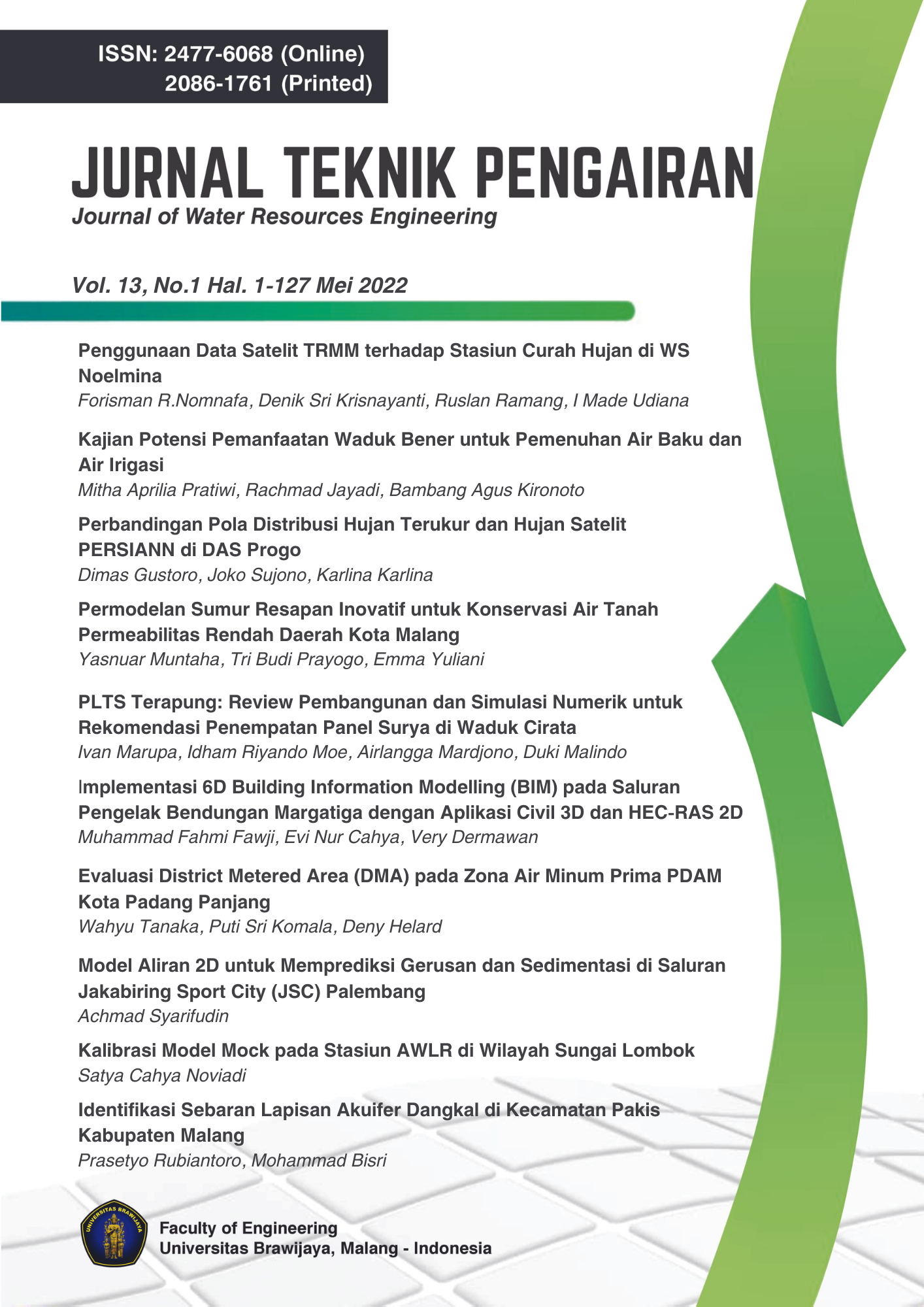 Downloads
How to Cite
Pratiwi, M. A., Jayadi, R., & Kironoto, B. A. (2022). Kajian Potensi Pemanfaatan Waduk Bener Untuk Pemenuhan Air Baku dan Air Irigasi. Jurnal Teknik Pengairan: Journal of Water Resources Engineering, 13(1), 12–22. https://doi.org/10.21776/ub.pengairan.2022.013.01.02
License
Copyright (c) 2022 Mitha Aprilia Pratiwi, Rachmad Jayadi, Bambang Agus Kironoto
This work is licensed under a Creative Commons Attribution-NonCommercial 4.0 International License.
Authors who publish with this journal agree to the following terms:

Authors retain copyright and grant the journal right of first publication with the work simultaneously licensed under a  Creative Commons Attribution-NonCommercial 4.0 International License that allows others to share the work with an acknowledgement of the work's authorship and initial publication in this journal.

Authors are able to enter into separate, additional contractual arrangements for the non-exclusive distribution of the journal's published version of the work (e.g., post it to an institutional repository or publish it in a book), with an acknowledgement of its initial publication in this journal.

Authors are permitted and encouraged to post their work online (e.g., in institutional repositories or on their website) prior to and during the submission process, as it can lead to productive exchanges, as well as earlier and greater citation of published work (See The Effect of Open Access).