Evaluasi District Metered Area (DMA) pada Zona Air Minum Prima PDAM Kota Padang Panjang
Keywords:
ZAMP, DMA, NRW, ILI, EPANET
Abstract
Zona Air Minum Prima (ZAMP) Silaing Bawah Kota Padang Panjang memiliki 2 (dua) pipa jaringan distribusi yaitu DMA 01 dan DMA 02. Untuk menentukan performa DMA maka dilakukan analisis Non Revenue Water (NRW), Infrastructure Leakage Index (ILI) dan Uji Kinerja Hidrolis dengan Epanet. Pada penelitian ini, didapatkan hasil analisis NRW untuk DMA 01 dan DMA 02 sebesar 46,51% dan 54,42 % masing-masing, dimana hasilnya masih diatas PerMen PU No 20/PRT/M/2006 yang dipersyaratkan yaitu 20%. Sedangkan nilai ILI untuk DMA 01 dan DMA 02 adalah sama yaitu ILI > 16, kategori D (buruk). Untuk hasil analisis Epanet, dipantau sebanyak 41 pipa pada DMA 01 dan 21 pipa pada DMA 02 menunjukkan hasil nilai tekanan serta residu chlorine pada aliran DMA 01 dan DMA 02 semua titik memenuhi standar yaitu P > 0,5 bar dan residu chlorine > 0,22 dan 0,23 mg/l masing-masing. Ditinjau dari nilai velocity, pada DMA 01 (9 pipa) dan DMA 02 (8 pipa) dibawah standar yaitu < 0,3 m/s. Untuk nilai head loss sendiri pada DMA 01 (13 pipa) dan DMA 02 (5 pipa) juga melebihi standar yaitu > 10m/km.
References
Alvisi, S., and M. Franchini. 2014. "A Procedure for the Design of District Metered Areas in Water Distribution Systems." Procedia Engineering 70: 41–50. http://dx.doi.org/10.1016/j.proeng.2014.02.006.
BPPSPAM. 2018. "BPPSPAM Dampingi PDAM Padang Panjang Terapkan ZAMP." http://sim.ciptakarya.pu.go.id/bppspam/detail_berita/170.
BPS Kota Padang Panjang. 2019. "Proyeksi Penduduk (Jiwa), 2018-2020." https://padangpanjangkota.bps.go.id/subject/12/kependudukan.html#subjekViewTab3 (March 30, 2020).
Efendi, Fery Dwi Cahyo. 2018. "Evaluasi Kehilangan Air Pada Jaringan Pipa PDAM Unit Grogol Kabupaten Kediri." Universitas Jember. http://repository.unej.ac.id/bitstream/handle/123456789/89465/Fery Dwi Cahyo Efendi-141910301010_1.pdf?sequence=1&isAllowed=y.
El-Ahmady, Imanullah Imsawan, and Emenda Sembiring. 2014. "Pemilihan Program Pengendalian Kehilangan Air Peningkatan Pendapatan PDAM." Jurnal Teknik Lingkungan 20(Oktober 2014): 142–51.
Fantozzi, M, F Calza, and a Lambert. 2009. "Experience and Results Achieved in Introducing District Metered Areas (DMA) and Pressure Management Areas (PMA) at Enia Utility (Italy)." Proceedings of the 5th IWA Water Loss Reduction Specialist Conference (April): 153–60.
Farley, Malcolm, Wyeth Gary, and dan Sher Singh Zainuddin, Arie Istandar. 2008. "Buku Pegangan Tentang Air Tak Berekening (NRW) Untuk Manajer, Panduan Untuk Memahami Kehilangan Air." : 60 hal.
Hanifatuzzulfah, Resiyana., Dedy Kurnia Sunaryo, and M.Adkha Yulianandha. 2019. "KEBOCORAN PIPA PDAM ( Studi Kasus : PDAM Unit Randublatung I , Kabupaten Blora )."
Haq, Bariqul, and Ali Masduqi. 2014. "Sistem Distribusi Air Siap Minum PDAM Kota Malang." Jurnal Teknik Pomits 3(2): 182–87. http://ejurnal.its.ac.id/index.php/teknik/article/view/7865.
Izquierdo, J., M. Herrera, I. Montalvo, and R. Pérez-García. 2009. "Agent-Based Division of Water Distribution Systems into District Metered Areas." ICSOFT 2009 - 4th International Conference on Software and Data Technologies, Proceedings 2: 83–90.
L, Gaikwad Prashant, and Pravin S Chaudhari. 2016. "Assessment of Non-Revenue Water in District Meter Area ( DMA )." : 300–303.
Lisna, Fatma. 2018. Analisis Kandungan Sisa Klor Dan Escherichia Coli Dalam Jaringan Distribusi Di District Meter Area (DMA) 2 Zona Bukit Surungan Perusahaan Umum Daerah (PERUMDA) Air Minum Kota Padang Panjang. Teknik Lingkungan Universitas Andalas. http://scholar.unand.ac.id/95274/5/TUGAS AKHIR FULL TEXT..pdf.
Macdonald, Graham, and Carl D Yates. 2005. "DMA Design and Implementation , a North American Context." Leakage: 1–8.
MenPU RI. 2006. "PERATURAN MENTERI PEKERJAAN UMUM NOMOR: 20/PRT/M/2006 TENTANG KEBIJAKAN DAN STRATEGI NASIONAL PENGEMBANGAN SISTEM PENYEDIAAN AIR MINUM (KNSP-SPAM)." (September).
MenPUPR RI. 2016. "PERATURAN MENTERI PEKERJAAN UMUM DAN PERUMAHAN RAKYAT REPUBLIK INDONESIA TENTANG PENYELENGGARAAN SISTEM PENYEDIAAN AIR MINUM."
Natalia, Benita. 2014. "Implementasi Program Zona Air Minum Prima (ZAMP) Untuk Memenuhi Kebutuhan Air Minum Masyarakat (Studi Pada PDAM Kota Malang)." Jurnal Administrasi Publik Mahasiswa Universitas Brawijaya 2(1): 11–15.
PDAM Tirta Benteng. 2020. "BPPSPAM: Ini Kriteria Teknis Pembentukan ZAMP Di PDAM." http://www.pdamtirtabenteng.co.id/berita/bppspam-ini-kriteria-teknis-pembentukan-zamp-di-pdam (March 30, 2020).
Rofida, Rona. 2018. "Pemetaan Kualitas Air Siap Minum Di Pelanggan PDAM Kota Malang."
Syahidah, Zahra Aulia, and Suprapti Bintari. 2016. "Identifikasi Kebocoran Pipa PDAM Kota Malang Dengan Metode Step Test." Jurnal Infrastruktur Direktorat Jenderal Cipta Karya 02(02).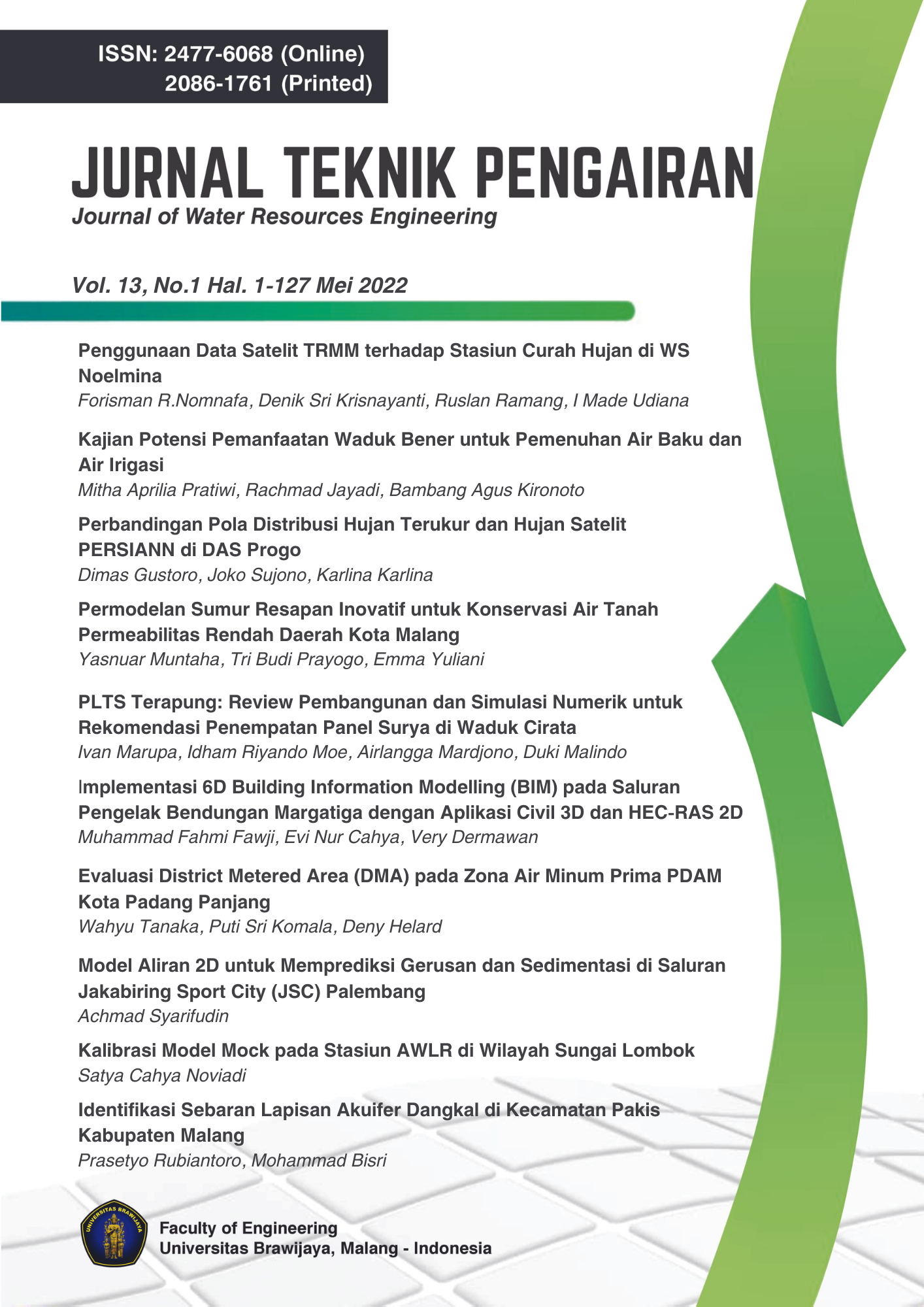 Downloads
How to Cite
Tanaka, W., Komala, P. S., & Helard, D. (2022). Evaluasi District Metered Area (DMA) pada Zona Air Minum Prima PDAM Kota Padang Panjang. Jurnal Teknik Pengairan: Journal of Water Resources Engineering, 13(1), 75–89. https://doi.org/10.21776/ub.pengairan.2022.013.01.07
License
Copyright (c) 2022 Wahyu Tanaka, Puti Sri Komala, Denny Helard
This work is licensed under a Creative Commons Attribution-NonCommercial 4.0 International License.
Authors who publish with this journal agree to the following terms:

Authors retain copyright and grant the journal right of first publication with the work simultaneously licensed under a  Creative Commons Attribution-NonCommercial 4.0 International License that allows others to share the work with an acknowledgement of the work's authorship and initial publication in this journal.

Authors are able to enter into separate, additional contractual arrangements for the non-exclusive distribution of the journal's published version of the work (e.g., post it to an institutional repository or publish it in a book), with an acknowledgement of its initial publication in this journal.

Authors are permitted and encouraged to post their work online (e.g., in institutional repositories or on their website) prior to and during the submission process, as it can lead to productive exchanges, as well as earlier and greater citation of published work (See The Effect of Open Access).