PLTS Terapung: Review Pembangunan dan Simulasi Numerik Untuk Rekomendasi Penempatan Panel Surya di Waduk Cirata
Keywords:
PLTS Terapung, Simulasi, Penempatan, Cirata
Abstract
PLTS Terapung adalah salah satu proyek strategis nasional dari pemerintah Indonesia. Review teknis dan sosial adalah hal yang perlu dipertimbangkan.  Dalam hal teknis, beberapa hal yang perlu dipertimbangkan dalam penempatan panel PLTS Terapung adalah inflow, velocity, tinggi gelombang, distribusi sediment melayang dan angin kencang. Selain itu, lokasi penempatan PLTS terapung tidak dekat dengan lokasi spillway pada Bendungan. Pada aspek sosial, keterlibatan dan pelaksanaan koordinasi yang baik antara stakeholder dan pihak terkait sangat perlu dalam tahap perencanaan, terutama meyakinkan masyarakat terhadap penerimaan PLTS Terapung. Sebagai evaluasi teknis, simulasi numeris dilakukan dalam memberikan rekomendasi area panel PLTS Terapung di area Waduk Cirata. Simulasi numerik dilakukan untuk memahami kondisi terberat yang akan dialami oleh PLTS Terapung khususnya pada kondisi ekstrim dan angin kencang. Hasil simulasi akan menunjukkan lokasi dengan kecepatan aliran dan konsentrasi sedimen paling kecil untuk penempatan PLTS Terapung. Sebagai hasil analisa didapatkan area seluas 242.93 Ha atau ± 4.1% dari total luas genangan Waduk Cirata. Area ini adalah area genangan dengan kecepatan aliran air minimal, yakni < 5 cm/s, dan konsentrasi sedimen layang < 10 gr/m3. Nilai tersebut dapat dijadikan penilaian awal dalam melakukan rekomendasi penempatan panel PLTS Terapung di area Waduk Cirata.
References
Balai Teknik Bendungan. 2021. PEMBANGKIT LISTRIK TENAGA SURYA (PLTS) TERAPUNG. Direktorat Jenderal Sumber Daya Air. Kajian Teknis.
Choi, Young-Kwan. 2014. "A Study on Power Generation Analysis of Floating PV System Considering Environmental Impact."
Dai, Jian dkk. 2020. "Design and Construction of Floating Modular Photovoltaic System for Water Reservoirs." Energy 191: 116549.
Deroo, L, ISL, France, dan Chair of ICOLD Technical Committee. 2021. "Floating PV solar on dam reservoirs." Hydropower & Dams 28(3): 62–66.
Direktorat Bendungan dan Danau. 2021. Kajian Teknis Pemanfaatan Area Genangan Waduk untuk PLTS. Kementerian Pekerjaan Umuim dan Perumahan Rakyat.
Gérard, Nicolas, Jullen Pralong, dan Arnaud Rousselin. 2021. "The Lazer (France) and Nam Theun 2 (Laos) floating solar projects." Dalam ICOLD.
Jamalludin, Mohd Alif Saifuddin dkk. 2019. "Potential of Floating Solar Technology in Malaysia." International Journal of Power Electronics and Drive Systems (IJPEDS) 10(3): 1638–44.
Kementerian Pekerjaan Umum dan Perumahan Rakyat Republik Indonesia. 2020. Peraturan Menteri Pekerjaan Umum dan Perumahan Rakyat Nomor 6 Tahun 2020 tentang Perubahan atas Peraturan Menteri Pekerjaan Umum dan Perumahan Rakyat Nomor 27/PRT/M/2015 tentang Bendungan.
K-Water. 2011. Groundwork research for Commercialization of Floated Photovoltaic System.
Peraturan Presiden Nomor 18 Tahun 2020. 2020. Peraturan Presiden (PERPRES) tentang Rencana Pembangunan Jangka Menengah Nasional Tahun 2020-2024.
PT. Krakatau Tirta Industri. 2021. "Porsi Luasan Yang Layak Untuk PLTS terapung Di Waduk Krenceng." Dipresentasikan pada Rapat Koordinasi Bappenas.
Qomara, Grienda. 2015. "Kebangkitan Tiongkok dan Relevansinya terhadap Indonesia." Jurnal Hubungan Internasional 8: 31–44.
Rahman, Md Wazedur dkk. 2017. "Solar lanes and floating solar PV: New possibilities for source of energy generation in Bangladesh." Dalam 2017 Innovations in Power and Advanced Computing Technologies (i-PACT), Vellore: IEEE, 1–6.
Rinaldi, Aris, dan Joko Mulyono. 2021. "Peluang Pembangkit Listrik Tenaga Surya (PLTS) pada Genangan Waduk." 7: 106–13.
Sahu, Alok, Neha Yadav, dan K. Sudhakar. 2016. "Floating Photovoltaic Power Plant: A Review." Renewable and Sustainable Energy Reviews 66: 815–24.
Schwab, Klaus. 2017. The Global Competitiveness Report. World Economic Forum.
Sulaeman, Samer, Erik Brown, Raul Quispe-Abad, dan Norbert Müller. 2021. "Floating PV System as an Alternative Pathway to the Amazon Dam Underproduction." Renewable and Sustainable Energy Reviews 135: 110082.
Susanto, H. 2020. "Rencana dan Pelaksanaan Pembangkit Listrik Tenaga Surya Terapung di Permukaan Waduk untuk Mendukung Program Energi Terbarukan." Dipresentasikan pada Webminar Presentasi, Komisi Nasional Indonesia untuk Bendungan Besar (KNIBB), Jakarta, Indonesia.
Tsoutsos, Theocharis, Niki Frantzeskaki, dan Vassilis Gekas. 2005. "Environmental Impacts from the Solar Energy Technologies." Energy Policy 33(3): 289–96.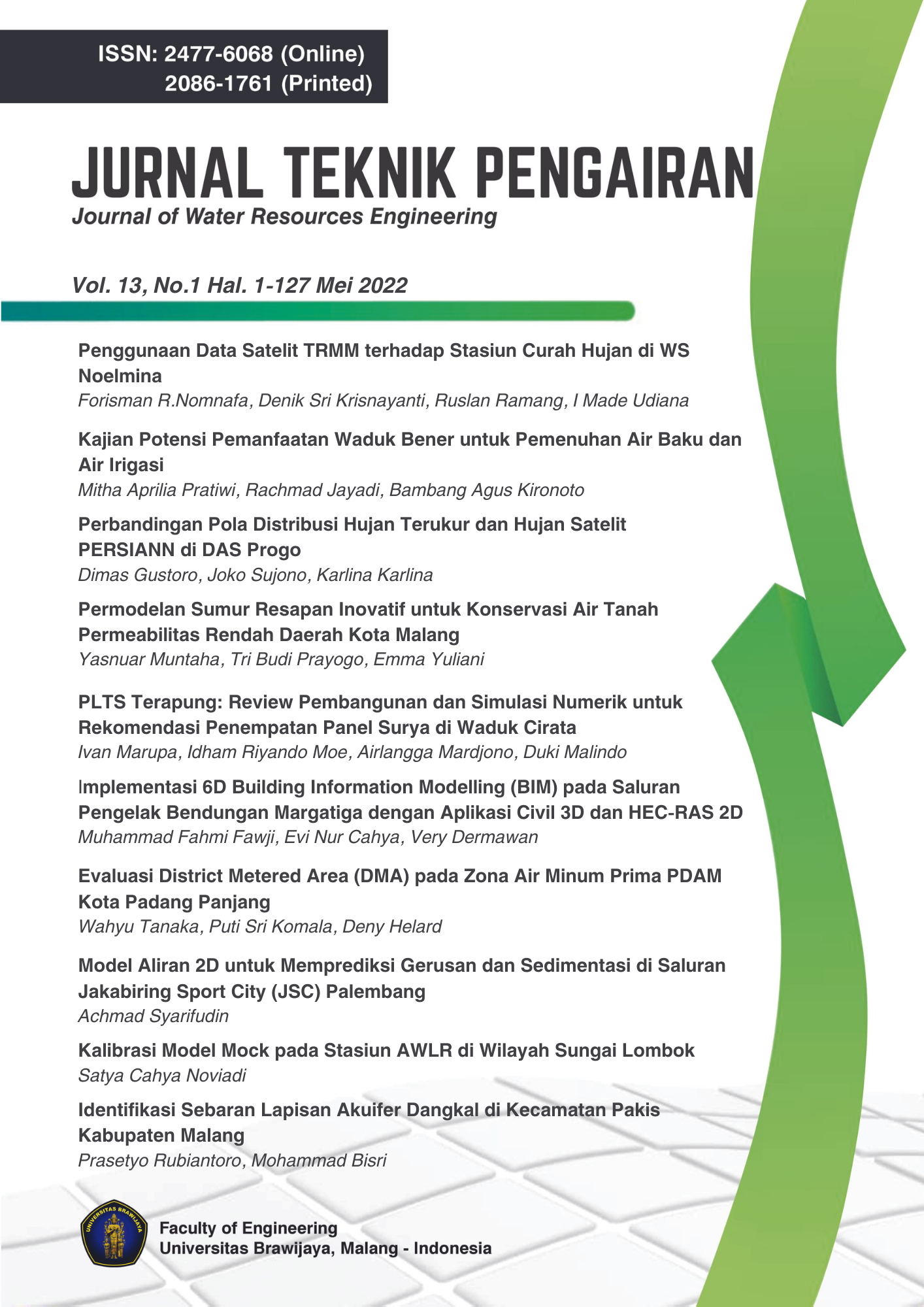 Downloads
How to Cite
Marupa, I., Moe, I. R., Mardjono, A., & Malindo, D. (2022). PLTS Terapung: Review Pembangunan dan Simulasi Numerik Untuk Rekomendasi Penempatan Panel Surya di Waduk Cirata. Jurnal Teknik Pengairan: Journal of Water Resources Engineering, 13(1), 48–62. https://doi.org/10.21776/ub.pengairan.2022.013.01.05
License
Copyright (c) 2022 Ivan Marupa, Idham Riyando Moe, Airlangga Mardjono, Duki Malindo
This work is licensed under a Creative Commons Attribution-NonCommercial 4.0 International License.
Authors who publish with this journal agree to the following terms:

Authors retain copyright and grant the journal right of first publication with the work simultaneously licensed under a  Creative Commons Attribution-NonCommercial 4.0 International License that allows others to share the work with an acknowledgement of the work's authorship and initial publication in this journal.

Authors are able to enter into separate, additional contractual arrangements for the non-exclusive distribution of the journal's published version of the work (e.g., post it to an institutional repository or publish it in a book), with an acknowledgement of its initial publication in this journal.

Authors are permitted and encouraged to post their work online (e.g., in institutional repositories or on their website) prior to and during the submission process, as it can lead to productive exchanges, as well as earlier and greater citation of published work (See The Effect of Open Access).