Penentuan Desain Optimum Penstock untuk Pembangkit Listrik Tenaga Mikrohidro di Sungai Poreng, Jember
Keywords:
Micro Hydro, Optimization, Penstock
Abstract
Pipa pesat merupakan saluran penghubung antara bak penenangdengan turbin pada rumah pembangkit. Meminimalisir kehilanganenergi pada pipa pesat sangat penting untuk mengoptimalkanbangkitan energi listrik. Tujuan penelitian ini adalah melakukanoptimasi diameter dan tebal pipa pesat untuk mencari hasil yangpaling efisien, yang dikaji dari aspek hidrolika dan biayanya.Metode pemilihan pipa pesat yang optimal dapat ditentukanberdasarkan hubungan secara empiris, antara berbagai formula daridiameter dan tebal pipa pesat yang dinilai terhadap energi yangdihasilkan serta harga pipa pesat itu sendiri. Hasil penelitianmenunjukkan bahwa besar diameter berbanding lurus dengan besarenergi yang dihasilkan dan harga pipa pesat. Berdasarkanperbandingan, didapatkan diameter optimum pipa pesat sebesar0,45 meter dengan tebal 0,0018 meter yang dihitung menggunakanformula dari Moffat, serta daya bangkitan sebesar 52,16 kW danenergi sebesar 456.914,33 kWh per tahunnya dengan harga pipaIDR 3.610.900 per meter pipa pesat.Penstock is the connecting channel between the forebay and theturbine in the power house. Minimizing the energy loss in thepenstock is very important to optimize the generation of electricalenergy. The purpose of this research is to optimize the diameterand thickness of penstock to find the most efficient results, whichare examined from the aspects of hydraulics and costs. The optimalmethod of penstock selection can be determined based on theempirical relationship between the various formulas of the diameterand thickness of the penstock as assessed by the energy producedand the price of the penstock itself. The results showed that thediameter was directly proportional to the amount of energyproduced and penstock price. Based on the comparison, theoptimum diameter of the penstock is 0,45 meters with a thicknessof 0,0018 meters which is calculated using the formula fromMoffat, as well as a generation power of 52,16 kW and energy of456.914,33 kWh yearly with the price of IDR 3.610.900 per meterpenstock pipe.
References
Ariansyah, Aida Putri. 2018. "Perencanaan Pembangkit Listrik Tebaga Mikrohidro Pada Bendung Karet Jatimlerek Kecamatan Plandaan Kabupaten Jombang." : 9.
Arismunandar, Artono. 2004. Teknik Tenaga Listrik I. Jakarta: PT. Pradnya Paramita.
Hidayah, Entin, Indarto, Sri Wahyuni, and Propoded Method. 2017. "Proposed Method to Determine The Potential Location of Hydropowerplant: Application at Rawatamtu Watershed, East Java." Procedia Engineering 171: 1495–1504.
Kamis, Marlina, and Ruslan Amir. 2017. "Studi Pipa Pesat Pada Pembangkit Listrik Tenaga Mikrohidro (Pltmh)." Jurnal Teknik DINTEK 10(02): 44–50.
Kravanja, Stojan. 2018. "Optimization of a Steel Penstock With Stiffener Rings." Electronic Journal of the Faculty of Civil Engineering Osijek-e-GFOS (17): 64–73.
Luthfi, Miftah. 2016. "Perencanaan Pembangkit Listrik Tenaga Mikro Hidro Pada Waduk Sidodadi Glenmore Banyuwangi." 1.
Moffat, Iain, Pavel Novak, and Rangaswani Naryanan. 2017. Taylor & Farncis Hydraulic Structures. 4th ed. New York: Taylor & Francis.
Morales, Sergio et al. 2015. "An Overview of Small Hydropower Plants in Colombia: Status, Potential, Barriers and Perspectives." Renewable and Sustainable Energy Reviews 50: 1650– 57.
Muhamad, Irfan, and Adi Syuriadi. 2016. "Analisis Faktor Head Losses Penstock Terhadap Daya Yang Dihasilkan Di Plta Saguling." POLITEKNOLOGI 15(3): 239–44.
Prabowo, Yusuf Setya. 2017. Perencanaan Pembangkit Listrik Tenaga Mikro Hidro Desa Sutopati Kecamatan Kajoran Kabupaten Magelang. Surabaya.
Rakhmawati, Tsani, Raden Roro Rintis Hadiani, and Solichin Solichin. 2016. "Optimasi Diameter Pipa Pesat Pada Model Pembangkit Listrik Tenaga Mikrohidro (Pltmh)." Matriks Teknik Sipil 4(3): 759–65. https://matriks.sipil.ft.uns.ac.id/index.php/MaTekSi/article/view/568.
Santoso, Emie, and Agus Priyo. 2017. "Analisa Pengaruh Water Hammer Terhadap Pipe Stress Jalur Pipa Avtur Terminal ISG Tanjung Perak–DPPU Bandara Juanda." Proceedings Conference on Piping Engineering and its Application 2(1): 51–54.
Singhal, Mukesh Kumar, and Arun Kumar. 2015. "Optimum Design of Penstock for Hydro Projects." International Journal of Energy and Power Engineering 4(4): 216.
USBR. 1986. Welded Steel Penstocks. Engineering Monograph No. 3. Washington: U.S Goverment Printing Office. http://www.usbr.gov/pmts/hydraulics_lab/pubs/EM/EM03.pdf.
Warnick. 1984. Hydropower Engineering. New Jersey: Prentice-Hall.Inc.
Yildiz, Veysel, and Jasper A. Vrugt. 2019. "A Toolbox for the Optimal Design of Run-of-River Hydropower Plants." Environmental Modelling and Software 111: 134–52. https://doi.org/10.1016/j.envsoft.2018.08.018.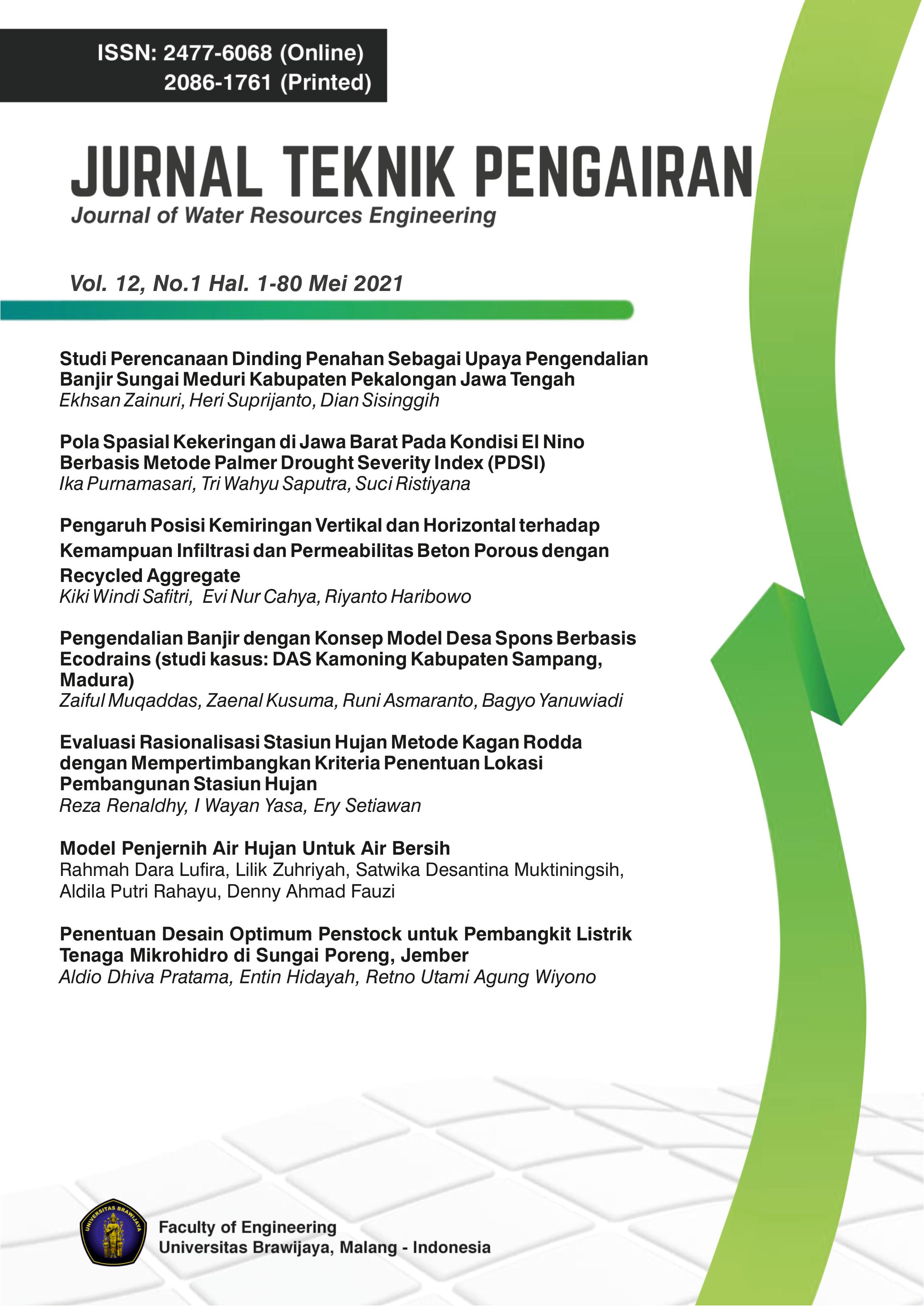 Downloads
How to Cite
Pratama, A. D., Hidayah, E., & Wiyono, R. U. A. (2021). Penentuan Desain Optimum Penstock untuk Pembangkit Listrik Tenaga Mikrohidro di Sungai Poreng, Jember. Jurnal Teknik Pengairan: Journal of Water Resources Engineering, 12(1), 71–80. https://doi.org/10.21776/ub.pengairan.2021.012.01.07
License
Copyright (c) 2021 Aldio Dhiva Pratama, Entin Hidayah, Retno Utami Agung Wiyono
This work is licensed under a Creative Commons Attribution-NonCommercial 4.0 International License.
Authors who publish with this journal agree to the following terms:

Authors retain copyright and grant the journal right of first publication with the work simultaneously licensed under a  Creative Commons Attribution-NonCommercial 4.0 International License that allows others to share the work with an acknowledgement of the work's authorship and initial publication in this journal.

Authors are able to enter into separate, additional contractual arrangements for the non-exclusive distribution of the journal's published version of the work (e.g., post it to an institutional repository or publish it in a book), with an acknowledgement of its initial publication in this journal.

Authors are permitted and encouraged to post their work online (e.g., in institutional repositories or on their website) prior to and during the submission process, as it can lead to productive exchanges, as well as earlier and greater citation of published work (See The Effect of Open Access).