Analisis Ketersediaan Air Menggunakan Model Rain Run NRECA dan Tanki di DAS Babak
Keywords:
AWLR, Babak, Bendung, Keru, Nreca, Tanki
Abstract
Dalam penelitian ini akan ditinjau adalah pemodelan Nreca maupun Tanki pada Bendung Keru di DAS Babak yang memiliki ketersedian catatan debit air. Pemodelan dimulai dari kalibrasi model rain run sehingga mendapatkan koefisien Nreca dan Tanki pada AWLR Keru. Kemudian perhitungan debit pada Bendung Keru menggunakan data spasial serta data curah hujan dari ARR Keru. Hasil antara pemodelan pada Nreca dan Tanki dibandingkan dengan catatan debit pada Bendung Keru. Hasil dari penelitian ini adalah nilai koefisien model pada AWLR Keru di DAS Babak WS Lombok: a) Koefisien model NRECA yaitu untuk Tampungan kelengasan awal : 727; Tampungan kelengasan akhir: 312; Koefisien Reduksi: 0.27; Koefisien PSUB: 0.43; Koefisien GWF: 0.1; Beda tampungan awal dan akhir: 12; Nilai Korelasi: 0.84; Nilai Volume Error (VE): 0.33; b) koefisien model tanki yaitu Koefisien Tanki 1: Tank Awal : 868; H 1.1 : 29; H 1.2 : 28; F 1.1 : 794; F 1.2 : 661; B1: 254; Koefisien tanki 2: Tank Awal : 330; B2 : 585; Nilai Korelasi : 0.75; Nilai Volume Error (VE): 0.31. Dalam pemodelan debit untuk perhitungan ketersediaan air yang optimal di DAS Babak WS Lombok terutama pada Bendung Keru menggunakan model Tanki.
References
Akrom, Isnan Fauzan. 2018. "Evaluasi Kinerja Alat Ukur Tinggi Muka Air Otomatis Menggunakan Kalibrator Di Laboratorium." Jurnal Teknik Hidraulik 9(2): 127–38.
Balai Wilayah Sungai - Nusa Tenggara I. 2019. Rencana Alokasi Air Tahunan Wilayah Sungai Lombok Tahun 2019/2020. Mataram: Balai Wilayah Sungai - Nusa Tenggara I.
Dinata, Alharia. 2018. "Optimasi Parameter Model Mock Pada Aliran Sungai Lematang-Lebah Budi." Jurnal Ilmiah Bering's 05(02): 35–39.
Fachrunnisa, Fauzi Manyuk, and Trimaijon. 2019. "Perbandingan Debit Andalan Hasil Model Tangki Terhadap Debit." Jurnal Teknik 13(2): 177–85.
Fauzi, Manyuk et al. 2019. "Application of Hybrid-Ihacres Models for Water Availability in Siak River." MATEC Web of Conferences 276: 04017.
Hendriyanto, Haris Sofyan, Moh. Yanuar Jarwadi Purwanto, and Yudi Setiawan. 2019. "Penggunaan Model Tangki Untuk Mempelajari Tindakan Konservasi Air Dan Hubungannya Dengan Debit Sungai Di Sub DAS Ciliwung Hulu-Ciliwung Strategy." Jurnal Keteknikan Pertanian 7(1): 1–8.
Julia, Hilda. 2014. "Optimasi Model Hidrologi Mock Daerah Tangkapan Air Waduk Sempor." Jurnal Agrium 18(3): 219–27.
Kementerian Pekerjaan Umum. 2003. "Standar Perencanaan Irigasi." Kriteria Perencanaan Bagian Jaringan Irigasi KP-01 (1): 6–8.
Kementerian Pekerjaan Umum dan Perumahan Rakyat. 2015. PUPR, JDIH Kementerian Peraturan Menteri Pekerjaan Umum Dan Perumahan Rakyat No. 4 Tahun 2015 Tentang Kriteria Dan Penetapan Wilayah Sungai.
Kesuma, Raras Phusty, Agus Hari Wahyudi, and Suyanto. 2013. "Aplikasi Metode Mock, NRECA, Model Tangki Dan Rainrun Di Bendung Trani, Wonotoro, Sudangan Dan Walikan." Jurnal Matrik Teknik Sipil 1(4): 472–79.
Noviadi, Satia Cahya, and Ayu Rizki. 2020. "The Influence of Regim's River and Run-off Coefficient in the Catchment Areas of Sidutan and Reak: A Correlation Analysis." IOP Conference Series: Earth and Environmental Science 413(1).
Setiawan, Budi Indra. 2003. "Optimasi Parameter Tank Model." Jurnal IPB 17(1): 8–16.
Tunas, I Gede, and Surya B Lesmana. 2011. "Analisis Penyimpangan Perkiraan Debit Menggunakan Model Mock Dan NRECA." Jurnal Infrastruktur 1(1): 54–62.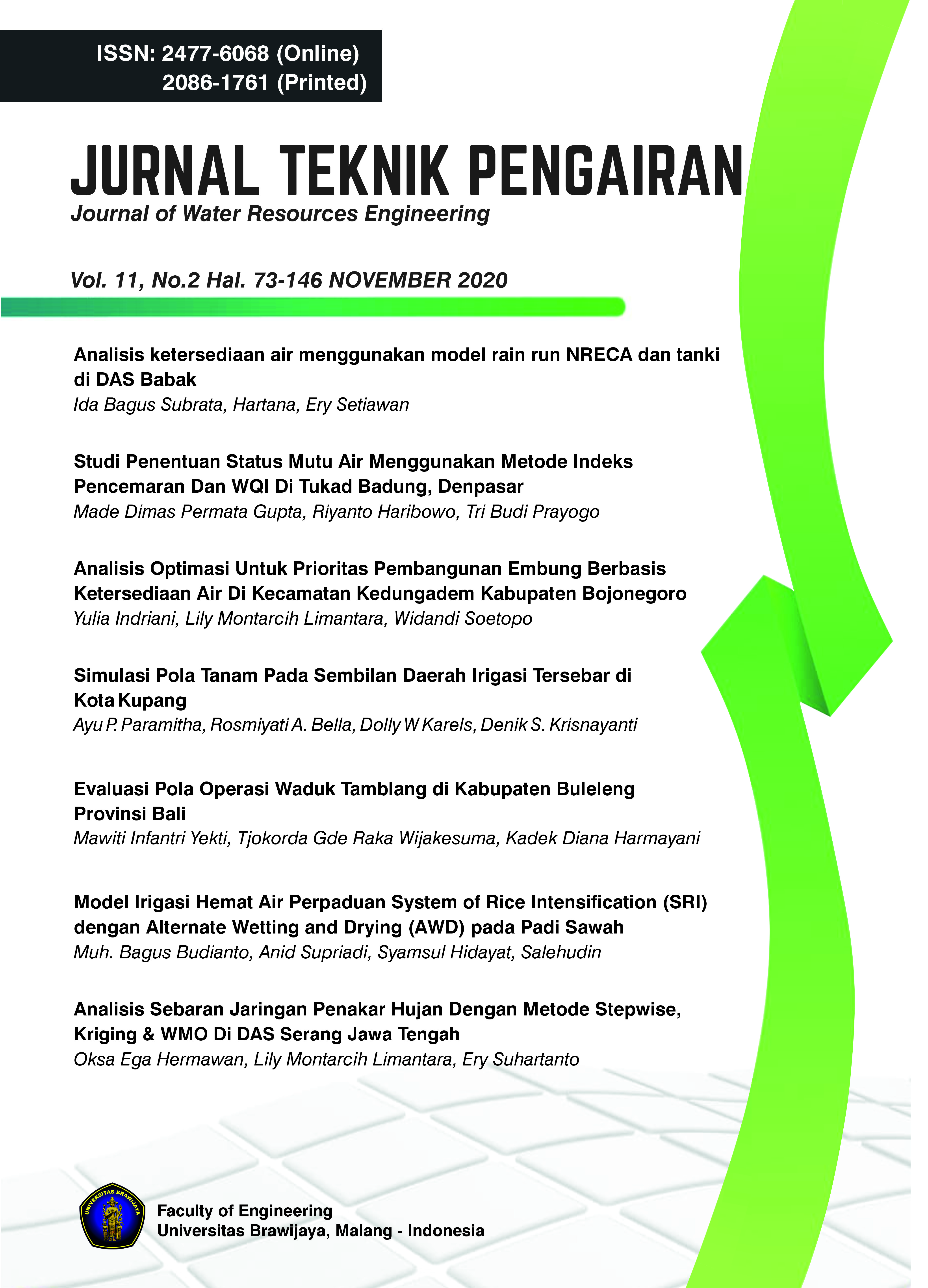 Downloads
How to Cite
Subrata, I. B., Hartana, H., & Setiawan, E. (2020). Analisis Ketersediaan Air Menggunakan Model Rain Run NRECA dan Tanki di DAS Babak. Jurnal Teknik Pengairan: Journal of Water Resources Engineering, 11(2), 73–82. https://doi.org/10.21776/ub.pengairan.2020.011.02.01
License
Copyright (c) 2020 Ida Bagus Subrata, Hartana Hartana, Ery Setiawan
This work is licensed under a Creative Commons Attribution-NonCommercial 4.0 International License.
Authors who publish with this journal agree to the following terms:

Authors retain copyright and grant the journal right of first publication with the work simultaneously licensed under a  Creative Commons Attribution-NonCommercial 4.0 International License that allows others to share the work with an acknowledgement of the work's authorship and initial publication in this journal.

Authors are able to enter into separate, additional contractual arrangements for the non-exclusive distribution of the journal's published version of the work (e.g., post it to an institutional repository or publish it in a book), with an acknowledgement of its initial publication in this journal.

Authors are permitted and encouraged to post their work online (e.g., in institutional repositories or on their website) prior to and during the submission process, as it can lead to productive exchanges, as well as earlier and greater citation of published work (See The Effect of Open Access).