Analisis Sebaran Jaringan Penakar Hujan Dengan Metode Stepwise, Kriging & WMO Di DAS Serang Jawa Tengah
Keywords:
Metode Kriging, Metode Stepwise, Standar WMO
Abstract
DAS Serang merupakan salah satu Daerah Aliran Sungai yang berada di Jawa Tengah dan memiliki luas sekitar 3648 km2. Hasil analisis sebaran pos hujan pada DAS Serang menggunakan metode Stepwise dan Kriging menunjukkan sebaran sudah bagus, hal ini ditunjukkan pada metode Stepwise dengan nilai R (koefisien antar variabel) mendekati angka 1 yang berarti hubungan antar stasiun kuat dan hasil RMSE pada analisis Kriging yang kecil. Namun jika ditinjau dari standar WMO (World Meteorological Oganization) luas daerah pengaruh pada tiap-tiap stasiun tidak memenuhi standar. Akhirnya dilakukan analisis Rekomendasi I (tujuh stasiun) dan Rekomendasi II (enam stasiun) dengan upaya menghilangkan stasiun-stasiun dengan luas daerah pengaruh terkecil agar memenuhi standar WMO. Namun penghilangan stasiun tidak dianjurkan dikarenakan stasiun hujan merupakan aset negara yang berharga, maka dilakukan upaya Rekomendasi III (sembilan stasiun) dengan menggeser stasiun-stasiun yang sudah ada tanpa ada penghilangan stasiun sehingga luas daerah pengaruh antar stasiun eksisting memenuhi standar WMO.
References
Adhikary, Sajal Kumar, Nitin Muttil, and Abdullah Gokhan Yilmaz. 2018. "Improving Streamflow Forecast Using Optimal Rain Gauge Network-Based Input to Artificial Neural Network Models." Hydrology Research 49(5).
Andiego, George, Muhammad Waseem, Muhammad Usman, and Nithish Mani. 2018. "The Influence of Rain Gauge Network Density on the Performance of a Hydrological Model." Computational Water, Energy, and Environmental Engineering 8(1).
Gourley, Jonathan J., and Baxter E. Vieux. 2005. "A Method for Evaluating the Accuracy of Quantitative Precipitation Estimates from a Hydrologic Modeling Perspective." Journal of Hydrometeorology 6(2): 115–33.
Hadihardaja, Iwan K., and Sugeng Sutikno. 2005. "Pemodelan Curah Hujan-Limpasan Menggunakan Artificial Neural Network (ANN) Dengan Metode Backpropagation." Jurnal Teknik Sipil 12(4).
Kar, Anil Kumar, A. K. Lohani, N. K. Goel, and G. P. Roy. 2015. "Rain Gauge Network Design for Flood Forecasting Using Multi-Criteria Decision Analysis and Clustering Techniques in Lower Mahanadi River Basin, India." Journal of Hydrology: Regional Studies 4: 313–32.
Montesarchio, Valeria et al. 2015. "Evaluation of Optimal Rain Gauge Network Density for Rainfall-Runoff Modelling." AIP Conference Proceedings 1648(1). https://aip.scitation.org/doi/abs/10.1063/1.4912473.
Sri Harto. 1993. Analisis Hidrologi. Gramedia Pustaka Utama.
Takeda, Kensaku, and Suyono Sosrodarsono. 2003. PT Pradnya Paramita Hidrologi Untuk Pengairan. Jakarta: PT Pradnya Paramita.
Triatmodjo, Bambang. 2010. Beta Offset Hidrologi Terapan. Yogyakarta: Beta Offset.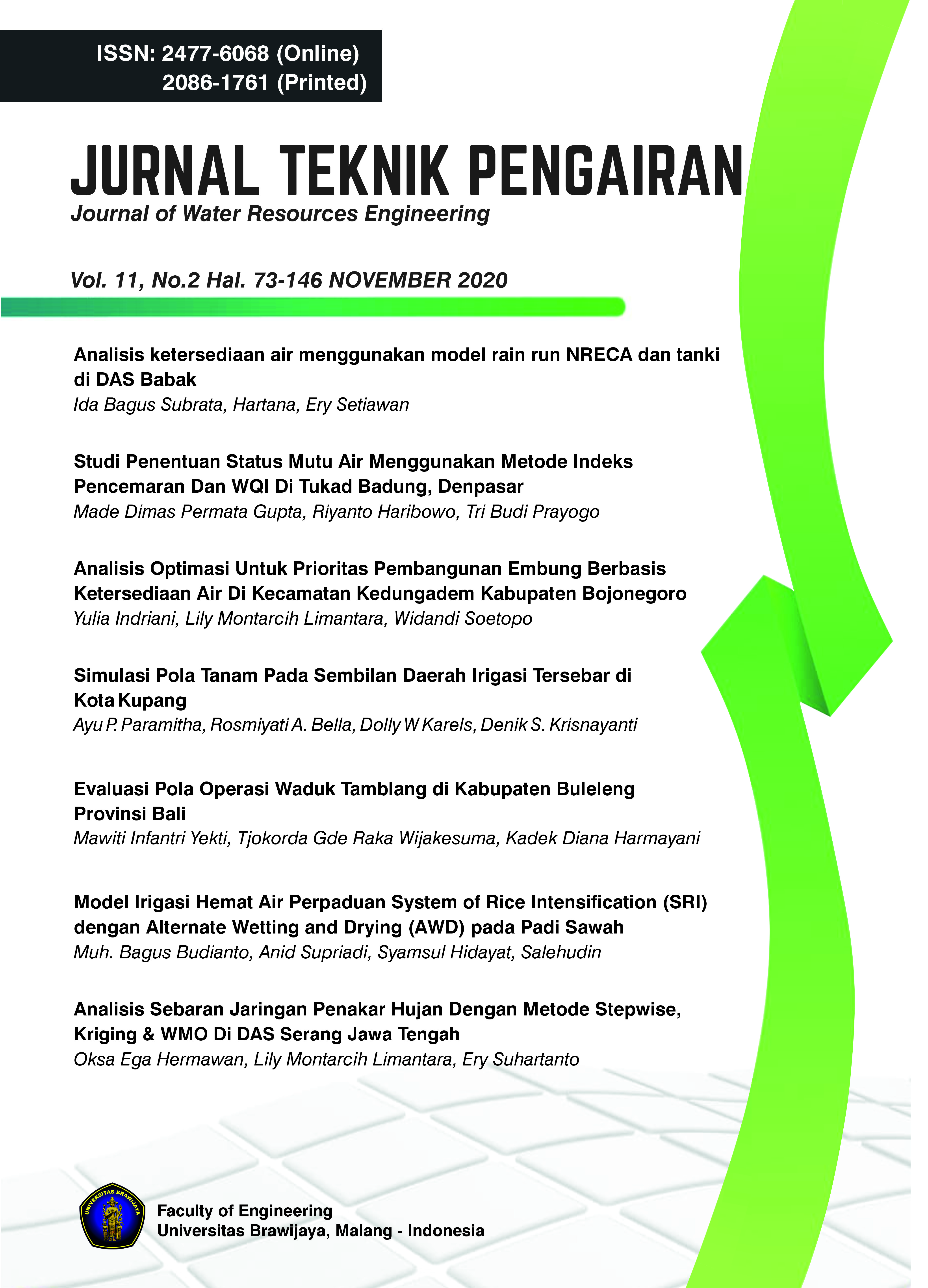 Downloads
How to Cite
Hermawan, O. E., Limantara, L. M., & Suhartanto, E. (2020). Analisis Sebaran Jaringan Penakar Hujan Dengan Metode Stepwise, Kriging & WMO Di DAS Serang Jawa Tengah. Jurnal Teknik Pengairan: Journal of Water Resources Engineering, 11(2), 137–146. https://doi.org/10.21776/ub.pengairan.2020.011.02.07
License
Copyright (c) 2020 Oksa Ega Hermawan, Lily Montarcih Limantara, Ery Suhartanto
This work is licensed under a Creative Commons Attribution-NonCommercial 4.0 International License.
Authors who publish with this journal agree to the following terms:

Authors retain copyright and grant the journal right of first publication with the work simultaneously licensed under a  Creative Commons Attribution-NonCommercial 4.0 International License that allows others to share the work with an acknowledgement of the work's authorship and initial publication in this journal.

Authors are able to enter into separate, additional contractual arrangements for the non-exclusive distribution of the journal's published version of the work (e.g., post it to an institutional repository or publish it in a book), with an acknowledgement of its initial publication in this journal.

Authors are permitted and encouraged to post their work online (e.g., in institutional repositories or on their website) prior to and during the submission process, as it can lead to productive exchanges, as well as earlier and greater citation of published work (See The Effect of Open Access).