ANALISA POTENSI SEDIMEN DEBRIS DI DAS KONTO PASCA ERUPSI GUNUNG KELUD 2014
Keywords:
Erosi, USLE, Sedimentasi, Debris, Sabo Dam
Abstract
Kali Konto merupakan salah satu anak sungai yang berhulu di lereng Gunung Kelud yang terkena dampak banjir lahar dingin akibat erupsi Gunung Kelud yang terjadi pada 13 Pebruari 2014. Banjir lahar dingin merupakan bencana sedimen dan tipe aliran debris yang mempunyai daya rusak yang cukup besar sehingga diperlukan upaya konservasi salah satunya dengan menerapkan bangunan pengendali sedimen (sabodam). Penelitian potensi sedimen debris dilakukan pada tiga titik outlet dari checkdam Siman sampai checkdam Damarwulan. Ruang lingkup kajian penelitian ini yaitu menganalisa besarnya potensi sedimen, menganalisa kemampuan daya tampung bangunan sabodam eksisting serta melakukan simulasi tata letak terhadap beberapa alternatif bangunan sabodam yang baru. Besarnya volume sedimen total (sedimen yield) di DAS Konto diperoleh dari analisa volume sedimen debris sekali banjir pada kala ulang 100 tahun, sedimentasi material bedload sungai, serta dari hasil pendugaan erosi lahan yang diestimasi menggunakan metode USLE dengan analisa spasial. Estimasi terhadap hasil produksi sedimen dibandingkan dengan kejadian banjir debris yang terjadi sebelumnya. Dari hasil analisa diperoleh volume sedimen yaitu titik outlet Siman sebesar 997.737,13 m3, titik outlet Lemurung sebesar 1.052.645,33 m3 dan titik outlet Damarwulan sebesar 1.255.616,35 m3. Sedangkan kemampuan bangunan sabodam eksisting secara sekeluruhan saat ini hanya mampu menampung dan mereduksi sedimen sebesar 306.090,79 m3 sehingga diperlukan bangunan sabodam baru untuk mengelola sisa potensi sedimen yang ada. Rekomendasi bangunan sabodam (BPS) baru yang terpilih dari hasil simulasi adalah Lokasi bangunan sabodam (BPS) alternatif 3 dengan volume daya tampung yaitu 231.070,60 m3.
References
Anonim. 1991. SNI 03-2851-1991. Tata Cara Perencanaan Teknis Bendung Penahan Sedimen. Badan Standarisasi Nasional
Anonim. 1999. Panduan Perencanaan Bendungan Urugan Volume II (Analisis Hidrologi). Direktorat Bina Teknik, Direktorak Teknik Pengairan, Departemen Pekerjaan Umum.
Anonim. 2004. Pd T-18-2004-A. Pembuatan Peta Bahaya Akibat Aliran Debris. Departemen Pemukiman dan Prasarana Wilayah.
Asdak, Chay. 2007. Hidrologi dan Pengelolaan Daerah Aliran Sungai. Gajah Mada University Press : Yogyakarta
Dibyosaputro et al. 2015. Lahar at Kali Konto after the 2014 Eruption of Kelud Volcano, East Java : Impacts and Risk. Forum Geografi, Vol.29(1) July 2015 : 59-72.
Limantara Montarcih L, 2010. Hidrologi Praktis. Penerbit CV. Lubuk Agung Bandung.
Priyantoro, Dwi. 1987. Teknik Pengangkutan Sedimen. Malang : Fakultas Teknik Universitas Brawijaya.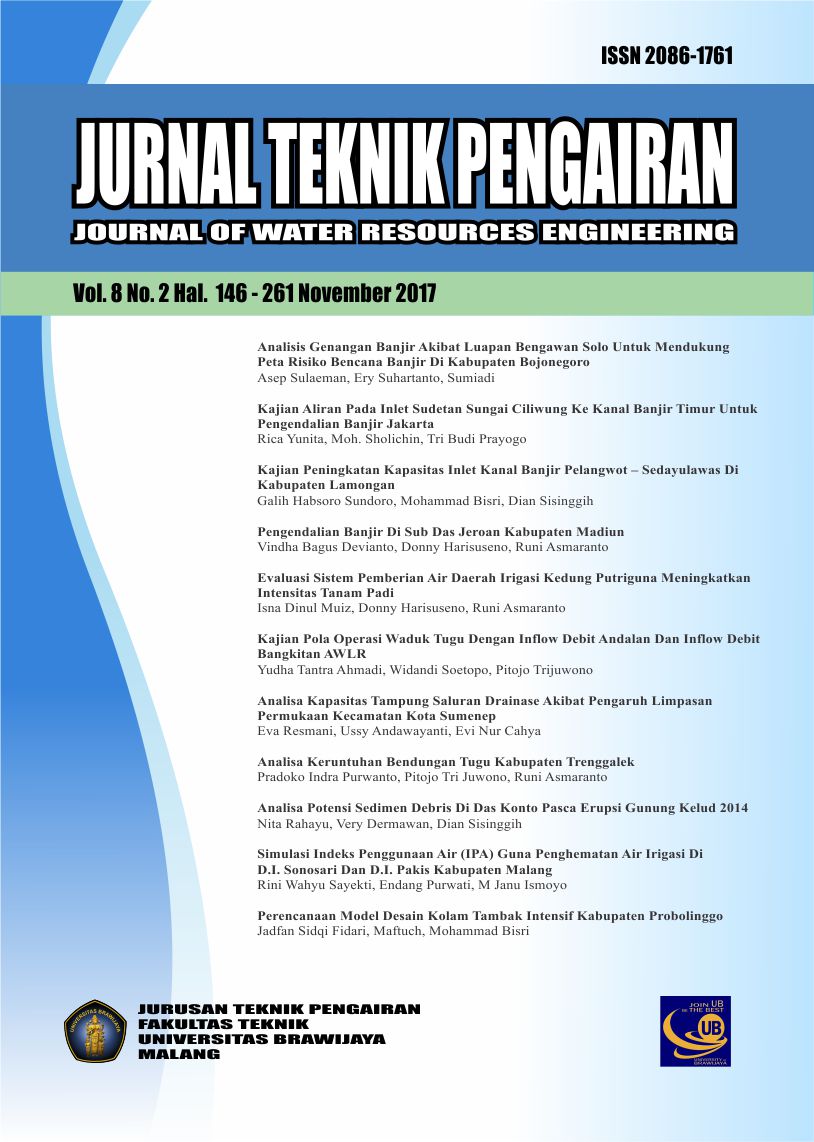 Downloads
How to Cite
Rahayu, N., Dermawan, V., & Sisinggih, D. (2017). ANALISA POTENSI SEDIMEN DEBRIS DI DAS KONTO PASCA ERUPSI GUNUNG KELUD 2014. Jurnal Teknik Pengairan: Journal of Water Resources Engineering, 8(2), ppp.231–240. https://doi.org/10.21776/ub.pengairan.2017.008.02.9
License
Copyright (c) 2017 Nita Rahayu, Very Dermawan, Dian Sisinggih
This work is licensed under a Creative Commons Attribution-NonCommercial 4.0 International License.
Authors who publish with this journal agree to the following terms:

Authors retain copyright and grant the journal right of first publication with the work simultaneously licensed under a  Creative Commons Attribution-NonCommercial 4.0 International License that allows others to share the work with an acknowledgement of the work's authorship and initial publication in this journal.

Authors are able to enter into separate, additional contractual arrangements for the non-exclusive distribution of the journal's published version of the work (e.g., post it to an institutional repository or publish it in a book), with an acknowledgement of its initial publication in this journal.

Authors are permitted and encouraged to post their work online (e.g., in institutional repositories or on their website) prior to and during the submission process, as it can lead to productive exchanges, as well as earlier and greater citation of published work (See The Effect of Open Access).