IbM Pompa Hydram (Hydraulic Ram) Desa Gunung Ronggo Kecamatan Tajinan Kabupaten Malang
Keywords:
IbM, Hydraulic Ram, Katup Limbah, Pipa Drive, Pipa Delivery
Abstract
Desa Gunungronggo terletak di Kecamatan Tajinan dimana desa ini berjarak sekitar 15 KM arah timur Kota Malang. Wilayah ini berada di lereng Gunung Buring, secara topografi wilayah desa ini didominasi oleh perbukitan dengan kelerangan yang curam dengan curah hujan yang relatif tinggi sehingga punya potensi sumber air yang cukup besar dan terawat yaitu Sumber Jenon. Keberadaan debit mata air Sumber Jenon cukup besar sekitar 300 liter/detik, namun belum menjamin penduduk Desa Gunungronggo khususnya Dusun Argomulyo 2 dan Argomulyo 3 untuk mendapatkan air bersih dari Sumber Jenon, meskipun secara geografis letaknya berdekatan. Hal ini karena kondisi dilokasi dekat sumber, jauh dari jaringan utilitas listrik dan belum ada pengelola HIPPAM, sehingga hanya penduduk yang mampu secara ekonomi bisa mengambil air dengan menggunakan pompa secara individu dengan menarik kabel listrik membentang jauh yang cukup membahayakan. Salah satu solusi terhadap permasalahan yang ada di Dusun Argomulyo tersebut adalah membuat Pompa Hydram (hydraulic ram) untuk mengisi air ke tandon agar murah dalam pelaksanaan operasi dan pemeliharaan. Keberadaan pompa hydram sangat diperlukan khususnya untuk mengatasi permasalahan air bersih pedesaan seperti Dusun Argomulyo Desa Gunung Ronggo Kecamatan Tajinan. Kondisi masyarakat yang tidak mampu sangat sulit untuk mengembangkan jenis pompa centrifugal atau pompa lain yang mengandalkan bahan bakar solar maupun listrik. Kesadaran masyarakat untuk menanggung biaya operasi dan pemeliharaan yang lebih mahal akan sulit untuk mengembangkan pengelolaan air bersih, sehingga pembangunan pompa hydram (hydraulic ram) ini menjadi solusi yang tepat. Pompa hydram yang sudah terbangun berjumlah 2 unit yang disebut sebagai twin hydram dimana masing-masing berkapasitas @15 liter/menit, namun karena kondisi kontur lokasi yang cukup datar sehingga kinerja pompa maksimal hanya sekitar @10 liter/menit. Peningkatan kapasitas pompa ini bisa dilakukan dengan menambah pipa drainasi berukuran 4" sepanjang 100 m ke arah hilir untuk membuang dengan cepat limpahan air yang terbuang dari pompa hydram sehingga tidak mengganggu kerja klep pompa yang terendam air. Kegiatan ini mendapatkan dukungan baik oleh warga maupun aparat desa, terbukti dalam pelaksanaannya beberapa item pekerjaan dilakukan secara gotong-royong.
References
Anonim, 2016. Kabupaten Malang dalam Angka. BPS Kabupaten Malang
Asdak, Chay. 2002. Hidrologi dan Pengelolaan Daerah Aliran Sungai. Yogyakarta. Gadjah Mada University Press.
Calhoun, John 2003. Home Built Hydrauilc Ram Pumps. NW Independent Power Resources PO BOX 899
Hanafie, J., de Long, H., 1979, Teknologi Pompa Hidraulik Ram., Pusat Teknologi Pembangunan Institut Teknologi Bandung, Bandung
Petunjuk Teknis Departemen Pekerjaan Umum, 2002, Pemanfaatan Pompa Hydram Dalam Penyediaan Air Bersih, Petunjuk Teknis Nomor: Pt-T11-2002-C
San, G.S, Santoso, G., 2002, Studi Karakteristik Volume Tabung Udara dan BebanKatup Limbah Terhadap Efisiensi Pompa Hydraulic Ram, Jurnal Teknik Mesin,Vol. 4. No. 2, Jurusan Teknik Mesin, Fakultas Teknologi Industri, UniversitasKristen Petra.
Schiller, E.J. (1982) "Development of a Locally Made Hydraulic Ram Pump". ENERGEX '82 Conference Proceedings, Solar Energy Society of Canada. August, pp. 503-506.
Taye, T., 1998. Hydraulic Ram Pump, Journal of the ESME, Vol II, No.1 (http://www.africantechnologyforum. org/ESME/hydram1/Hydram1.htm)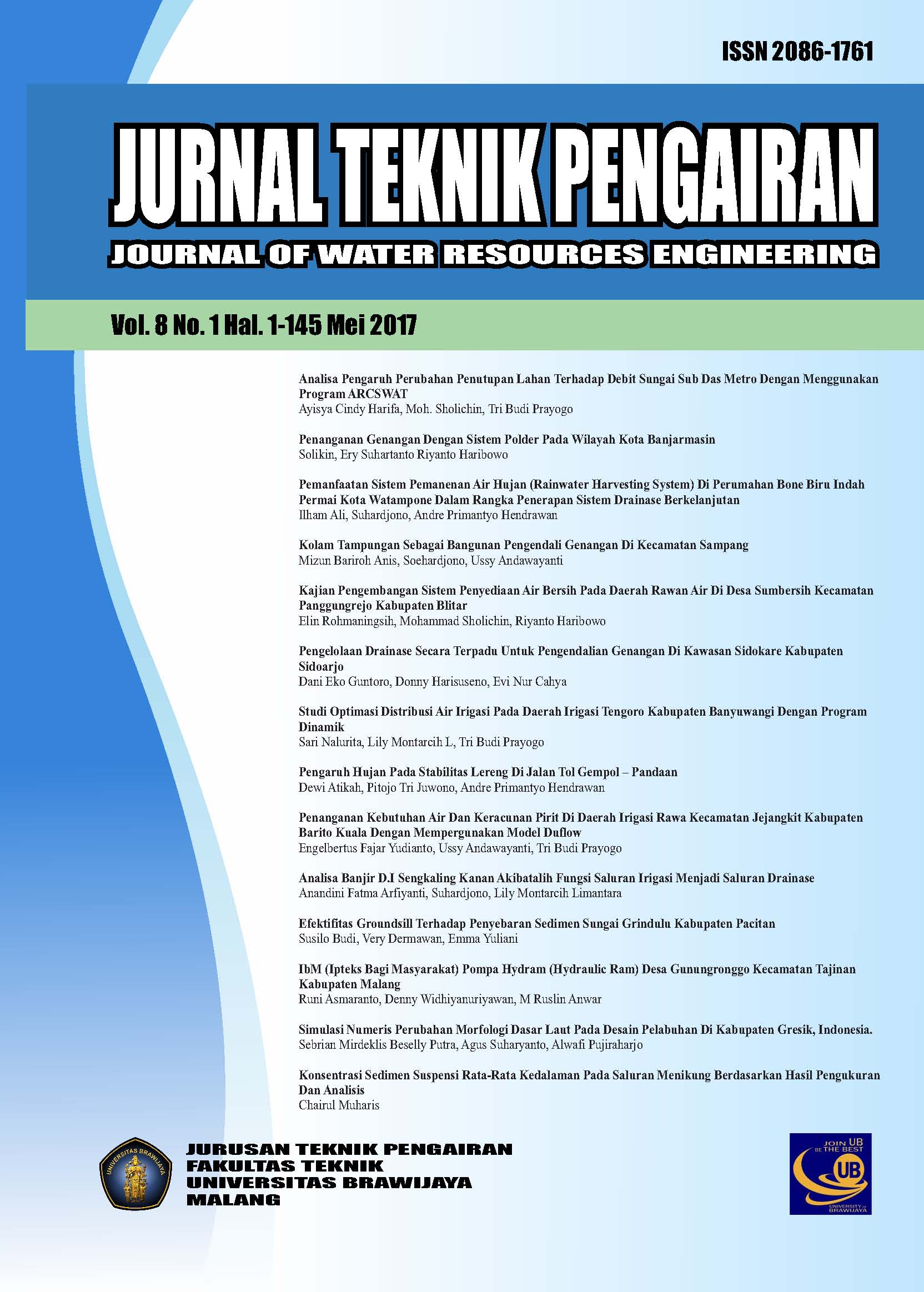 Downloads
How to Cite
Asmaranto, R., Widhiyanuriyawan, D., & Anwar, M. R. (2017). IbM Pompa Hydram (Hydraulic Ram) Desa Gunung Ronggo Kecamatan Tajinan Kabupaten Malang. Jurnal Teknik Pengairan: Journal of Water Resources Engineering, 8(1), 124–129. https://doi.org/10.21776/ub.jtp.2017.008.01.12
License
Copyright (c) 2017 Runi Asmaranto, Denny Widhiyanuriyawan, M. Ruslin Anwar
This work is licensed under a Creative Commons Attribution-NonCommercial 4.0 International License.
Authors who publish with this journal agree to the following terms:

Authors retain copyright and grant the journal right of first publication with the work simultaneously licensed under a  Creative Commons Attribution-NonCommercial 4.0 International License that allows others to share the work with an acknowledgement of the work's authorship and initial publication in this journal.

Authors are able to enter into separate, additional contractual arrangements for the non-exclusive distribution of the journal's published version of the work (e.g., post it to an institutional repository or publish it in a book), with an acknowledgement of its initial publication in this journal.

Authors are permitted and encouraged to post their work online (e.g., in institutional repositories or on their website) prior to and during the submission process, as it can lead to productive exchanges, as well as earlier and greater citation of published work (See The Effect of Open Access).