ANALISIS GENANGAN BANJIR AKIBAT LUAPAN BENGAWAN SOLO UNTUK MENDUKUNG PETA RISIKO BENCANA BANJIR DI KABUPATEN BOJONEGORO
Keywords:
Banjir, Genangan, HEC RAS 5, Tingkat ancaman banjir
Abstract
ABSTRAK: Jumlah kejadian banjir di kabupaten Bojonegoro sebanyak 105 kejadian dari kurun waktu 1815 sampai dengan 2016 (BNPB, 2016). Kejadian banjir di Bojonegoro umumnya diakibatkan oleh luapan Bengawan Solo. Penelitian ini dilakukan untuk menganalisi genangan banjir di Kabupaten Bojonegoro akibat terjadinya luapan air dari Bengawan Solo. Simulasi model genangan banjir dilakukan dengan model 1D/2D menggunakan program HEC RAS 5. Sedangkan untuk analisa daerah terdampak menggunakan ARC GIS 10. Hasil dari studi didapatkan bahwa luas genangan hasil simulasi pada masing-masing kala ulang di Kabupaten Bojonegoro adalah 250,3260 km2, untuk debit dengan kala ulang 100 tahun. Berturut-turut luas genangan simulasi di Kabupaten Bojonegoro untuk debit kala ulang 50, 20, 10, 5, 2 tahun adalah 246,3696Â  km2, 240,6218 km2, 225,6909 km2, 169,2282 km2, dan 126,4757 km2. Tingkat ancaman banjir banjir di Kecamatan Kanor, Malo dan Trucuk memiliki tingkat ancaman tinggi dengan nilai lebih dari 0,7 pada debit kala ulang 2 tahun sampai 10 tahun. Tingkat ancaman pada daerah permukiman yang paling luas adalah di Kecamatan Bojonegoro.
References
Alho, P. Hyyppä, H. dan Hyyppä, J. 2008. Consequence of DTM Precision for Flood Hazard Mapping: A Case Study in SW Finland. Nordic Journal of Surveying and Real Estate Research 6:1 (2009) hal. 21–39.
Ali , A. Md, Solomatine, D. P. and Di Baldassarre, G. Assessing the impact of different sources of topographic data on 1-D hydraulic modelling of floods. Hydrol. Earth Syst. Sci., 19, 631–643, 2015 www.hydrol-earthsyst-sci.net/19/631/2015/
Bates, P.D., De Roo, A.P.J. 2000. A simple raster-based model for flood inundation simulation. Journal of Hydrology 236 (2000) 54–77.
Badan Nasional Penanggulangan Bencana. BNPB. 2012. Peraturan Kepala Badan Nasional Penganggulangan Bencana (BNPB) No.2 Tahun 2012: Pedoman Umum Pengkajian Risiko Bencana, Kantor BNPB, Jakarta.
Badan Nasional Penanggulangan Bencana. Badan Nasional Penanggulangan Bencana (BNPB). 2016. Data Informasi Bencana Indonesia. http://dibi.bnpb-.go.id. Diakses 2 Desember 2016.
De Silva, M. M. G. T., Weerakoon, S. B., Herath, Srikantha, Ratnayake, U. R.. 2012. Event Based Flood Modeling In Lower Kelani Basin. SAITM Research Symposium on Engineering Advancements (SAITM – RSEA 2012)
Di Baldassarre, G. Schumann, G. Bates, P. D. 2009. A technique for the calibration of hydraulic models using uncertain satellite observations of flood extent. Journal of Hydrology 367. hal. 276– 282.
European Exchange Circle On Flood Mapping (EXIMAP). 2007. Handbook on good practices for flood mapping in Europe.
Goel, N.K., Than, Htay Htay., Arya, D.S. 2005. Flood Hazard Mapping In The Lower Part Of Chindwin River Basin, Myanmar. International conference on innovation advances and implementation of flood forecasting technology. Tromsø, Norway.
Mathevet, T. Michel, C. Andreassian V. Perrin C. 2006. A Bounded Version of the Nas-Sutcliffe Criterion for Better Model Assessment on Large Sets of Basins. Large Sample Basin Experiments for Hydrological Model Parameterization: Results of the Model Parameter Experiment–MOPEX. IAHS Publ. 307, 2006.
Sarhadi, Ali. Soltani, Saeed. Modarres, Reza. Probabilistic flood inundation mapping of ungauged rivers: Linking GIS techniques and frequency analysis. Journal of Hydrology 458–459 (2012) 68–86
Silva GD. (2016). Event Based Flood Inundation Mapping Under the Impact of Climate Change: A Case Study in Lower Kelani River Basin, Sri Lanka. Hydrol Current Res 7: 228. doi:10.4172/2157-7587.1000228
St. Johns River Water Management District (SJRWMD). 2016. Chapter 3: Watershed Hydrology Appendix 3.D: Evaluation Of Model Uncertainty. http://www.sjrwmd.com/technicalrepo rts/pdfs/TP/SJ2012-1_Appendix03- D.pdf. diakses 21 Agustus 2016.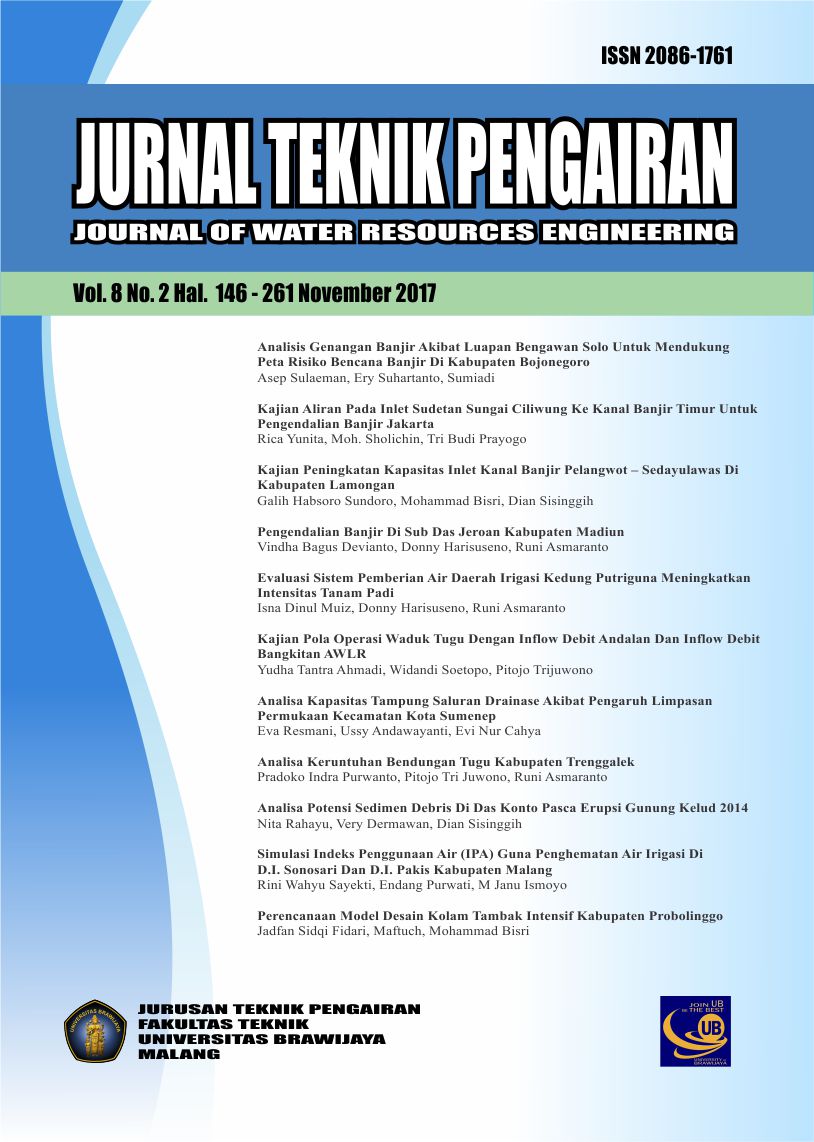 Downloads
How to Cite
Sulaeman, A., Suhartanto, E., & Sumiadi, S. (2017). ANALISIS GENANGAN BANJIR AKIBAT LUAPAN BENGAWAN SOLO UNTUK MENDUKUNG PETA RISIKO BENCANA BANJIR DI KABUPATEN BOJONEGORO. Jurnal Teknik Pengairan: Journal of Water Resources Engineering, 8(2), pp.146–157. https://doi.org/10.21776/ub.pengairan.2017.008.02.1
License
Copyright (c) 2017 Asep Sulaeman, Ery Suhartanto, Sumiadi Sumiadi
This work is licensed under a Creative Commons Attribution-NonCommercial 4.0 International License.
Authors who publish with this journal agree to the following terms:

Authors retain copyright and grant the journal right of first publication with the work simultaneously licensed under a  Creative Commons Attribution-NonCommercial 4.0 International License that allows others to share the work with an acknowledgement of the work's authorship and initial publication in this journal.

Authors are able to enter into separate, additional contractual arrangements for the non-exclusive distribution of the journal's published version of the work (e.g., post it to an institutional repository or publish it in a book), with an acknowledgement of its initial publication in this journal.

Authors are permitted and encouraged to post their work online (e.g., in institutional repositories or on their website) prior to and during the submission process, as it can lead to productive exchanges, as well as earlier and greater citation of published work (See The Effect of Open Access).