Pengaruh Hujan Pada Stabilitas Lereng Di Jalan Tol Gempol - Pandaan
Keywords:
stabilitas lereng, intensitas hujan, Seep/W, Slope/W, ambang batas hujan
Abstract
Jalan tol Gempol - Pandaan sta 6+275 - 6+375 hasil pengeprasan bukit mengalami kelongsoran pada tanggal 3 Februari 2015 dengan didahului oleh hujan. Studi ini bertujuan mengetahui pengaruh hujan pada stabilitas lereng di jalan tol Gempol - Pandaan. Intensitas hujan sebagai input Geostudio Seep/W, hasil analisisnya menjadi input Slope/W. Hasilnya angka keamanan saat terjadi longsor adalah 1.10595 (Bishop), 1.060512 (Fellenius), dan 1.100788 (Morgenstern-Price). Berdasarkan data hujan selama 10 tahun, intensitas 0.0077 m/jam, merupakan nilai maksimal karena setelah nilai ini tercapai, angka keamanannya tidak bisa berkurang lagi. Alternatif perkuatan soil nailing mempunyai angka keamanan 1.555921, lebih tinggi dari bored pile dan anggaran biaya lebih kecil sebesar Rp. 1.938.804.000,00 lebih kecil dari bored pile. Ambang batas hujan yang dapat memicu longsor adalah kombinasi hujan 60 mm dan hujan 100 mm selama 30 hari yang menghasilkan total hujan sebesar 960 mm.
References
Anwari, SRN. 2016. Alternatif Sistem Perbaikan Longsoran Lereng Di Lokasi Gesing Jalan Tol Gempol-Pandaan Sta 6+275 S/D 6+375. Skripsi. Tidak dipublikasikan. Surabaya: Institut Teknologi Sepuluh November.
Dinas Pekerjaan Umum Bina Marga Kabupaten Pasuruan. www.binamarga.pasuruankab.go.id. (diakses 2 Februari 2016)
Fallo, D.A. 2016. Studi Tentang Alternatif Struktur Penahan Untuk Mengatasi Masalah Pergerakan Tanah Di Pltp Ulumbu Kecamatan Satar Mese Kabupaten Manggarai Tengah Propinsi Ntt. Skripsi. Malang : Universitas Brawijaya.
FHWA. 2010. Drilled Shafts: Construction Procedures and LRFD Design Methods. Amerika. NHI
FHWA. 2015. Soil Nail Wall Reference Manual. Amerika. NHI
Hardiyatmo, H. C. 2012. Tanah Longsor & Erosi. Yogyakarta: Gadjah Mada University Press.
Hidayat, R., Subiyantoro, A, 2015. Penanganan Longsor Pada Lereng Jalan Tol Gempol – Pandaan Km 51, Pasuruan, Jawa Timur.
International, Geo-Slope. Why Do Slope Become Unstable After Rainfall Events?
Karnawati, Dwikorita. 2010. Bencana Alam Gerakan Massa Tanah di Indonesia dan Upaya Penanggulangannya. Yogyakarta: Gajah Mada University Press.
Kementerian Pekerjaan Umum dan Perumahan Rakyat, Direktorat Jenderal Bina Marga. 2016. Analisa Harga Satuan Pekerjaan.
Litvin, E. 2008. Numerical Analysis Of The Effect Of Rainfall Infiltration On Slope Stability. Atkin.
Peraturan Menteri Pekerjaan Umum. 2007. Pedoman Penataan Ruang Kawasan Rawan Bencana Longsor. Jakarta : Kementrian Pekerjaan Umum.
Pramusandi, S. 2011. Penentuan Sifat Teknis Tanah Jenuh Sebagian Dan Analisis Deformasi Lereng Akibat Pengaruh Variasi Hujan. Tesis. Yogyakarta : Universitas Gajah Mada.
Prashant, A. et all. 2010. Soil nailing For Stabilization Of Steep Slopes Near Railway Tracks. Indian Institute Of Technology Kanpur.
Sarah, Dwi. 2011. Studi Karakteristik Curah Hujan Pemicu Gerakan Tanah Di Daerah Cibeber, Cianjur Selatan Jawa Barat. Buletin Geologi Tata Lingkungan (Bulletin of Environmental Geology). Bandung.
Soemarto, C. 1995. Hidrologi Teknik. Jakarta: Erlangga.
Subiyanti, H. 2011. Analisis Kelongsoran Lereng Akibat Pengaruh Tekanan Air Pori di Saluran Induk Kalibawang Kulonprogo. Jurnal Ilmiah Semesta Teknika, 25.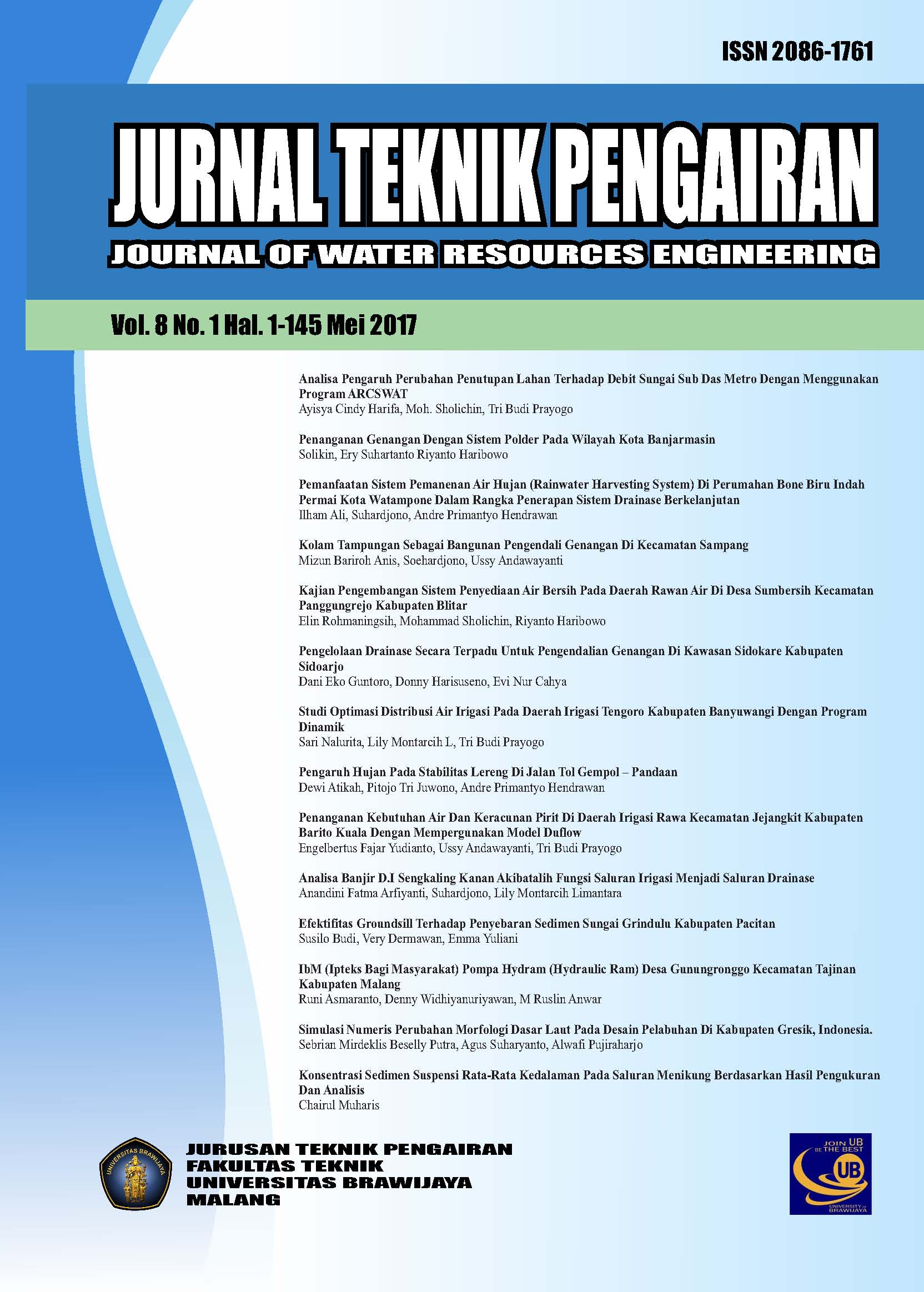 Downloads
How to Cite
Atikah, D., Juwono, P. T., & Hendrawan, A. P. (2017). Pengaruh Hujan Pada Stabilitas Lereng Di Jalan Tol Gempol - Pandaan. Jurnal Teknik Pengairan: Journal of Water Resources Engineering, 8(1), 79–88. https://doi.org/10.21776/ub.jtp.2017.008.01.08
License
Copyright (c) 2017 Dewi Atikah, Pitojo Tri Juwono, Andre Primantyo Hendrawan
This work is licensed under a Creative Commons Attribution-NonCommercial 4.0 International License.
Authors who publish with this journal agree to the following terms:

Authors retain copyright and grant the journal right of first publication with the work simultaneously licensed under a  Creative Commons Attribution-NonCommercial 4.0 International License that allows others to share the work with an acknowledgement of the work's authorship and initial publication in this journal.

Authors are able to enter into separate, additional contractual arrangements for the non-exclusive distribution of the journal's published version of the work (e.g., post it to an institutional repository or publish it in a book), with an acknowledgement of its initial publication in this journal.

Authors are permitted and encouraged to post their work online (e.g., in institutional repositories or on their website) prior to and during the submission process, as it can lead to productive exchanges, as well as earlier and greater citation of published work (See The Effect of Open Access).