PENGENDALIAN BANJIR DI SUB DAS JEROAN KABUPATEN MADIUN
Keywords:
Tataguna lahan, AVSWAT 2000, HEC-RAS 5.0.1, Pengendalian Banjir
Abstract
Banjir merupakan peristiwa alam yang dapat menimbulkan kerugian harta benda penduduk serta korban jiwa. Kondisi tersebut terjadi di sub DAS Jeroan di Kabupaten Madiun, dimana berdasarkan data yang diperoleh menunjukkan bahwa selama 12 tahun terakhir, banjir terbesar terjadi pada tahun 2007. Kajian ini bertujuan untuk menganalisa upaya pengendalian banjir di sub DAS Jeroan. AVSWAT 2000 digunakan untuk menghitung debit puncak banjir akibat pengaruh perubahan tataguna lahan, sedangkan debit banjir rancangan digunakan HSS Nakayasu dengan verifikasi dilakukan berdasarkan data debit banjir historis AWLR Jeroan. Untuk mengetahui kapasitas tampungan sungai Jeroan dilakukan analisis profil muka air dengan bantuan HEC-RAS 5.0.1. Hasil kajian simulasi pemodelan AVSWAT 2000 menunjukkan terjadi fluktuasi debit puncak banjir berdasarkan perubahan tataguna lahan tahun 2006, 2009, 2012 dan 2015. Debit kala ulang banjir yang mendekati debit historis (AWLR) adalah debit kala ulang 25 tahun sebesar 296,967 m3/dt. Dengan simulasi HEC-RAS 5.0.1 kapasitas sungai Jeroan tidak dapat menampung debit kala ulang 25 tahun di beberapa patok yang mengakibatkan genangan di lahan sebesar 5.169.952 m3. Pengendalian banjir dilakukan dengan pembuatan bendungan di 2 (dua) lokasi di hulu sub DAS Jeroan dan normalisasi sungai serta pembuatan tanggul sungai di hilir Sub DAS Jeroan.
References
Arifuddin K, Rizal, 2014. "Studi Pengendalian Banjir Kali Wrati Kabupaten Pasuruan".
Chay Asdak, 2002, "Hidrologi dan Pengelolaan Daerah Aliran Sungai". Gajah Mada University press, Yogyakarta.
Gina, Putri V., 2013. Analisa Runoff Pada Sub Das Lematang Hulu. Jurusan Teknik Sipil Fakultas Teknik Universitas Sriwijaya.
Marissa Afla Syahran, Erwin Budi Setiawan dan Sri Suryani. 2013. "Analisis Perbandingan Sistem Rekomendasi dengan Faktorisasi Matriks dan Pearson Berbasis Collaborative Filtering Pada Web E-Commerce".
Istiarto, Gunawan Djati Wibowo. 2007. "Sistem Pengendalian Banjir Kali Juana". Dinamika Teknik Sipil Volume 7. Fakultas Teknik UMS.
Satya, M.T. 2014. "Studi Normalisasi Sungai Sampean Sebagai Upaya Pengendalian Banjir". Jurusan Teknik Pengairan Fakultas Teknik Universitas Brawijaya.
Soemarto, C. D. 1999. "Hidrologi Teknik". Usaha Nasional, Surabaya.
Sosrodarsono, S., Tominaga, M dan Gayo, M .1994. "Perbaikan dan Pengaturan Sungai". P.T. Pradnya Paramita, Jakarta.
Suhartanto, Ery. 2008. " Panduan AVSWAT 2000 dan Aplikasinya di Bidang Teknik Sumber Daya Air". CV. Asrori, Malang.
Sulfandi. 2015. "Studi Pengaruh Perubahan Tataguna Lahan di DAS Mamasa Terhadap Usia Guna Waduk PLTA Bakaru". Jurusan Teknik Pengairan Fakultas Teknik Universitas Brawijaya.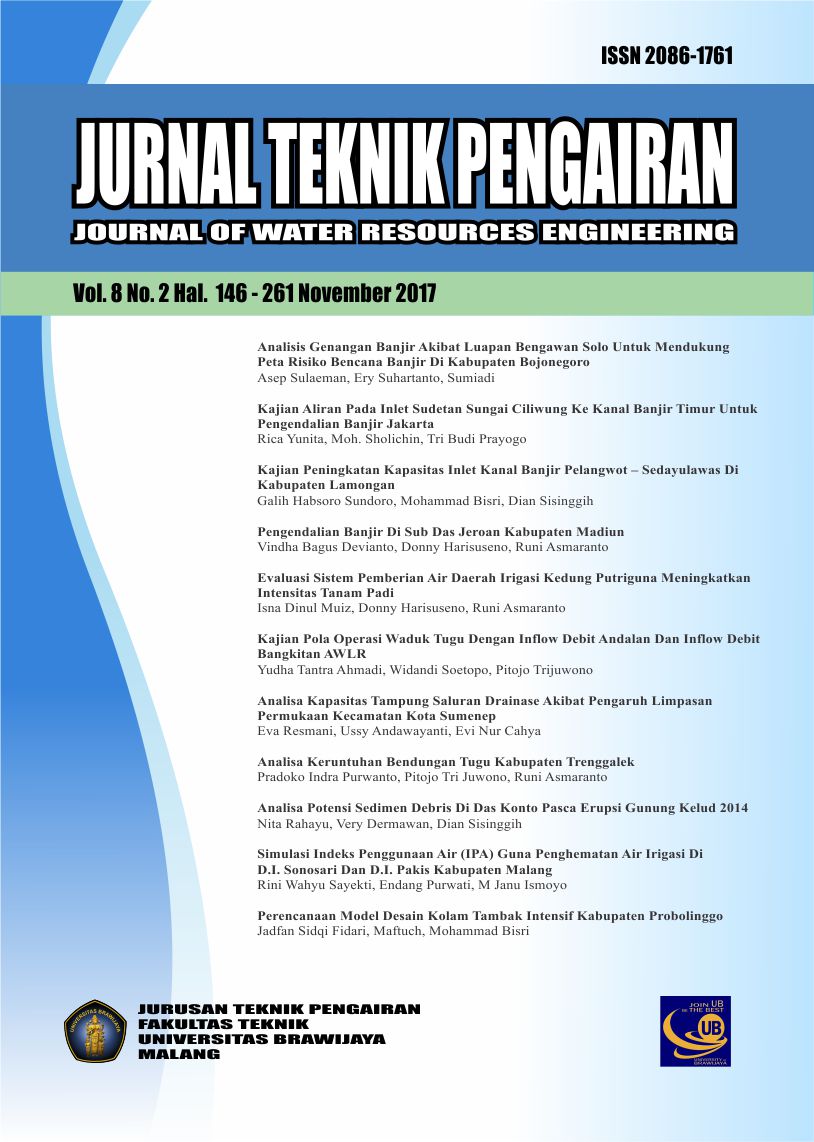 Downloads
How to Cite
devianto, vindha bagus, Harisuseno, D., & Asmaranto, R. (2017). PENGENDALIAN BANJIR DI SUB DAS JEROAN KABUPATEN MADIUN. Jurnal Teknik Pengairan: Journal of Water Resources Engineering, 8(2), pp.181–193. https://doi.org/10.21776/ub.pengairan.2017.008.02.4
License
Copyright (c) 2017 vindha bagus devianto, Donny Harisuseno, Runi Asmaranto
This work is licensed under a Creative Commons Attribution-NonCommercial 4.0 International License.
Authors who publish with this journal agree to the following terms:

Authors retain copyright and grant the journal right of first publication with the work simultaneously licensed under a  Creative Commons Attribution-NonCommercial 4.0 International License that allows others to share the work with an acknowledgement of the work's authorship and initial publication in this journal.

Authors are able to enter into separate, additional contractual arrangements for the non-exclusive distribution of the journal's published version of the work (e.g., post it to an institutional repository or publish it in a book), with an acknowledgement of its initial publication in this journal.

Authors are permitted and encouraged to post their work online (e.g., in institutional repositories or on their website) prior to and during the submission process, as it can lead to productive exchanges, as well as earlier and greater citation of published work (See The Effect of Open Access).