Kajian Pengembangan Sistem Penyediaan Air Bersih Pada Daerah Rawan Air Di Desa Sumbersih Kecamatan Panggungrejo Kabupaten Blitar
Keywords:
Air Bersih, Jaringan Perpipaan, WaterCAD V8i, Sisa Klorin, Harga air
Abstract
Tujuan dari penelitian ini adalah mengkaji usaha pengembangan sistem penyediaan air bersih di Desa Sumbersih, pada aspek hidrolika, kualitas air, dan ekonomi. Analisa hidrolika dan kualitas air dilakukan memakai program WaterCAD V8i. Analisa ekonomi untuk menentukan harga air, dilakukan dengan skenario pengoperasian pompa menggunakan listrik dan solar cell. Hasil analisa hidrolika menunjukkan bahwa kondisi hidraulis jaringan perpipaan masih pada batas persyaratan teknis yang ditentukan, dengan kecepatan 0,03-0,97 m/dt, headloss gradient 0,09-14,45 m/km dan tekanan 11,18-69,31 mH2O. Kemudian, model hidrolika tersebut digunakan untuk analisa sisa klorin. Penginjeksian klorin dilakukan pada tandon sebesar 0,4 mg/l secara konstan. Sisa klorin yang dihasilkan memenuhi persyaratan yaitu 0,34-0,39 mg/l. Hasil analisa ekonomi menunjukkan bahwa skenario dengan solar cell memberikan harga air lebih rendah yaitu Rp 6.550,00/m3. Berdasarkan kemampuan membayar masyarakat Rp. 4.200,00/m3, dapat diketahui bahwa nilai subsidi pemerintah yang diperlukan sebesar Rp. 685.400.000,00.
References
Kementerian Pekerjaan Umum dan Perumahan Rakyat. 2016. Peraturan Menteri Pekerjaan Umum dan Perumahan Rakyat No: 27/ PRT/M/2016 Tentang Penyelenggaraan Sistem Penyedian Air Minum. Jakarta.
Dinas PU Cipta Karya dan Tata Ruang Prop. Jawa Timur. 2014. Laporan Akhir Perencanaan Tindak Lanjut Penanganan Kekeringan Daerah Rawan Air Kab. Blitar Tahun 2014.
Giatman. 2007. Ekonomi Teknik. Jakarta: PT. Raja Grafindo Persada.
Kodoatie, Robert J. 2005. Analisis Ekonomi Teknik.Yogyakarta: Penerbit Andi Yogyakarta.
Kuiper, E. 1971. Water Resources Projects Economics. Butterworths, London, England.
Listiyaningrum, et.al. 2015. Analisa Simulasi Perubahan Konsentrasi Klorin Da-lam Pipa Distribusi Penyediaan Air Minum PDAM Demak Zona 3. Jurnal Teknik Lingkungan, Volume 4, No. 2 (2015).
Lufira, R.D. 2012. Optimasi Dan Simulasi Sistem Penyediaan Jaringan Air Bersih Di Kecamatan Kademangan Kabupaten Blitar. Tesis. Tidak dipublikasikan. Malang: Universitas Brawijaya.
Muliakusumah. 1981. Proyeksi Penduduk. Jakarta: Lembaga Penerbit Fakultas Ekonomi Universitas Indonesia.
Rossman, L. A. 2000. EPANET Version 2 User Manual. United States Environmental Protection Agency, Cincinnati.
Suprihatin, et.al. 2013. Teknologi Proses Pengolahan Air. Bogor: PT Penerbit IPB Press.
Triatmadja, R., et.al. 2006. Simulasi Hidrolika dan Kualitas Air dalam Jaringan Air bersih. Prosiding Seminar Nasional Implikasi Peman-faatan Potensi Dan Tata Ruang Terhadap Pengelolaan Sumber Daya Air: Bandung: Jurusan Teknik Sipil Institut Teknologi Nasional.
Triatmadja, R., 2016. Teknik Penyediaan Air Minum Perpipaan. Cetakan pertama. Yogyakarta: Gadjah Mada University Press.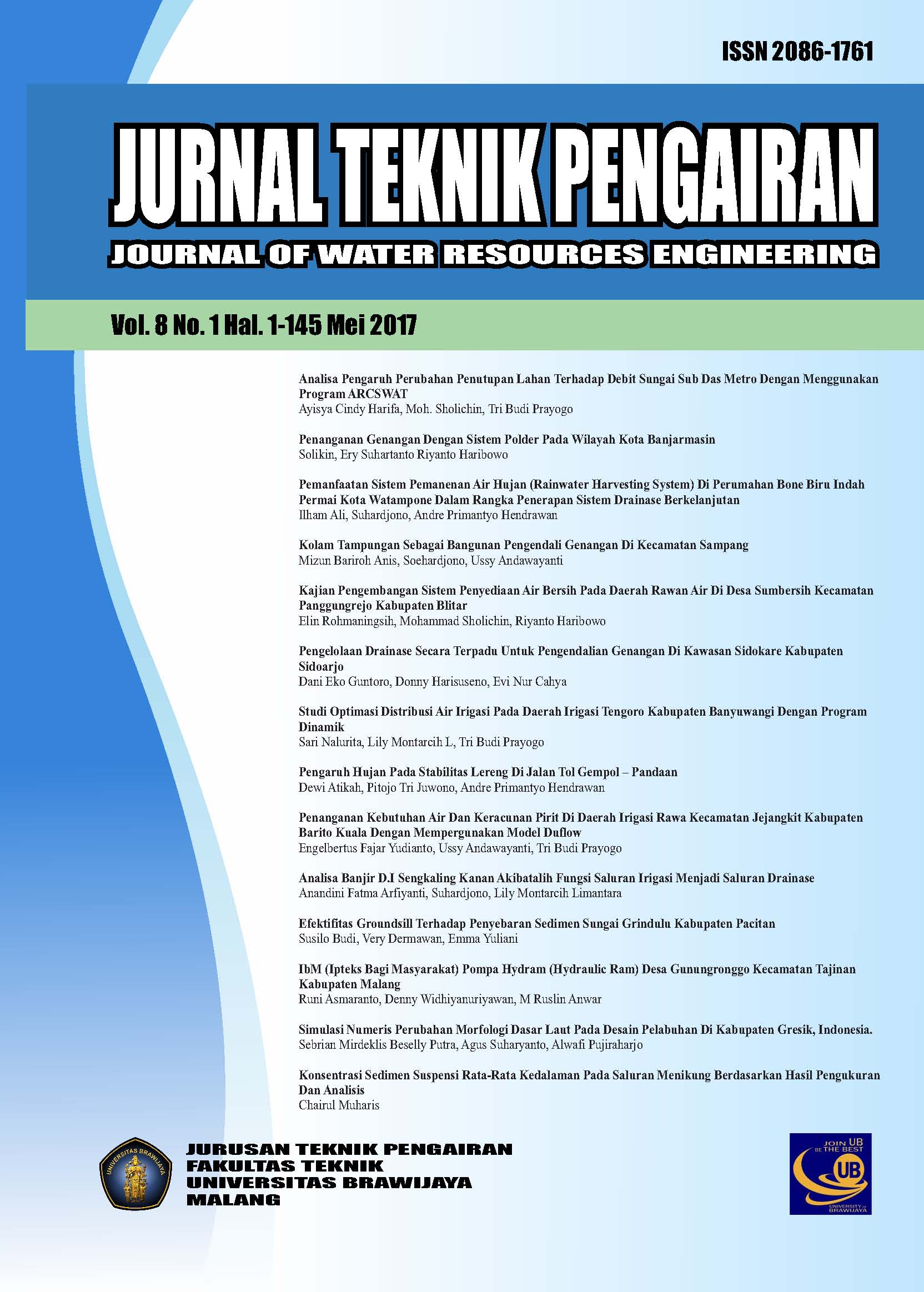 Downloads
How to Cite
Rohmaningsih, E., Sholichin, M., & Haribowo, R. (2017). Kajian Pengembangan Sistem Penyediaan Air Bersih Pada Daerah Rawan Air Di Desa Sumbersih Kecamatan Panggungrejo Kabupaten Blitar. Jurnal Teknik Pengairan: Journal of Water Resources Engineering, 8(1), 48–59. https://doi.org/10.21776/ub.jtp.2017.008.01.05
License
Copyright (c) 2017 Elin Rohmaningsih, Moh. Sholichin, Riyanto Haribowo
This work is licensed under a Creative Commons Attribution-NonCommercial 4.0 International License.
Authors who publish with this journal agree to the following terms:

Authors retain copyright and grant the journal right of first publication with the work simultaneously licensed under a  Creative Commons Attribution-NonCommercial 4.0 International License that allows others to share the work with an acknowledgement of the work's authorship and initial publication in this journal.

Authors are able to enter into separate, additional contractual arrangements for the non-exclusive distribution of the journal's published version of the work (e.g., post it to an institutional repository or publish it in a book), with an acknowledgement of its initial publication in this journal.

Authors are permitted and encouraged to post their work online (e.g., in institutional repositories or on their website) prior to and during the submission process, as it can lead to productive exchanges, as well as earlier and greater citation of published work (See The Effect of Open Access).