ANALISIS PENANGANAN GENANGAN PADA WILAYAH KOTA BANJARMASIN
Keywords:
Drainase, Genangan, Back Water, Pasang Surut, Polder
Abstract
Hujan seringkali mengakibatkan genangan di wilayah Banjarmasin. Hujan 30 Maret 2016, mengakibatkan genangan (tinggi ±8-60 cm) di Satuan Wilayah Penanganan Genangan (SWPG) Sudi Mampir. Tujuan penelitian ini mengkaji kapasitas drainase eksisting dan pengaruh pasang Sungai Martapura. Hujan rancangan dihitung dengan Log Pearson III. Debit banjir saluran drainase dihitung dengan Metode Rasional. Perhitungan debit banjir Sungai Martapura digunakan Metode HSS Nakayasu. Pemodelan profil aliran sungai dengan HEC-RAS v5.01. Perhitungan back water pada S. Telawang dengan Metode Tahapan Langsung. Hasil analisis, hujan yang terjadi sebesar 138 mm setara R32tahun. Terdapat 35 saluran tidak memadai di SWPG. Volume genangan akibat hujan di SWPG sebesar 54.470,07 m3, dengan tinggi rerata di lahan 10.3 cm dan 47 cm di jalan. Debit Sungai Martapura saat kejadian setara Q2tahun (566.54 m3/dtk). Volume dan luas genangan akibat luapan sungai di SWPG 2.216,68 m3 dan 11.093,26 m2. Tinggi rerata genangan di kawasan sekitar sungai ±20 cm.
References
Bappeda Provinsi Kalimantan Selatan. 1999. Program Pembangunan Prasarana Kota Terpadu (PPPKT) Kalimantan. Banjarmasin.
Kimpraswil. 2002. Review Outline Plan Drainase Se Kota Banjarmasin. Banjarmasin.
DSDAD Kota Banjarmasin. 2013. Studi Genangan Kota Banjarmasin.
Hendrasari, E. 2015. Kajian Penanganan Genangan Pada Sub Sistem Drainase Jangkok Kota Mataram. Tesis. Tidak dipublikasikan. Malang: Universitas Brawijaya.
Limantara, L. M. 2010. Hidrologi Praktis. Bandung: Lubuk Agung
Muhlis, A. 2012. Kajian Potensi Zona Genangan Air Kota Banjarmasin. Jurnal Penelitian. Banjarmasin: Politeknik Negeri Banjarmasin Jurusan Teknik Sipil.
Nugroho, V. T. K. 2012. Evaluasi Sistem Polder Kota Lama dan Bandarharjo Semarang Terhadap Pengendalian Banjir Dan Rob. Tesis. Tidak Dipublikasikan. Surakarta: Universitas Sebelas Maret.
Soemarto, C. D. 1987. Hidrologi Teknik. Surabaya: Usaha Nasional.
Suhardjono. 2015. Buku Ajar Drainase Perkotaan. Jurusan Teknik Pengairan. Malang: Universitas Brawijaya.
Suripin. 2004. Sistem Drainase Perkotaan Yang Berkelanjutan. Yogyakarta: Andi Offset
Susilowati, 2006. Analisis Perubahan Tata Guna Lahan dan Koefisien Limpasan Terhadap Debit Drainase Perkotaan. Surakarta: Jurusan Teknik Sipil UNS. www.jawapos.com/read/2016/03/30/22475/huja n-deras-sejumlah-ruas-jalan-terendambanjir.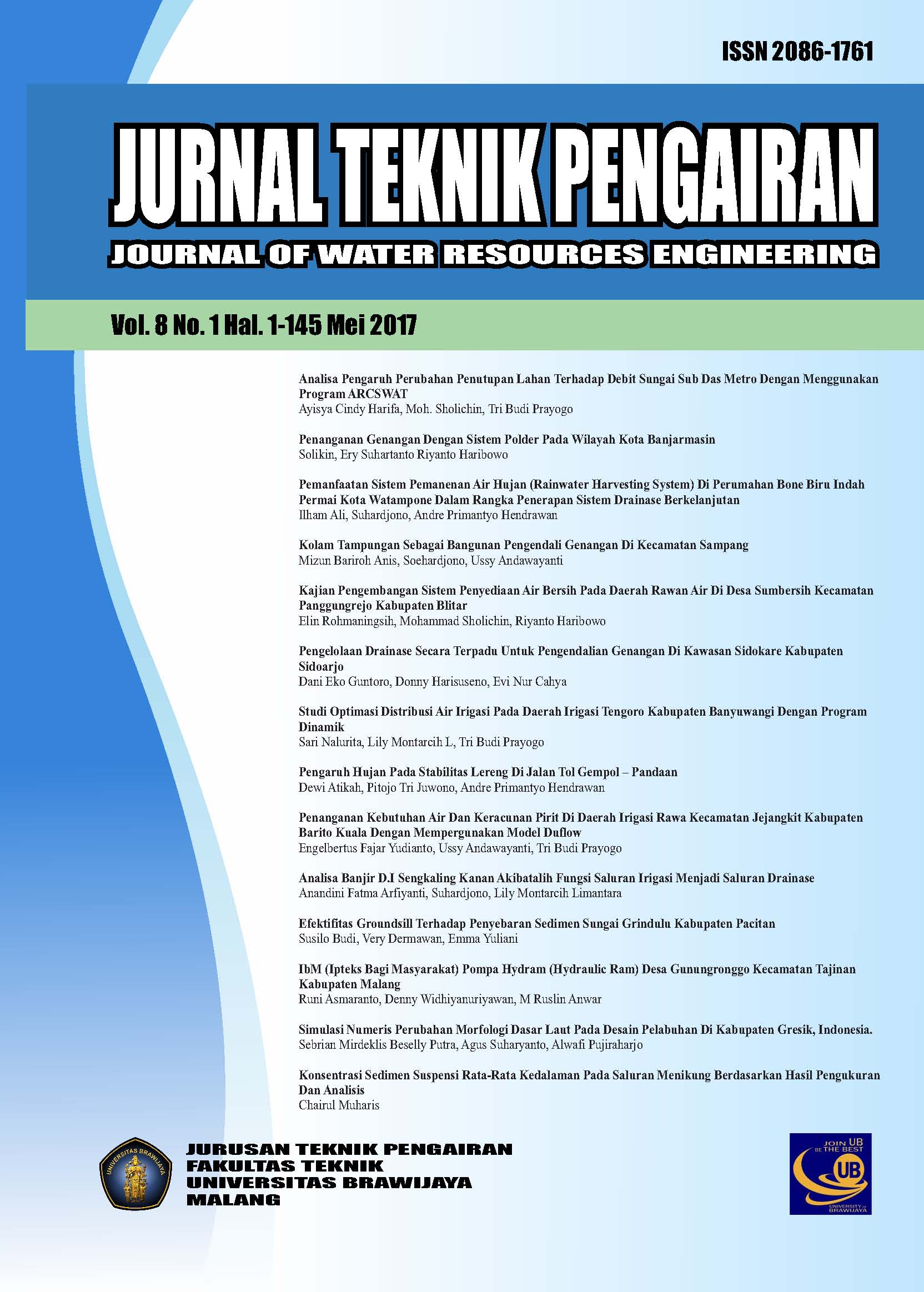 Downloads
How to Cite
Solikin, S., Suhartanto, E., & Haribowo, R. (2017). ANALISIS PENANGANAN GENANGAN PADA WILAYAH KOTA BANJARMASIN. Jurnal Teknik Pengairan: Journal of Water Resources Engineering, 8(1), 15–25. Retrieved from https://jurnalpengairan.ub.ac.id/index.php/jtp/article/view/313
License
Copyright (c) 2017 Solikin Solikin, Ery Suhartanto, Riyanto Haribowo
This work is licensed under a Creative Commons Attribution-NonCommercial 4.0 International License.
Authors who publish with this journal agree to the following terms:

Authors retain copyright and grant the journal right of first publication with the work simultaneously licensed under a  Creative Commons Attribution-NonCommercial 4.0 International License that allows others to share the work with an acknowledgement of the work's authorship and initial publication in this journal.

Authors are able to enter into separate, additional contractual arrangements for the non-exclusive distribution of the journal's published version of the work (e.g., post it to an institutional repository or publish it in a book), with an acknowledgement of its initial publication in this journal.

Authors are permitted and encouraged to post their work online (e.g., in institutional repositories or on their website) prior to and during the submission process, as it can lead to productive exchanges, as well as earlier and greater citation of published work (See The Effect of Open Access).