STUDI PENGARUH PERUBAHAN TATAGUNA LAHAN DI DAS MAMASA TERHADAP USIA GUNA WADUK PLTA BAKARU
Abstract
Abstrak : Di DAS Mamasa terdapat Waduk PLTA Bakaru yang beroperasi sejak Desember 1990. Dari hasil analisa Interpretasi Citra Satelit pengurangan luas hutan sebesar 7003.44 ha, padang rumput/tanah kosong 1185.61 ha, kebun 32.95 ha serta penambahan luas lahan semak belukar 5391.20 ha, tanah ladang/tegalan 1378.35 ha, pemukiman 832.92 ha serta sawah 617.77 ha. Dari Analisis AVSWAT 2000, Tingkat Bahaya Erosi tertinggi pada Subbasin 29, 33 dengan luas 981.75 ha. Dari pendekatan efisiensi jerat metode Brunne diperoleh sisa usiaguna waduk kurang dari 1 tahun, metode Churchill diperoleh kurang dari 3 tahun. Alternatif penanganan dengan bangunan check dam mampu mereduksi sedimen per tahunnya sebesar 62.72%, sedangkan Dredger 9.37 % per tahunnya. Berdasarkan prosentase reduksi sedimen alternatif Konservasi secara mekanik sebagai skala prioritas penanganan waduk.
Kata Kunci:Â  AVSWAT 2000, Erosi, Usiaguna Waduk, Konservasi
ABSTRACT : There is Bakaru hydropower reservoirs in Mamasa watershed that operating since December 1990. From the analysis of satellite imagery interpretation reduction in forest area of 7003.44 ha, grassland / emptyland 1185.61 ha, 32.95 ha of gardens and additional shrubs area of 5391.20 ha, farm land / moor 1378.35 ha, residential area 832.92 ha and rice fileds 617.77 ha. Analysis of AVSWAT 2000, the highest rate Erosion Hazard subbasin 29, 33 with an area of 981.75 ha. Approach meshes efficiency Brunne method obtained remaining life of reservoirs less than 1 year, Churchill method obtained less than 3 years. Alternative treatment with check dam is able to reduce sediment per year, amounting to 62.72%, while Dredger 9:37% per year. Based on the percentage reduction of sediment mechanically conservation alternative as the priority handling of reservoirs.
Keywords:Â 
AVSWAT 2000, erosion, life time of reservoirs, conservation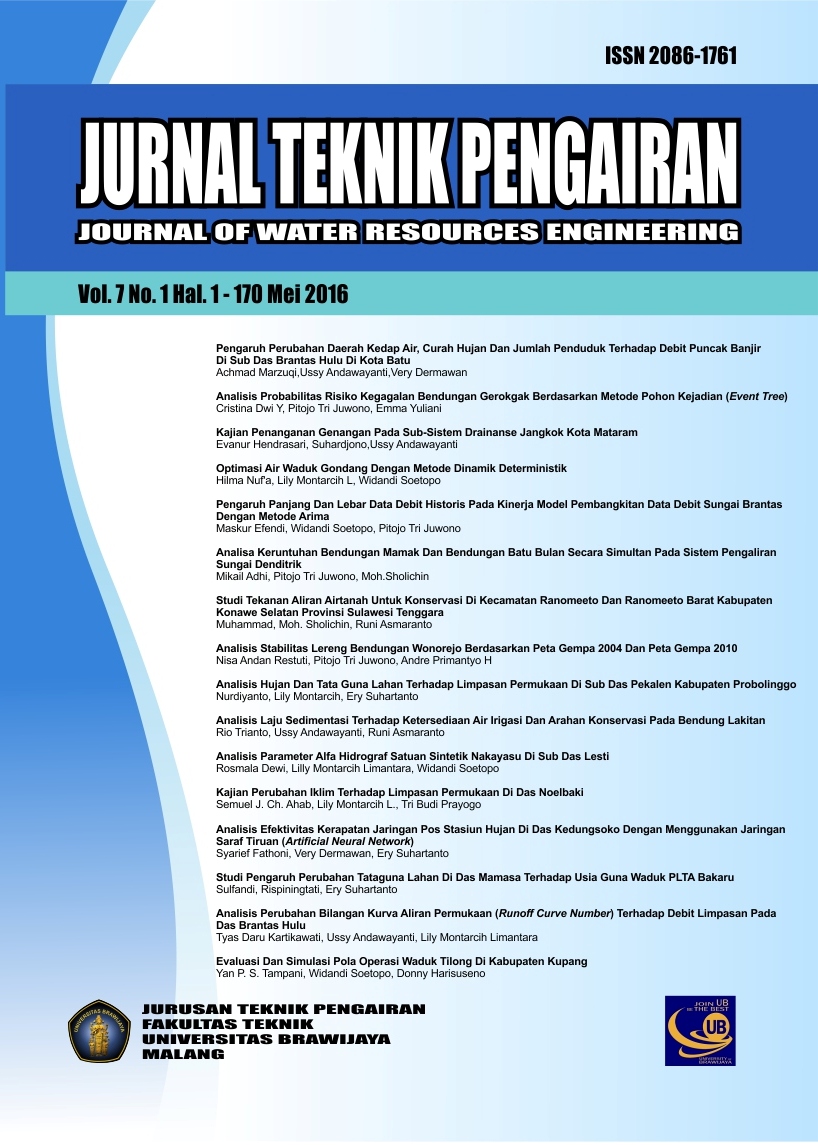 Downloads
How to Cite
Sulfandi, S., Rispiningtati, R., & Suhartanto, E. (2016). STUDI PENGARUH PERUBAHAN TATAGUNA LAHAN DI DAS MAMASA TERHADAP USIA GUNA WADUK PLTA BAKARU. Jurnal Teknik Pengairan: Journal of Water Resources Engineering, 7(1), pp. 139 – 149. Retrieved from https://jurnalpengairan.ub.ac.id/index.php/jtp/article/view/288
License
Authors who publish with this journal agree to the following terms:

Authors retain copyright and grant the journal right of first publication with the work simultaneously licensed under a  Creative Commons Attribution-NonCommercial 4.0 International License that allows others to share the work with an acknowledgement of the work's authorship and initial publication in this journal.

Authors are able to enter into separate, additional contractual arrangements for the non-exclusive distribution of the journal's published version of the work (e.g., post it to an institutional repository or publish it in a book), with an acknowledgement of its initial publication in this journal.

Authors are permitted and encouraged to post their work online (e.g., in institutional repositories or on their website) prior to and during the submission process, as it can lead to productive exchanges, as well as earlier and greater citation of published work (See The Effect of Open Access).