ANALISIS STABILITAS LERENG BENDUNGAN WONOREJO BERDASARKAN PETA GEMPA 2004 DAN PETA GEMPA 2010
Abstract
Abstrak : Analisis dilakukan pada kestabilan lereng Bendungan Wonorejo dengan parameter gempa termodifikasi berdasarkan Peta Gempa 2004 dan Peta Gempa 2010. Angka keamanan pada Peta Gempa 2004 cenderung lebih besar daripada Peta Gempa 2010 untuk gempa OBE, sedangkan untuk Gempa MDE angka keamanan pada Peta Gempa 2004 lebih kecil daripada Peta Gempa 2010. Batas aman kala ulang yang dapat ditoleransi oleh Bendungan Wonorejo yaitu pada kala ulang gempa 200 tahun setara dengan gempa kekuatan 6,1 SR.
Kata Kunci: stabilitas, NWL, HWL, RDD, Peta Gempa
 
Abstract : Analysis on Wonorejo Dam slope stability the earthquake parameters modified by Earthquake Maps 2004 and 2010. Safety factor on the Earthquake Map in 2004 tend to be larger than Earthquake Map 2010 in OBE, while for safety factor on the Earthquake Map  2004 is smaller than the Earthquake Map 2010 in MDE. Safety Limits for safe return period that can be tolerated by the dam which is return periode 200 year equivalent to 6,1 SR.
Key words : Â stability, NWL, HWL, RDD, earthquake map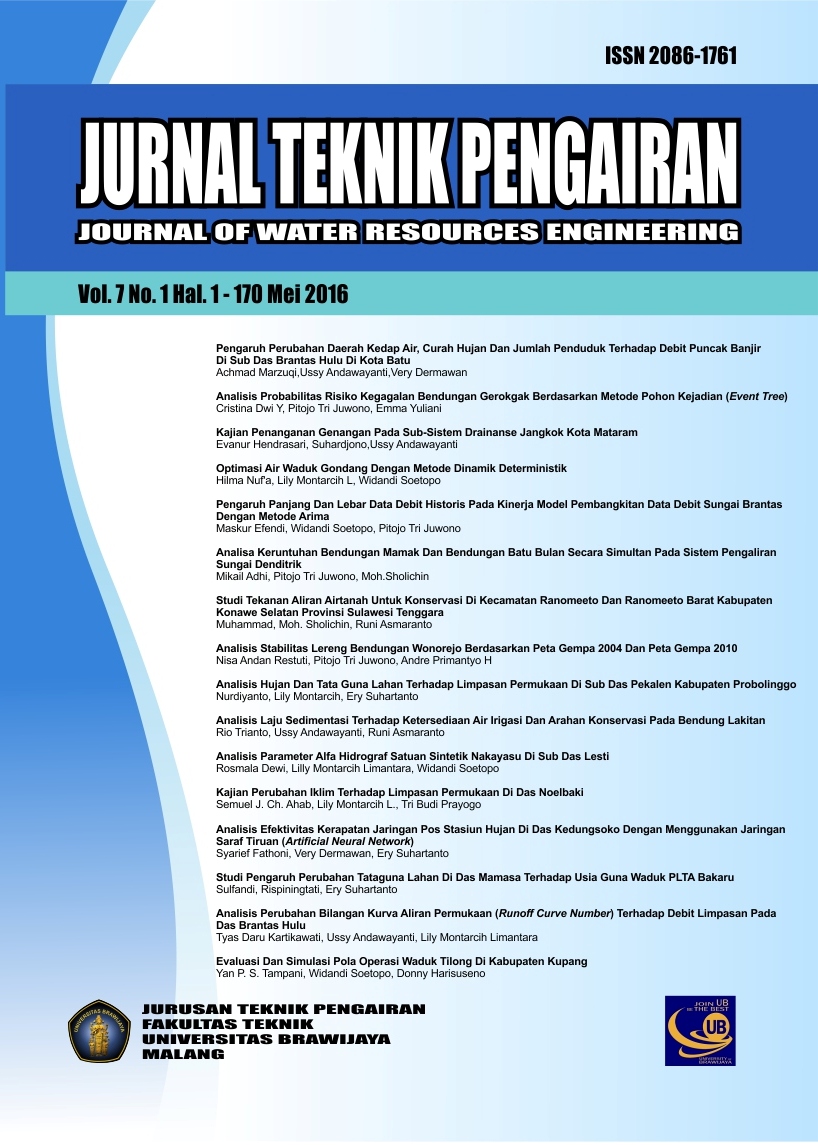 Downloads
How to Cite
Restuti, N. A., Juwono, P. T., & Hendrawan, A. P. (2016). ANALISIS STABILITAS LERENG BENDUNGAN WONOREJO BERDASARKAN PETA GEMPA 2004 DAN PETA GEMPA 2010. Jurnal Teknik Pengairan: Journal of Water Resources Engineering, 7(1), pp. 73 – 82. Retrieved from https://jurnalpengairan.ub.ac.id/index.php/jtp/article/view/285
License
Authors who publish with this journal agree to the following terms:

Authors retain copyright and grant the journal right of first publication with the work simultaneously licensed under a  Creative Commons Attribution-NonCommercial 4.0 International License that allows others to share the work with an acknowledgement of the work's authorship and initial publication in this journal.

Authors are able to enter into separate, additional contractual arrangements for the non-exclusive distribution of the journal's published version of the work (e.g., post it to an institutional repository or publish it in a book), with an acknowledgement of its initial publication in this journal.

Authors are permitted and encouraged to post their work online (e.g., in institutional repositories or on their website) prior to and during the submission process, as it can lead to productive exchanges, as well as earlier and greater citation of published work (See The Effect of Open Access).