ANALISA KERUNTUHAN BENDUNGAN MAMAK DAN BENDUNGAN BATU BULAN SECARA SIMULTAN PADA SISTEM PENGALIRAN SUNGAI DENDITRIK
Abstract
Abstrak : Bendungan Mamak dan Batu Bulan yang termasuk dalam sistem pengaliran sungai denditrik dan berlokasi di Kabupaten Sumbawa, Propinsi Nusa Tenggara Barat telah disimulasikan runtuh secara simultan. Keruntuhan tersebut berdampak bagi tergenangnya 15 Desa, di 4 Kecamatan dengan jumlah penduduk yang terkena resiko diperkirakan mencapai 12.803 jiwa. Berdasarkan SK Dirjen SDA PU, tahun 2011 Bendungan Mamak dan Batu Bulan diklasifikasikan Bahaya Sangat Tinggi.
Peneitian ini membuktikan bahwa keruntuhan bendungan secara simultan pada sistem aliran sungai denditrik ataupun series saat ini dapat dilakukan dengan bantuan perangkat lunak Zhong Xing HY21 (User Manual Zhong Xing-HY21, Sinotech Engineering Group, 2011). Hal ini sekaligus menepis pendapat sementara para ahli sebelumnya yang beranggapan bahwa hal tersebut sulit dilakukan.
Kerapatan jaring-jaring kerja juga memiliki pengaruh besar terhadap tingkat ketelitian hasil penelusuran banjir di hilir. Pada penelitian kali ini kerapatan jaring-jaring di alur sungai dibuat lebih rapat daripada bagian di luar alur sungai utama. Dengan asumsi sebelum banjir menggenangi wilayah bantaran sungai, banjir terlebih dahulu akan memenuhi alur sungai utama. Namun hal tersebut membawa konsekuensi bahwa makin rapat jaring-jaring kerja, proses simulasi membutuhkan waktu lebih lama.
Kata kunci: Keruntuhan, Denditrik, Simultan, Zhong Xing HY21, Jaring-Jaring Kerja
 
Abstract : Mamak and Batu Bulan Dams included dendritic river system, located in Sumbawa District and West Nusa Tenggara Province, have been simulated simultaneous failure. This failure impact on flood inundation in 15 Villages and 4 Subdistrics with estimated population at risk 12.803 persons. Based on National Regulation (SK Dirjen SDA PU, year 2011), the dams were classified into High Risk Dam.
This research proves that nowadays the simultaneous dams failure in dendritic river system and also series system could be simulated by using Zhong Xing HY21 (User Manual Zhong Xing-HY21, Sinotech Engineering Group, 2011). This study also reject previously temporary experts opinion that assumed it is difficult to do.
Density of the finite element mesh also has a big influence in the unsteady flow accuration result. In the present study the density of the mesh in the river flow is made more dense than the outside of the main river channel. Assuming before floods inundated the area along the river, the floods will first meet the main river channel. However, this setting has consequences that the more tightly the mesh, the simulation process takes longer.
Key words: Failure, Dendritic, Simultaneous, Zhong Xing HY21, Mesh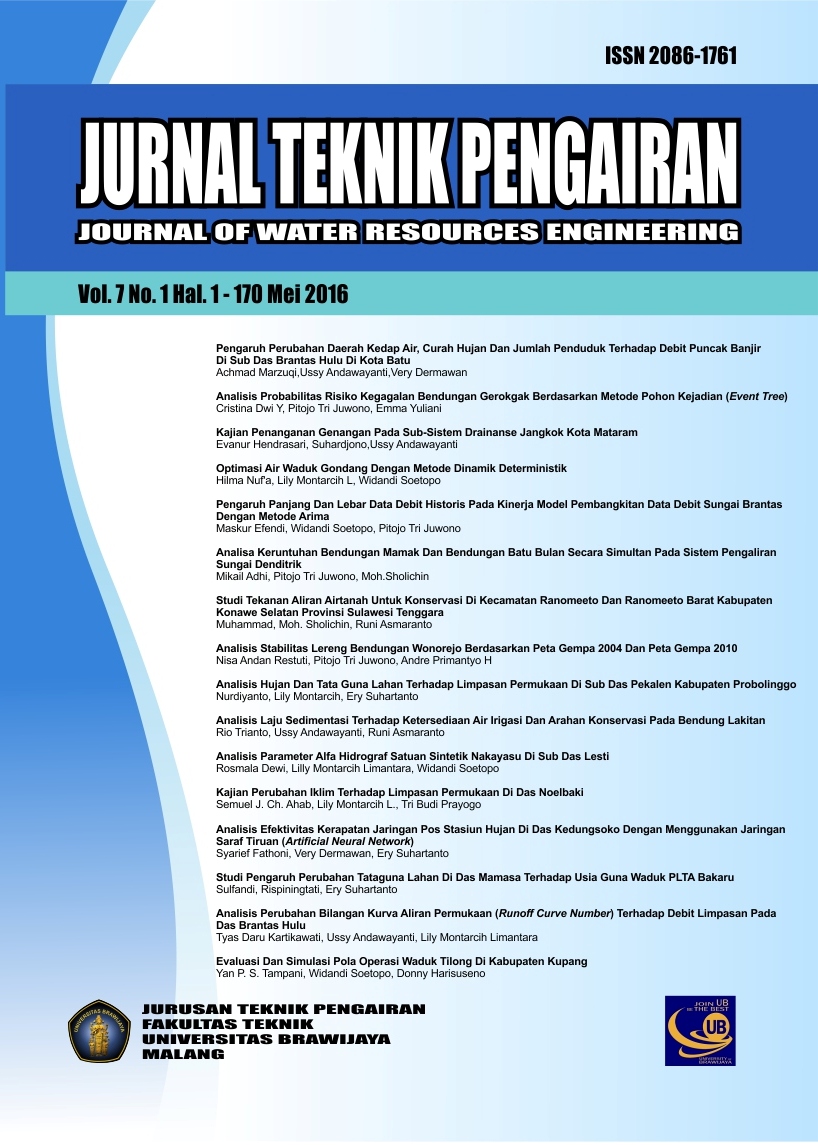 Downloads
How to Cite
Adhi, mikail, Juwono, P. T., & Sholichin, M. (2016). ANALISA KERUNTUHAN BENDUNGAN MAMAK DAN BENDUNGAN BATU BULAN SECARA SIMULTAN PADA SISTEM PENGALIRAN SUNGAI DENDITRIK. Jurnal Teknik Pengairan: Journal of Water Resources Engineering, 7(1), pp. 47 – 60. Retrieved from https://jurnalpengairan.ub.ac.id/index.php/jtp/article/view/282
License
Authors who publish with this journal agree to the following terms:

Authors retain copyright and grant the journal right of first publication with the work simultaneously licensed under a  Creative Commons Attribution-NonCommercial 4.0 International License that allows others to share the work with an acknowledgement of the work's authorship and initial publication in this journal.

Authors are able to enter into separate, additional contractual arrangements for the non-exclusive distribution of the journal's published version of the work (e.g., post it to an institutional repository or publish it in a book), with an acknowledgement of its initial publication in this journal.

Authors are permitted and encouraged to post their work online (e.g., in institutional repositories or on their website) prior to and during the submission process, as it can lead to productive exchanges, as well as earlier and greater citation of published work (See The Effect of Open Access).