EVALUASI FUNGSI BANGUNAN PENGENDALI BANJIR SUNGAI BARABAI KABUPATEN HULU SUNGAI TENGAH PROVINSI KALIMANTAN SELATAN
Abstract
Abstrak: Bangunan pengendali banjir Sungai Barabai berupa Bangunan Intake dan Saluran Banjir Barabai sudah tidak dapat dirasakan lagi dampaknya terhadap Kota Barabai, sehingga diperlukan evaluasi dari fungsi bangunan pengendali banjir. Kapasitas eksisting Saluran Banjir Barabai adalah ±15 m3/detik dengan Qrencana awal yaitu 40 m3/detik. Elevasi muka air banjir pada saat Q1 belum dapat masuk ke dalam Bangunan Intake dan rusaknya peninggi muka air (groundsill). Rehabilitasi bangunan pengendalian banjir bisa dilakukan dengan normalisasi Saluran Banjir Barabai dan menurunkan elevasi lantai Bangunan Intake pada +24.00. Rehabilitasi bangunan pengendali banjir ini hanya mampu mengatasi banjir hingga Q5 dengan pengurangan genangan banjir sebesar 62.75%. Penanganan banjir sampai dengan Q50 memerlukan normalisasi Sungai Barabai di bagian hilir bangunan intake (menuju Kota Barabai sampai dengan Kota Barabai) dengan dimensi lebar bawah 20 m, lebar atas 36 m, dan kemiringan talud 1:1.
Kata kunci: Bangunan Intake, Saluran Banjir, Pengendalian Banjir, Sungai Barabai
 
Abstract: Barabai river's flood control structures such as Intake Building and Flood channel can no longer be perceived its impact on Barabai City, so that evaluation of the function of flood control structures is necessary. Barabai flood channel capacity is ± 15 m3/second less than the initial capacity planning 40 m3/second. Flood water levels during Q1 have not been able to get into the Intake Building and the damage  of  groundsill. Rehabilitation of Barabai river's flood control structures can be done with normalization of Barabai's Flood Channel and floor's derivation of  Intake Building at +24.00. This flood control structures rehabilitation can only cope with flood up to Q5 with reduction puddles 62.75%. Flood handle up to Q50 needs normalization of  Barabai River at downstream of Intake Building with trapezoidal with dimension of 20 m base width and 36 m top width, and talud slope 1:1.
Keywords: Intake Building, Flood Channel, Flood Control, Barabai River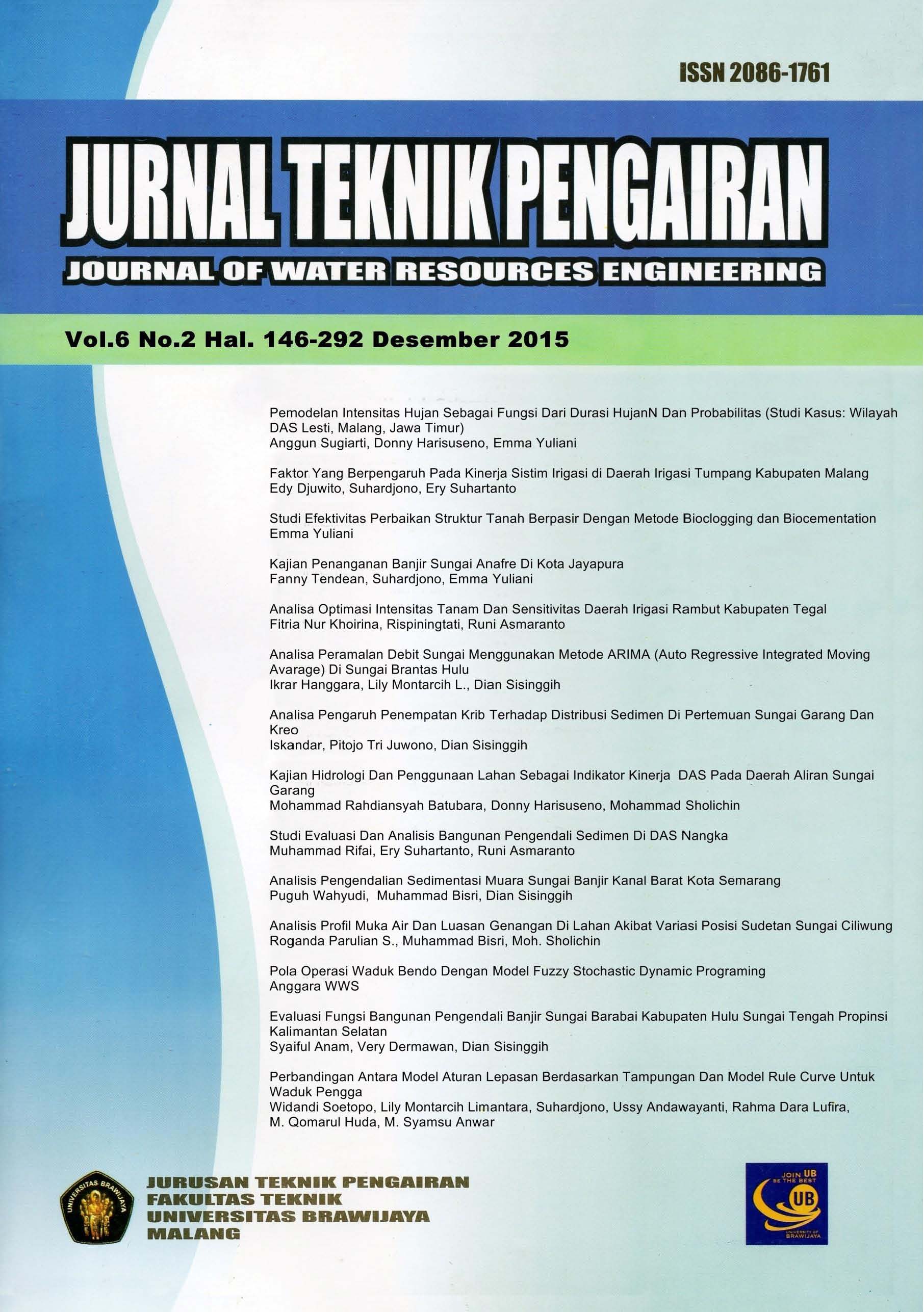 Downloads
How to Cite
Anam, S., Dermawan, V., & Sisingih, D. (2016). EVALUASI FUNGSI BANGUNAN PENGENDALI BANJIR SUNGAI BARABAI KABUPATEN HULU SUNGAI TENGAH PROVINSI KALIMANTAN SELATAN. Jurnal Teknik Pengairan: Journal of Water Resources Engineering, 6(2), pp. 271 – 286. Retrieved from https://jurnalpengairan.ub.ac.id/index.php/jtp/article/view/275
License
Authors who publish with this journal agree to the following terms:

Authors retain copyright and grant the journal right of first publication with the work simultaneously licensed under a  Creative Commons Attribution-NonCommercial 4.0 International License that allows others to share the work with an acknowledgement of the work's authorship and initial publication in this journal.

Authors are able to enter into separate, additional contractual arrangements for the non-exclusive distribution of the journal's published version of the work (e.g., post it to an institutional repository or publish it in a book), with an acknowledgement of its initial publication in this journal.

Authors are permitted and encouraged to post their work online (e.g., in institutional repositories or on their website) prior to and during the submission process, as it can lead to productive exchanges, as well as earlier and greater citation of published work (See The Effect of Open Access).