KAJIAN HIDROLOGI DAN PENGGUNAAN LAHAN SEBAGAI INDIKATOR KINERJA DAS PADA DAERAH ALIRAN SUNGAI GARANG
Abstract
Abstrak: Sungai Garang  pada tahun 1990 pernah meluap sehingga daerah sekitarnya banjir. Banjir biasanya terjadi akibat dari perubahan tata guna lahan dari pertanian/ perkebunan dan hutan menjadi permukiman, dan Pembabatan hutan. Untuk mengetahui kondisi kinerja DAS Garang perlu diidentifikasi perubahan tataguna lahan dan kondisi hidrologi setiap sub DAS yang ada di DAS Garang. Evaluasi penilaian indikator kinerja DAS Garang berdasarkan Kepmenhut No. 52 Kpts-II/2001 yang berkonsep hidrologi dan penggunaan lahan. Peta tataguna lahan yang digunakan tahun 2000, 2005, 2008, 2010 dan RTRW. Analisa ini menggunakan bantuan software AVSWAT 2000. Dalam menentukan prioritas perbaikan Sub DAS yang paling buruk peneliti menggunakan metode Analisis Hierarky Proces (AHP). Kondisi aliran langsung memiliki trend naik pada Bulan Februari sampai Agustus kemudian turun pada bulan September dan naik kembali pada Oktober hingga Januari. Kinerja DAS Garang berdasarkan segi penggunaan lahan dan tata air berdasarkan peta tataguna lahan tahun 2000 diberi penilaian kategori Sedang dengan jumlah skor 2,942. Berdasarkan peta tata guna lahan tahun 2005 diberi penilaian kategori Sedang dengan jumlah skor 3,026. Berdasarkan peta tataguna lahan tahun 2008 diberi penilaian kategori Sedang dengan jumlah skor 2,897. Berdasarkan peta tataguna lahan tahun 2010 diberi penilaian Sedang dengan jumlah skor 2,967. berdasarkan peta RTRW diberi penilaian kategori Agak Baik dengan skor 2,205. Dalam penelitian ini didapatkan kondisi sub DAS yang rusak pada kriteria tataguna lahan dan tata air. Maka dalam menentukan skala prioritas perbaikan sub DAS dilakukan pemilihan berdasarkan metode Analisis Hierarki Proses (AHP). Dari proses AHP disimpulkan bahwa sub DAS 13 yang paling rusak dan harus diprioritaskan dalam perbaikan dan pengelolaan sub DAS pada DAS Garang.
Kata kunci : Kinerja DAS, Perubahan Tata Guna lahan, Hidrologi, AVSWAT2000
 
Abstract: Garang River in 1990 never overflow so that flash floods washed away the surrounding area is so powerful. Floods usually occur as a result of changes in land use from agricultural / plantation and forest to settlements, and Deforestation. So as to determine the condition of the performance of DAS Garang be identified land-use change and hydrological conditions of each sub-watershed in DAS Garang. Evaluation of performance indicators DAS Garang assessment by Ministerial Decree No. 52 Kpts-II / 2001 the concept of hydrology and land use. Land use maps used in 2000, 2005, 2008, 2010 and RTRW. This analysis using statistical software AVSWAT 2000. In determining the priority of improvement worst subzone researchers used a method of analysis Hierarky Proces (AHP). Direct flow conditions have rising trend in February until August and then fell in Semptember and climbed back in October and January. Kienerja DAS Garang based in terms of land use and water management based maps of land use in 2000 was given a moderate rating with a total score of 2,942. Based on the land use maps in 2005 was given a score of assessment was the number 3,026. Based on the land use map of 2008 given the moderate vote with a total score of 2,897. Based on the land use maps in 2010 was given a score of assessment was the number 2,967. based map RTRW given Somewhat better ratings with a score of 2.205. In this study, the condition of the damaged sub watershed on the criteria of land use and water management. Then in determining priority repair sub watershed election based analysis method Hierarchy Process (AHP). Of the AHP process is concluded that sub DAS 13 most damaged and should be prioritized in the repair and management of sub-basins in the watershed Garang.
Keywords : DAS performance, Changes in land use, Hydrology. AVSWAT2000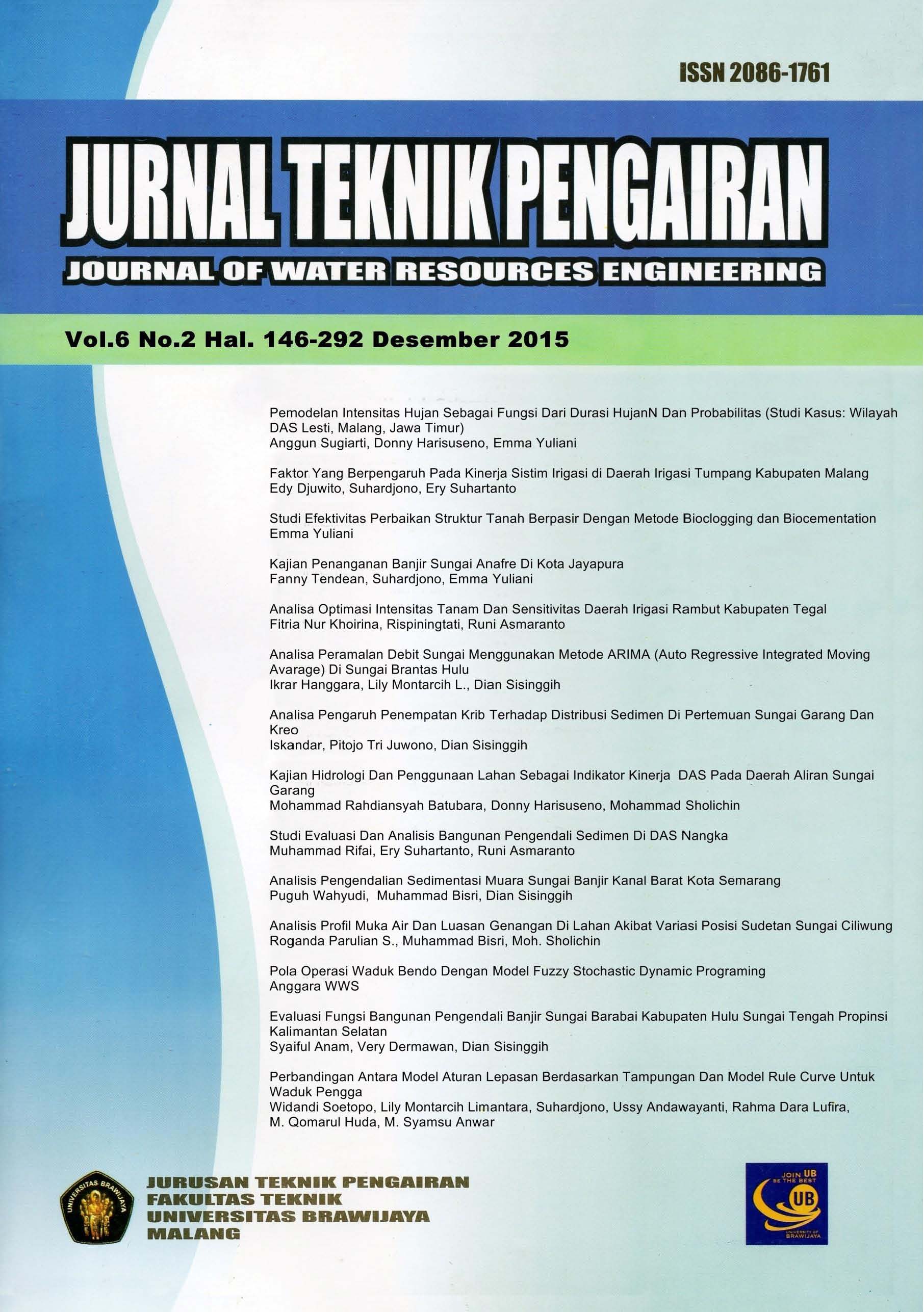 Downloads
How to Cite
Batubara, M. R., Harisuseno, D., & Sholichin, M. (2016). KAJIAN HIDROLOGI DAN PENGGUNAAN LAHAN SEBAGAI INDIKATOR KINERJA DAS PADA DAERAH ALIRAN SUNGAI GARANG. Jurnal Teknik Pengairan: Journal of Water Resources Engineering, 6(2), pp. 216 – 228. Retrieved from https://jurnalpengairan.ub.ac.id/index.php/jtp/article/view/271
License
Authors who publish with this journal agree to the following terms:

Authors retain copyright and grant the journal right of first publication with the work simultaneously licensed under a  Creative Commons Attribution-NonCommercial 4.0 International License that allows others to share the work with an acknowledgement of the work's authorship and initial publication in this journal.

Authors are able to enter into separate, additional contractual arrangements for the non-exclusive distribution of the journal's published version of the work (e.g., post it to an institutional repository or publish it in a book), with an acknowledgement of its initial publication in this journal.

Authors are permitted and encouraged to post their work online (e.g., in institutional repositories or on their website) prior to and during the submission process, as it can lead to productive exchanges, as well as earlier and greater citation of published work (See The Effect of Open Access).