KAJIAN PENANGANAN BANJIR SUNGAI ANAFRE DI KOTA JAYAPURA
Abstract
Abstrak: Sungai Anafre terletak di kota Jayapura. Luas daerah pengaliran sungai (DPS) sungai Anafre mencapai ±11,68 km2, dengan panjang sungai ±3,63 km. Kemiringan dasar sungai relatif curam, sering terjadi luapan pada musim hujan. Tingkat aktifitas di kawasan ini sangat tinggi. Maksud dari studi ini adalah mengetahui daerah-daerah mana saja yang menggalami banjir pada kala ulang debit 25 tahun dan 50 tahun kemudian dilakukan analisa perhitungan untuk mengetahui alternatif apa saja yang memungkinkan secara tepat dari segi teknis dan ekonomis. Metode yang digunakan dalam penelitian ini adalah analisa kondisi eksisting sungai Anafre sehingga dapat diketahui titik-titik banjir, kemudian dilakukan normalisasi dengan perbandingan alternatif memperlebar, peninggian tanggul dan kombinasi (memperlebar dan peninggian tanggul). Berdasarkan hasil perhitungan diperoleh 16 titik daerah banjir pada kala ulang debit 25 tahun dan 19 titik daerah banjir pada kala ulang 50 tahun dari 61 titik saluran eksisting sungai Anafre. Secara teknis serta ekonomis terpilihlah alternatif 3 (kombinasi).
Kata kunci: Banjir, Sungai Anafre, Normalisasi, Teknis dan Ekonomis
 
Abstract:  The Anafre River is located in the city of Jayapura. The catchment area of the Anafre River reaches ± 11.68 km2, and the river length is ± 3.63 km. Its river bottom is relatively steep and the river often overflows during the rainy season. This area has a very high level of activity. The aim of this study is to determine which areas are flooded on a discharge return period of 25 and 50 years and to analyze the best alternatives from technical and economic standpoints. This study analyzes the existing condition of the Anafre River to recognize flooded areas and compares widening, embankment elevation, and combinations of both as normalization alternatives. Calculations show that there were 16 flooded areas on a return period of 25 years and 19 flooded areas on a return period of 50 years, from 61 existing Anafre river channels. Third alternatives were selected (combination).
Keywords: Flood, Anafre River, Normalization, Technically and Economically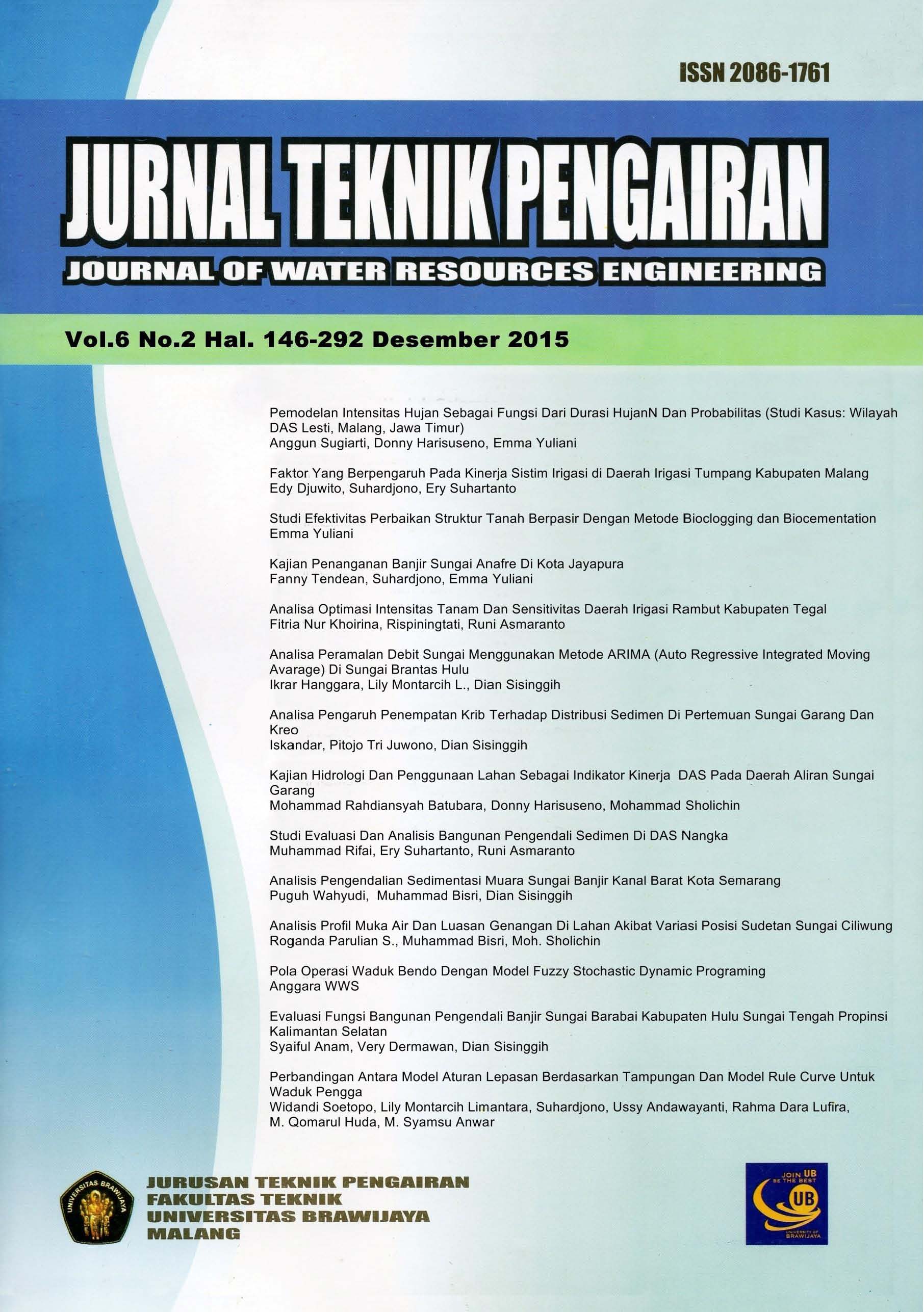 Downloads
How to Cite
Tendean, F., Suhardjono, S., & Yuliani, E. (2016). KAJIAN PENANGANAN BANJIR SUNGAI ANAFRE DI KOTA JAYAPURA. Jurnal Teknik Pengairan: Journal of Water Resources Engineering, 6(2), pp. 175 – 185. Retrieved from https://jurnalpengairan.ub.ac.id/index.php/jtp/article/view/264
License
Authors who publish with this journal agree to the following terms:

Authors retain copyright and grant the journal right of first publication with the work simultaneously licensed under a  Creative Commons Attribution-NonCommercial 4.0 International License that allows others to share the work with an acknowledgement of the work's authorship and initial publication in this journal.

Authors are able to enter into separate, additional contractual arrangements for the non-exclusive distribution of the journal's published version of the work (e.g., post it to an institutional repository or publish it in a book), with an acknowledgement of its initial publication in this journal.

Authors are permitted and encouraged to post their work online (e.g., in institutional repositories or on their website) prior to and during the submission process, as it can lead to productive exchanges, as well as earlier and greater citation of published work (See The Effect of Open Access).