ANALISIS PROBABILITAS RISIKO KEGAGALAN BENDUNGAN GEROKGAK BERDASARKAN METODE POHON KEJADIAN (EVENT TREE)
Abstract
Abstrak: Bendungan menyimpan bahaya apabila mengalami keruntuhan. Selain pemeriksaan keamanan bendungan, penilaian risiko juga diperlukan guna pengelolaan keamanannya. Pada penelitian ini penilaian risiko menggunakan metode pohon kejadian, metode tradisional serta metode ICOLD. Metode pohon kejadian mempunyai kelebihan secara sistematik memetakan potensi kegagalan bendungan mulai awal dibandingkan metode tradisional yang mengacu nilai kriteria yang berlaku. Sedangkan metode ICOLD bermanfaat mengetahui kelas risiko bendungan. Probabilitas risiko kegagalan metode pohon kejadian tubuh bendungan sebesar 1x10-5 dan  1x10-6, pelimpah sebesar 1x10-10, pengambilan sebesar 1x10-7, dan fondasi sebesar 1x10-8. Annual Probability of Failure sebesar 1,11101x10-5. Probabilitas risiko metode tradisional tubuh bendungan adalah 0,1 dan 0,1, 0,001 pada pelimpah, 0,01 pada pengambilan, dan 0,001 pada fondasi. Kelas risiko kegagalan metode ICOLD adalah tinggi dengan nilai 48.
Kata kunci: Penilaian Risiko, Bendungan Gerokgak, Metode Pohon Kejadian (Event Tree), Metode Tradisional, Annual Probability of Failure (APF)
  
Abstract: Dams can be danger if failure. Beside dam safety inspection, risk assessment is also needed for safety management. In this study, risk assessment use event tree, traditional engineering standard and ICOLD methods. Event tree method has advantage systematically can show dam failure potencies from the beginning event than engineering traditional standard that absolutly based on approach standard. While ICOLD method has adventage to know the dam risk classification. The risk failure probabilities by event tree method are 1x10-5 and 1x10-6 for dam body, 1x10-10 of spillway, 1x10-7 of intake and 1x10-8 of foundation. Annual Probability of Failure is 1,11101x10-5. The risk failure probabilities by traditional engineering standard are 0,1 and 0,1 of dam body, 0,001 of s pillway, 0,01 of intake, and 0,001 of foundation. Dam risk classification by ICOLD method is high risk with value of 48.
Keywords: Risk Assessment, Gerokgak Dam, Event Tree Method, Traditional Engineering Standard, Annual Probability of Failure (APF).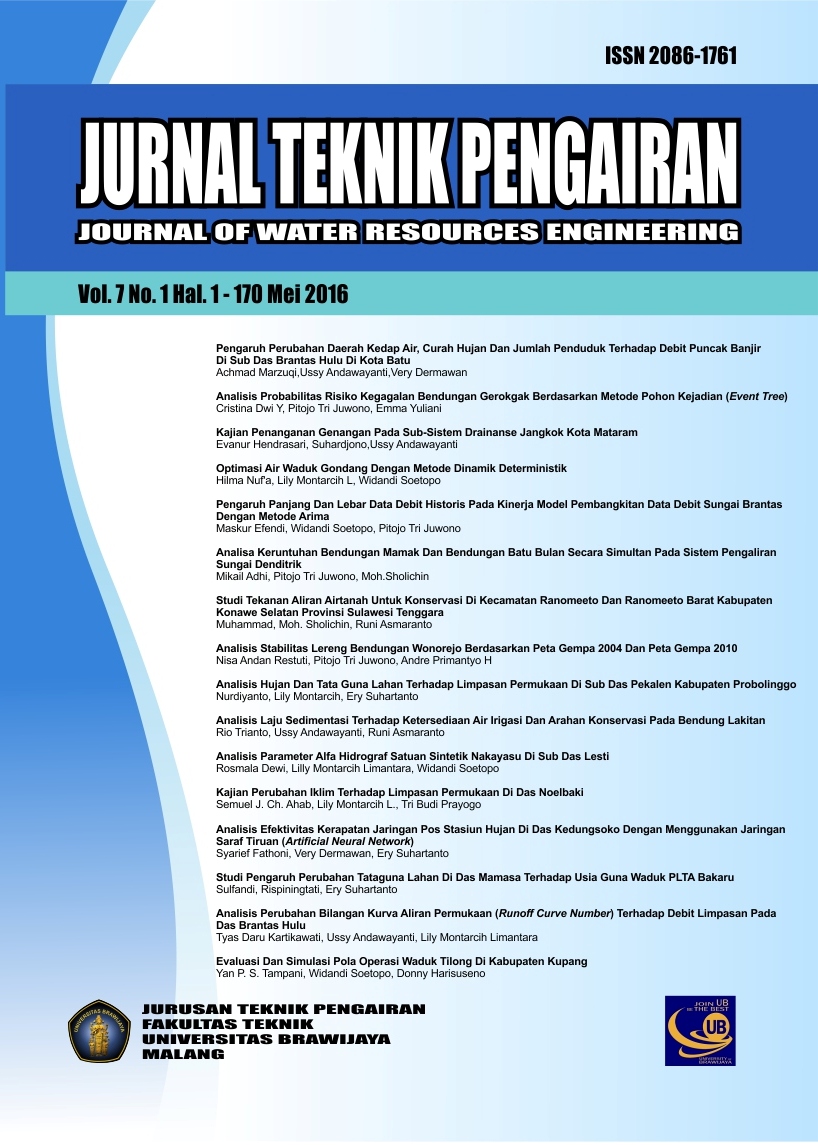 Downloads
How to Cite
Dwi, cristina, Juwono, P. T., & Yuliani, E. (2016). ANALISIS PROBABILITAS RISIKO KEGAGALAN BENDUNGAN GEROKGAK BERDASARKAN METODE POHON KEJADIAN (EVENT TREE). Jurnal Teknik Pengairan: Journal of Water Resources Engineering, 7(1), pp. 7 – 16. Retrieved from https://jurnalpengairan.ub.ac.id/index.php/jtp/article/view/248
License
Authors who publish with this journal agree to the following terms:

Authors retain copyright and grant the journal right of first publication with the work simultaneously licensed under a  Creative Commons Attribution-NonCommercial 4.0 International License that allows others to share the work with an acknowledgement of the work's authorship and initial publication in this journal.

Authors are able to enter into separate, additional contractual arrangements for the non-exclusive distribution of the journal's published version of the work (e.g., post it to an institutional repository or publish it in a book), with an acknowledgement of its initial publication in this journal.

Authors are permitted and encouraged to post their work online (e.g., in institutional repositories or on their website) prior to and during the submission process, as it can lead to productive exchanges, as well as earlier and greater citation of published work (See The Effect of Open Access).